The Fading of House Sparrow from Kolkata, India
The urbanization pattern of the megacity of Kolkata (88º 30′ E -22º 33′ N; 6.4 meters above mean sea level), capital of the State of West Bengal in India, has been rapidly changing over the past few decades. The real estate business has been catching grounds in the metro city and the population goes on increasing without proper planning and initiatives from the perspective of modern urban development. Consequently, the megacity has been expanding with modern high rises, malls and multiplexes along with the existence of different slums in less-developed parts of the megacity. This megacity extends up to different sub-urban areas to accommodate her huge population without proper civic amenities available to the mass. The proper megacity has grown into 13th most populous metropolitan areas of the globe having a staggering population of 44,86,679 with population density of 24.252 people/km2 (according to 2011 Census). Population of Greater Kolkata with all its suburbs as per 2011 Census is 1,41,12,536 persons. It is the 7th largest city of India in area and a sex-ratio of 956 females per 1000 males with a literacy rate of 81.31% (Basic Statistics of Kolkata, Kolkata Municipal Corporation, retrieved January 31, 2015).



Map showing the location of the city of Kolkata in eastern India

The complexity of the intense anthropogenic pressures has rapid negative impact on urban wildlife and avian population. One of the worst hit unfortunate species is the House Sparrow (Passer domesticus Linnaeus, 1758). The tiny bird varies in length between 13-15 cm and 20-40 gm in weight. It belongs to the Family-Passeridae and the Order-Passeriformes. The species is sexually dimorphic with males are distinct with their darker brownish back plumage compared to the duller females. The males also have a black streak mark just below their beak absent in the females. The species is known to be quite social and vocal with large social breeding groups nesting closely to one another. The females have been more difficult to spot recently in comparison to the males; possibly indicating some skewed sex ratio that need to be confirmed through extensive survey.




Sexual dimorphism in house sparrows, with dull patterned female sparrow on the top left and brightly colored on the top right. An excellent example of natural camouflage demonstrated by a lone male house sparrow in Kolkata (bottom image). The bird could not be easily distinguished from the background and hence highlighted within the circle for easy spotting. Photo credit: Srimoyi Mazumder

In local dialect (Bengali) it is known as 'Chorai' or 'Chorui'. This noisy bird is very familiar with humans and is often seen in close association with human settlements. It has been well known to be a successful urban species that usually nests around snug corners of houses, edges and corners of the roofs and any opportunistic availability of spaces and sites within and around human settlements such as a higher unreachable corner of a balcony, old unused shelves inside unused rooms, ventilators and inside of brick tiles.
During 1990s some ornithologists first noticed the declining rate of sparrows. In 2012, with the cooperation of 'Nature Forever Society`, a citizen's science activity was initiated in India to collect various data about sparrow. The data showed that sparrow number dwindled alarmingly in central and north-eastern India. The report identified some factors behind this declining number of sparrows.

A male sparrow foraging.  Photo credit: Srimoyi Mazumder

Nowadays old houses in and around Kolkata are disappearing quickly leaving spaces for modern housing apartments, multistoried buildings, skyscrapers, high rises and malls in quest for urban development. The real estate boom in this megacity has been transforming several old localities into high value concrete jungles. The design and construction of these modern buildings do not attract or appeal to the friendly house sparrows as potential nesting sites. Moreover, in these buildings normally the windows are made by glass/fiber or glass/steel where the sparrows have very little chance to enter the room. Modern scientific amenities, e.g. air conditioner in these buildings also make lives of sparrows at stake due to change of air temperature between inside and outside of room. The economic boom has been transforming the city dynamics and landscaping feature drastically. Old bungalows, one or two storied houses and apartments with lawns, gardens in the midst of short stretches of untouched city woods are disappearing speedily. This ultimately leads the unfortunate sparrows in losing their potential safe nesting and breeding sites. Felling of several old trees for the construction of highly modernized, scenic and well lighted boulevards and avenues further reduces potential nesting sites for these smaller birds.


Old single storied traditional residence (A), big roadside trees (B) and shrubs, city wetlands (C) and parks (D) are disappearing fast and making space for modern multi-storied offices and housing apartments (E-G) reducing foraging, nesting and breeding sites for house sparrows. Photo credits: Saikat Kumar Basu, Ratnabali Sengupta, Sutapa Basu & Pallav Mulhopadhyay.
The increased migration of people from the rural areas into the megacity from adjoining districts and states for economic opportunities has added additional anthropogenic pressures on Kolkata. In absence of opportunity to grow to keep up with the pace of such unprecedented human migration into the megacity in terms of urban projects and developments slums, shanties and illegal constructions have taken place mostly in an unplanned way in every available free space within city boundaries. This unrestricted and unbalanced growth of population due to in migration has further reduced the availability of open and undisturbed green stretches within the megacity. It results in lessening breeding opportunities for several erstwhile city wildlife and avian populations including the helpless and hapless house sparrows. Naturally their numbers started falling over the past decades. Moreover, lack of safe nesting sites exposes these tiny birds and their chicks to several predators including cats, crows, raptors, snakes and humans.




Existing traditional and old school residences are still attractive nesting sites of house sparrows (A). The real estate boom in the city has been rapidly transforming and expanding the city of Kolkata negatively impacting the resident avifauna like house sparrow (B). Photo credit: Srimoyi Mazumder.
Extensive use of chemical pesticides in agricultural fields lying in greater Kolkata also expedites the rate of declining number of sparrows. These pesticides mostly kill the soft skinned insects which are favorite foods of sparrows. A mother sparrow normally feeds its chicks with these soft skinned insects. Hence, killing of soft skinned insects by pesticides creates food crisis for chicks. The sparrows are often seen to take dead insects killed by chemical pesticide poisoning as their foods. It becomes fatal for them. These tiny birds are very fond of grains. Today these grains are not free from chemical pesticides. Resultantly the sparrows become affected by these deadly pesticides. Apart from this, the grains in past are seen to be scattered over an open vast stretch of land under direct sunlight for drying. Sparrows meet up their hunger freely from there. But, nowadays, rapid processing of food grains in modern closed mechanized farming leave very little chances for sparrows to collect foods from scattered grains.




Resting on perch.  Photo credit: Rahul Ray
Extensive unwise and indiscriminate installation of mobile phone towers within the megacity and its adjoining areas is normally believed to be one of the major factors of decreasing sparrow population. Mobile towers emit 900-1800 mega hertz electromagnetic waves. This wave is detrimental for the nervous system of these tiny birds and gradually they lose their flying ability which in turn affects their food collection. It reveals through observation that the sparrows hardly stay for 7-10 days in nests if it built very near to mobile towers. Normally the incubation period of sparrows is 10-14 days, but it has been observed that in the vicinity of mobile towers even after a 30 day incubation period no chicks emerge from the eggs. However, some environmentalists and prominent ornithologists have argued that till date no such concrete and decisive conclusion regarding installation of mobile towers and declining rate of sparrows has been reached by any peer reviewed scientific literature. But they do admit that electromagnetic waves of such unmonitored towers are not congenial.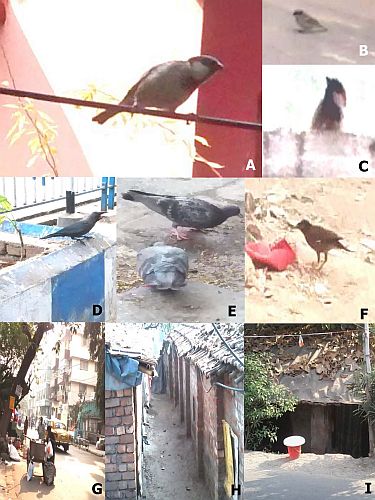 Resident male house sparrows (Passer domesticus ) roosting (A), foraging (B) and defending (C) its territory. Although house sparrows are on serious decline in the city, but other opportunistic avian members have aggressively occupied the niche and are represented by three most abundant, urbanized, highly adaptive and tolerant species in the city of Kolkata; such as the house crow [Corvus splendens Vieillot] (D), rock dove or rock pigeon [Columba livia Gmelin] (E) and common myna [Acridotheres tristis Linnaeus] (F). The densely populated city with enhanced air pollution and scarcely available green spaces; provides little opportunity for sensitive species such as house sparrow to breed and thrive successfully (G-I). Photo credits: Srimoyi Mazumder & Ratnabali Sengupta.
In India's capital New Delhi, sparrow has been declared as 'State Bird` in 1992. The house sparrow is also the 'State Bird' for the State of Bihar in eastern India. As per 'Royal Society for Protection of Birds` of Britain, sparrows are enlisted in 'Red Data Book` which is a comprehensive list of endangered and near-extinct species prepared by 'International Union for Conservation of Nature and Natural Resources` (IUCN). Although IUCN has placed house sparrow under the Least Concerned (LC) status for now; but an alarming decline is being noticed in Kolkata and surrounding areas. What is more worrying is the fact that several unconfirmed reports are also indicating a sharp decline of house sparrows in other parts of India too. It is now time for a serious nationwide comprehensive survey to evaluate the true status of the species so that appropriate measures could be adopted for the successful conservation of this declining species. The United Nation (UN) observes, 20th March every year as the 'World Sparrow Day' signifying the global importance of this species.




The resurgence of sensitive avian species back to a busy and congested metro like Kolkata could happen by sincere attempts of greening and landscaping the city to the best of our ability through the creation of roof gardens (A-F), backyard gardens (G-H), city parks (I-N), boulevards (O), avenue (P), kitchen gardens (Q-R) and water bodies (S-T) to function as city oasis. With the resurgence of green patches back onto the city landscape we will be able to welcome sensitive avian species like the house sparrow to once again occupy their lost niche within the city ecosystem by providing them with opportunities for nesting, foraging and breeding. Photo credits: Saikat Kumar Basu
Article contributed by: Saikat Kumar Basu and Rahul Ray