Parakeets are an integral part of the Indian subcontinent as well known and highly celebrated avifauna members down the ages. Although commonly misidentified as 'parrots' all the members of the parrot family reported from the Indian subcontinent are actually 'parakeets' and not true parrots, with the exception of the Vernal Hanging Parrot (Indian Lorikeet). The distinctive calls of the parakeets are reminiscent of both the Indian wild as well characteristic of the resident feral populations in several cities and towns of the continent. The parakeets have been closely associated with the art, culture, literature, language, ethnicity and history of the land in a colorful and interwoven mosaic. The close association of the different parakeet species to the subcontinent life and culture represent a kaleidoscope of people, culture and a vast array of noisy, colorful and majestic species of birds closely integrated together. Several parakeet species from the subcontinent have also been introduced in other countries on different continents; and like their native habitats have been successful in establishing feral populations in their new homes overseas.
The parakeets belong to the Order Psittaciformes, Superfamily-Psittacoidea, Family-Psittaculidae; Sub family-Psittaculinae and the genus Psittacula. True parrots (such as Macaws, Parrots and African Grey Parrot) belong to the Superfamily-Psittacoidea, Family-Psittacidae; while Cockatoos belong to the Super Family-Cacatuoidea and Family-Cacatuidae and are then placed under different sub-families and sub genera. There is a third group of parrots called the New Zealand Parrots belonging to the Super Family-Strigopoidea. Leaving aside all the taxonomic jargon, we can simply mention that both parakeets and parrots belong to the same family but are then separated morphologically, genetically and geographically.
Parrots are represented by over 350 species and over 80 genera across the planet but they are most well know in the regions of Central and South America, Africa and Australasia. The parakeets (often called the lesser parrots) are smaller in size compared to the true parrots; and are more common in Australia and the Indian subcontinent. The most popular and well known parakeet in the world is the Australian budgerigar or the famous budgie or the keet (Melopsittacus undulates Shaw) and is reported to be one of the most common pets, following dogs and cats.
There are 11 parakeets reported from the Indian subcontinent (please see the table below) and the 12th one is suspected to be a hybrid (Intermediate Parakeet or Rothschild's Parakeet). Only one hanging parrot species is reported from the region (Vernal Hanging Parrot or Indian Lorikeet). All the 11 parakeets belong to different species under the same genus ; with the Vernal Hanging Parrot or Indian Lorikeet that belongs to the genus Loriculus. Many of the parakeets have different sub species occupying different geographical regions. They vary in size between 14 cm (Vernal Hanging Parrot or Indian Lorikeet), the smallest of the Indian parakeets, to as big as the Alexandrine parakeet (53 cm) and the Nicobar parakeet (61 cm). The Nicobar parakeet is the largest reported parakeet. Other members are intermediate in lengths between these two extremes but are all above 35 cm on average.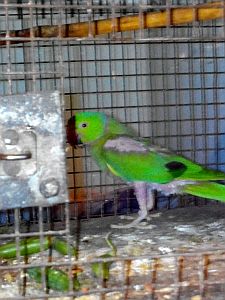 Juvenile Alexandrine Parakeet (Psittacula eupatria Linnaeus). Photo credit: Manorma Sharma
The Long-tailed Parakeet, the Malabar Parakeet and the Nicobar parakeet are reported to be endemic to their localities in the subcontinent. Majority of the parakeet species are sexually dimorphic and often the juvenile and sub-adults differ in coloration and plumage from the adult members. Most of these species are known by various vernacular names in the ethnically and linguistically diverse subcontinent and often similar name (s) from different regions may or may not represent same species. The parakeets are extremely popular as pets in most parts of the subcontinent; and hence an important point of concern for their successful conservation. The Rose-Ringed Parakeet is one of the most common species seen as pets in home across the region. But according to TRAFFIC (India) eight out of 12 parakeet species has been commonly seen in the Indian pet markets during their survey, indicating that ~67% of the species reported form the region has been seriously impacted by poaching, illegal capture and pet trade.
Rose-ringed parakeet or Ring-necked parakeet (Psittacula krameri Scopoli). Photo credit-Manorma Sharma.
Commonly known Indian subcontinent species are mentioned below:
| | | | | | |
| --- | --- | --- | --- | --- | --- |
| English name | Scientific name | Length (cm) | IUCN Status | Sexual dimorphism | Distribution |
| Alexandrine Parakeet or Parrot or Large Indian Parakeet | Psittacula eupatria Linnaeus | 53 | LC, SC-IV | Yes | Indian subcontinent & SE Asia |
| Blossom-headed Parakeet | Psittacula roseate Biswas | 36 | LC, SC-IV | Yes | NE India & SE Asia |
| Lord Derby's Parakeet or Derbyan Parakeet | Psittacula derbiana Fraser | | NT, SC-I, PART-III | Yes | NE India (Arunachal Pradesh) & limited distribution southern China |
| Grey-headed Parakeet or Humes Parakeet or Finsch's Parakeet | Psittacula finschii Humes | 36 | LC, SC-IV | No | NE India & SE Asia |
| Intermediate Parakeet or Rothschild's Parakeet (?) | Psittacula intermedia Rothschild | 36 (?) | ? | Yes | Never seen or officially reported in the wild and is believed to be most plausibly a hybrid between Slaty- & Plum headed Parakeets with considerable variations among different specimens. Could be generated under some captive breeding. Some unconfirmed reports highlights on Sub-Himalayan distribution (?) |
| Long-tailed Parakeet or Rosy or Red Cheeked Parakeet | Psittacula longicauda Boddaert | 47 | NT, SC-IV | Yes | Andaman & Nicobar islands (India), restricted localities of SE Asia (parts of Indonesia, Malaysia and Singapore)* |
| Malabar Parakeet or Blue Winged Parakeet | Psittacula columboides Vigors | 38 | LC, SC-IV | Yes | Western Ghats (India)* |
| Nicobar Parakeet or Blyth's Parakeet | Psittacula caniceps Blyth | 61 | NT, SC-IV | Yes | Nicobar islands (India)* ; largest among the parakeets |
| Plum-headed Parakeet | Psittacula cyanocephala Linnaeus | 36 | LC, SC-IV | Yes | Indian subcontinent* |
| Red-breasted Parakeet or Mustached Parakeet | Psittacula alexandri Linnaeus | 38 | LC, SC-IV | Yes | Indian subcontinent |
| Rose-ringed Parakeet or Ring-necked Parakeet | Psittacula krameri Scopoli | 42 | LC, SC-IV | Yes | Indian subcontinent & Africa |
| Slaty-headed Parakeet or Himalayan Parakeet | Psittacula himalayana Lesson | 41 | LC, SC-IV | Yes | The Himalayas; across the subcontinent; demonstrate altitudinal migration pattern |
| Vernal Hanging Parrot or Indian Lorikeet (Sub Family-Agapornithinae) | Loriculus vernalis Spartman | 14 | LC, SC-IV | No | Indian subcontinent & SE Asia |
NT: Near Threatened; LC: Least Concerned; ?: Doubtful status;  *: Endemic species; SC: Schedule III & IV under Indian Wildlife Act (1972), Protected Species

Map on the Indian Sub-Continent
The diet of the parakeets usually include seeds, nuts and wild fruits, cereal grains, pigeon peas, buds and flowers, orchard fruits and other plant parts; rarely insects and worms. They are also found to flock in huge numbers along edges of river beds eating mud to supplement their diet with mineral elements. They usually like nesting in the cavities of old trees or in natural or artificial holes or cavities of old and abandoned towers, chimneys and buildings, abandoned farm houses and factories etc. They live in the wild as dedicated pairs and are fiercely territorial in nature. Both parents take part in rearing their chicks and are known to be devoted parents. Most commonly observed courtship behaviors noticed in different parakeet species varies between courtship feeding, rubbing of bills, sitting closely with the partner and head bobbing and other related behaviors. The young hatch after an incubation period of about 20-40 days and fledge between 4-10 weeks depending on the species concerned. Each clutch again varies between 2-8 eggs depending on the species of the parakeet.
The eggs laid by all the parakeets are white in color. Fledglings are usually old enough to leave the protection of their nest before the onset of monsoon. Chicks are usually monomorphic and show their dimorphic plumage on adulthood depending upon their species. The males usually have brighter spots, patches, marks and rings compared to the female of the species exhibiting dimorphism. Most parakeets make affectionate and adorable pets. However, many species are aggressive and could bite when disturbed, threatened, irritated and provoked in self defense. In addition to humans; other predators of the parakeet eggs and chicks include snakes, monitor lizards, mongoose, civets, monkeys and birds of prey. Feral populations of different parakeet species have been well established in different cities, municipalities and towns of the subcontinent and the species have successfully adapted to the urban environment.
In the rural areas of the subcontinents often giant flocks of different parakeets are considered as pests and attack fruit gardens and orchards causing huge financial damages by foraging on both ripe and immature fruits and flowers. However, under Indian Wildlife Act (1972) all the parrots are protected species and could not be killed and hunted under Indian laws. The life expectancy in the wild varies between 6-12 years depending upon species; while in captivity and in the zoological gardens and aviaries they have been reported to live for almost 30-40 years or even more. Breeding the Indian parakeets in captivity is not greatly successful and hence the pet trade has been a detrimental factor causing illegal capture and sale of different species; the most popular being the Indian Rose-ringed Parakeet. But other species are also observed in the illegal pet markets in great numbers. Few species being capable of mimicking human speech and have been highly endured as popular pets causing further damages to their natural population dynamics. Chicks are often trapped for the purpose of illegal trade on pets and are responsible for their high mortality.
Often housed in small cages with poor diet and poor access to fresh water and sunlight have cased the deaths of several parakeets in confinement. Transportation after capture over long distances also results in high mortality rates. Furthermore, poor sanitation of the cages, insufficient diet, over crowding, diseases and exhaustion kills a large number of the captured parakeets even before they are sold; and many die off soon after reaching their end consumer due to too much care (over care) or total negligence and lack of training and necessary knowledge in managing, rearing and handling caged parakeets.
In addition to the anthropogenic pressures in the form of poaching, hunting and capture; the parakeets are also impacted by rapid degradation of their natural habitats, devegetation, habitat fragmentation, forest fires and pollution. Stringent monitoring and surveillance of the illegal pet markets by both government and non-government organizations will be absolutely important along with raising awareness and education among the general public  for successful and long term conservation of the beautiful parrot species of the subcontinent.

©TRAFFIC (India). Published with kind permission of TRAFFIC (India) for the purpose of education and awareness. The poster is available at: http://www.wwfindia.org/?6900/TRAFFIC-helps-to-claw-back-illegal-parrot-trade-in-India
Article submitted by: Saikat Kumar Basu
Birds use all sorts of materials to build and pad their nests with, and are very good in general at adapting whatever is at hand to suit their needs. Some birds even use the shed skins of snakes in their nest building, raising the question as to whether the snake skin is merely a handy and comfortable material to line a nest with, or whether it is actually intended to scare predators off. A study carried out by Arkansas State University ornithologists concluded that some bird species clearly use the snake skin to deter predators by incorporating it into their nests in some way, or by prominently displaying a snake skin near the nest, or both.
The Tufted Titmouse (Baeolophus bicolor) and Blue Grosbeak (Passerina caerulea) are among the bird species that include pieces of snake skin in their nests, while Great Crested Flycatchers (Myiarchus crinitus) are known to display a snake skin outside their nesting cavity, as well as using an entire coiled snake skin in the nest. These will remain there throughout the incubation and fledgling stage of breeding. The study noted that the main predators of the eggs of Great Crested Flycatchers are rat snakes and flying squirrels – the latter being fond of bird's eggs and the former preying on both birds and their eggs, as well as on flying squirrels. It was also noted that flying squirrels and Great Crested Flycatchers have a very similar geographical spread, and as all three species favor cavities as habitats, it is likely they will encounter one another. As the flying squirrel does its best to avoid the rat snake, it has been suggested that the shed skin of the snake acts as a deterrent to the squirrel.
A test carried out by the researchers confirmed that to be so. Using 60 nest boxes in which quail eggs were placed, researchers added snake skins into 40 of the boxes, with 20 boxes having no snake skin in them. All of the 40 boxes with snake skins were left untouched, while up to 20 percent of the nests without snake skins were raided by flying squirrels – evidence that some birds use snake skins specifically to ward off predators, and it appears to work.
Located in the picturesque village of Desford, near Leicester in England, Tropical Birdland is home to more than 250 birds, including a collection of free-flying parrots from all over the world. Visitors will have the opportunity to stroll at leisure through the main walk-through aviary, view newly hatched or hatching chicks, interact with birds on Parrot Path, and take a walk on the wild side along the Woodland Walk, with the possibility of seeing kingfishers, jays, woodpeckers and squirrels among the trees and shrubs.
Tropical Birdland opened to the public in 1984, when Richard Hopper decided to turn his hobby into a business. With breeding of endangered species as one of the park's main goals, aviaries were built and rare species were added to the growing collection of birds housed at the facilities. In 1992, Hopper started training birds for free flight, with his very first bird, a blue and gold macaw named Jackie, being the first to take flight. Today, several parrots and macaws spend their days out in the open with the option of free flight, returning to their sleeping quarters each night.
Among the rare and unusual birds at Tropical Birdland is a pair of highly endangered hyacinth macaws (Anodorhynchus hyacinthinus). Found only in the wetlands of the Pantanal – the world's largest tropical wetland area found in Brazil, Bolivia and Paraquay – and some areas of the Amazon jungle in Brazil, this spectacularly beautiful species is the largest, and quite likely the strongest, parrot species in the world. As with many bird species around the world, their continued existence in the wild is threatened by deforestation as humans turn their habitat into farmland.
Other exotic birds housed at Tropical Birdland include the blue and gold macaw (Ara ararauna), the green-winged macaw (Ara chloroptera), the bare-eyed cockatoo (Cacatua sanguinea), the Galah cockatoo (Eolophus roseicapillus), and the black-headed caique (Pionites melanocephala), as well as the kea parrot (Nestor notabilis) and the snowy owl (Bubo scandiacus).
Tropical Birdland also features a restaurant, picnic area and play park, making it the perfect venue for a family outing in the English countryside.
With their forked tails and scythe-shaped wings, swifts herald the arrival of spring in Europe and are seen as the bringers of rain in parts of Africa where they spend their winters. These amazing birds spend almost their entire lives in flight, so much so that their legs are small and too weak to support them for long when perching, explaining why their family name, Apodidae, is taken from the Greek word meaning 'without feet'. Spine-tailed swifts, also known as white-throated needletails, have been measured as flying up to speeds of 105 mph (169km/h), while common swifts are known to routinely reach speeds of 70 mph (112 km/h).
Although they resemble swallows, swifts are placed in the same order as hummingbirds, Apodiformes, while swallows are of the order Passeriformes. Their similarities are attributed to convergent evolution, a phenomena where differing species develop similar traits due to lifestyle adaptations, in this case their habit of catching insects in flight.
Distances are immaterial to swifts, as they can easily fly 500 miles in a day. Most swifts remain airborne from when they fledge to the first time they breed – a period of roughly four years. It's been estimated that in a swift's lifetime it will cover a distance of around 1.28 million miles. They even roost on the wing, circling gently for hours as the two sides of their brains take turns in sleeping. Swifts only nest to raise their young, and are fond of doing so inside roofs of houses. Parents can gather and carry as many as 1,000 insects to feed their young, making them very effective insect controllers. When the fledglings leave the nest, they all take to the skies and so the cycle continues.
When swifts are feeding in the late afternoon, they swoop through the air in a series of aerobatics that are fascinating to watch. As is the case with hummingbirds, swifts are able to rotate their wings in a manner that keeps them fully extended and rigid, delivering power on both the upstroke and downstroke, thereby increasing their speed and maneuverability. No other bird species are able to do this. So if you happen to have the good fortune to see swifts in action, take some time to appreciate their unique characteristics.
Visitors to the Birds of a Feather Festival can look forward to a variety of activites including fantastic birding, presentations, workshops, social events, kayak trips and family fun. The keynote speaker will be Greg Miller from "The Big Year". With over 200 identified species in the area, birders are sure to spot an array of beautiful birds whilst exploring over 125 miles of trails over various habitats. Be sure to register!
For more information visit http://www.palmcoastgov.com/events/birding-fest
Date: 6 to 8 February 2015
Location: Palm Coast
State: Florida
Country: United States