Indigenous to the mountains of central China, Golden Pheasants (Chrysolophus pictus) are spectacularly beautiful birds that are so well adapted to living in captivity they have become popular pets in many countries far from their original habitat. Some researchers are of the opinion that the Golden Pheasant was likely the first species of pheasant brought into North America in the mid-1700s, and they have formed several feral populations in parts of the United Kingdom.
The Golden Pheasant and Lady Amherst Pheasant (Chrysolophus amherstiae) are both Ruffed Pheasants, so named for the ruff the male spreads around his face and neck as part of his courtship ritual. The female Golden Pheasant is brown in color with dark rippled bars running from her head down her body and wings, while her face, throat and rump are buff. The male, on the other hand, is one of the most colorful birds around, with a silky-golden crest, tinged with red at the tips. Its face, chin, throat and sides of its neck are a rusty tan color, while its orbital skin and wattles are yellow. The ruff of the Golden Pheasant is light orange, with a bluish-black border on each feather. The green upper back of the bird contrasts beautifully with its golden-yellow back and rump, while its scarlet breast blends into a light chestnut color on its flanks and underparts. Its tertiary wing feathers are blue, with dark red scapulars, while its central tail feathers are black with buff spots and the tip of its tail being buff.
Although they are brightly colored, they are not always easy to spot in their natural habitat of dense forest, so not much is known about their habits in the wild. What is known is that they forage on the ground, eating grain, leaves and invertebrates, and they can fly short distances, roosting in trees at night.
As they are compatible with other types of birds (but not always with other pheasant species), Golden Pheasants can be kept in an environment with waterfowl, peafowl, doves, pigeons and other birds. They are very hardy, breed easily in captivity and the chicks are easy to raise. As such, Golden Pheasants are a good choice for first-time pheasant owners and a firm favorite among veteran bird keepers.
Canada geese (Branta canadensis L.) represent a majestic symbol of nature and natural world and are a well known migratory species of geese widely recognized across the continent of North America, Northern Europe and in the Asian Far East. The species is native to the continent of North America. The famous "v-shaped" flying pattern of trumpeting and migrating Canada geese flocks are seen as one of the most well known and symbolic signs of the change of season across the range of this beautiful species (Fig 1-2). Several North American and eastern Siberian aboriginal and indigenous groups and communities consider this as a sign of good luck and fortune, and numerous stories about the species are thus included in many of their ethnic folklores and indigenous stories. The majestic species is consider to be an important symbol of the wild west of the continent of North America as well as a dynamic symbol of the natural heritage of the world's second largest country Canada. The species is widely distributed in US and Canada, parts of northern Europe, eastern Siberia, parts of northeastern China and Japan (see map). A population in New Zealand is also known where it was introduced few decades back as wild game species.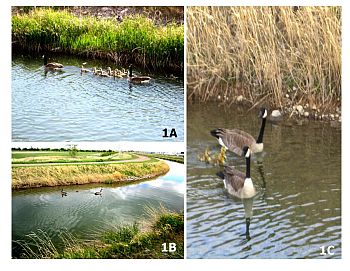 Due to conservation efforts their number and population have increased significantly across their range. Huge standing flocks reside on agricultural farms and devour substantial portions of young crop seedlings as well as seed grains, damaging them extensively. Occasionally they are also known to devour insects and fishes, as well as other aquatic vertebrates and invertebrates. The families start migrating southward for their summer retreats to southern US and northern Mexico when their northern homes start showing signs of freezing.
The species is predominantly aquatic found resting, foraging, nesting and settling around fresh water, inland water bodies and narrow irrigational canals. However, some are even found to be resident on the farms across the Prairies of North America and are also abundant around the Great Lakes. Both males and females look similar, but the female are found to be slightly smaller in size and weight. The males of this species are known to be quite aggressive in protecting their nesting sites and ducklings (Fig 4). Some sub-species are also known to build nests on trees or resting on trees during the night for safety. Egg clutches varies between 2-20 eggs in a single breeding season depending upon their reproductive success, availability of quality food and safe nesting sites. Common predators of eggs and ducklings include foxes, coyotes, badgers and some raptor species. Currently this is a protected species and is considered a valuable wildlife species; and hence hunting, capture and exploitation of the species is illegal under the fish and wildlife acts.
Prime nesting and foraging sites of Canada geese adjoining irrigation canals and at the edges of nearby farmlands are presented in Figs 7-10.
Photo courtesy: Mr Doug Messenger is gratefully acknowledged for kindly providing Fig 2D.
Article contributed by Saikat Kumar Basu
The 9th annual Monterey Bay Birding Festival offers birding enthusiasts the opportunity to explore one of the most spectacular birding and wildlife destinations in North America. With its amazing diversity of habitats, this area is home to Golden Eagles, California Condors, Warblers, Bushtits, Plovers, Shearwaters and much more. For more information on this exciting event go to the Monterey Bay Birding Festival 2013.
Dates: 12-15 September 2013
Venue: Monterey Bay
State: California
The Eastern or American Goldfinch, Latin name Carduelis tristis, is a member of the finch, Fringillidae, family. It is a typical North American seed eating bird and so only starts nesting in mid to late summer, when weed seeds are available. Because they are late breeders the goldfinch stays in a flock for much longer than other species of birds that have already formed pairs and have begun breeding. Due to late nesting, only one single brood is raised every year.
The goldfinch is about 11 to 13 cm long, smaller than a sparrow. These little birds breed all over southern Canada and from Newfoundland to British Columbia, as well as in the northern and southern states of America. They like open spaces with trees spotted around, like orchards and alongside the road.
American Goldfinches have been studied quite extensively and it has been found that when they migrate they often hesitate before they fly over water, with some even returning to the mainland. It takes the main leader of the group to head out over the water before the others, one by one, will follow along. It won't be long before they will return to the water's edge, chatting away noisily to each other almost as if they are gathering courage. Again they will try head over the water and those that remain will return to land until winter forces the birds to complete their migration.
The breeding male is bright yellow in colour with a white rump and a black forehead. The wings and tail are black with a white outer edge; the wings differentiate from the tail because of having an extra splash of yellow on the bend of each wing. The male and female have a dull olive-gray winter coat with black wings, tail and white stripes on their wings. When spring comes around again the goldfinches lose all their dark winter feathers and once again regain their striking orange bill. The male American Goldfinch differs from the female in that the rest of his body goes a canary yellow with a black cap.
Ruby-Throated Hummingbirds (Archilochus colubris) are widely distributed through North America, and are the most common hummingbirds in eastern North America. They embark on a most difficult migration of 18 to 20 hours non-stop across the Gulf. A truly beautiful bird, Ruby-throated Hummingbirds are frequent garden visitors and quickly become accustomed to human presence.
The Ruby-throated Hummingbird averages a length of 3.5 inches or 8.9 cm with a mass of 3.1 g. Adult males have an emerald green back with a ruby-red iridescent throat. The flanks are gray and his tail is forked. The larger female Ruby-throated Hummingbird also has an emerald green back, but has a white breast and throat. Her tail is rounded and tipped with white. Juvenile offspring resemble the female, the males developing the red gorget over time. Interestingly, as with other hummingbirds, the Ruby-throated Hummingbird's wings beat extremely fast averaging 52 beats per second. Everything about these birds is fast, respiration is at 250 per minute and the heart rate reaches 1 200 beats a minute when feeding. Under normal conditions they fly at a speed of 48 km/h. In a dive they reach 101 km/h. The fast beating of the little wings of the hummingbird make a distinctive humming sound whilst they emit rapid chipping calls. The Ruby-throated Hummingbird has very short legs and has to shuffle across the item it is perching on.
Ruby-throated Hummingbirds feed only on nectar and insects (moths, butterflies and bees), using their long bills to reach inside flowers. They are easily drawn to garden bird feeders specially designed for their feeding habits. Males will even become very territorial over their feeder and guard it aggressively. Following an almost non-existent courtship the female will lay 2 tiny eggs in the minute nest built of bud scales. The nest is intricately designed with spider silk attaching it to a tree branch and lichen on the outside as camouflage. The inside of the nest is carefully lined with thistle down, cattail or dandelion. Incubation by the female lasts for about 60 to 80 days. Normally young ones will stay in the nest for 18 to 23 days, though this can vary greatly according to circumstances. Ruby-throated Hummingbirds are fascinating birds, a wonder to the eye, so why not purchase a nectar feeder and draw them to your garden.