Indigenous to the mountains of central China, Golden Pheasants (Chrysolophus pictus) are spectacularly beautiful birds that are so well adapted to living in captivity they have become popular pets in many countries far from their original habitat. Some researchers are of the opinion that the Golden Pheasant was likely the first species of pheasant brought into North America in the mid-1700s, and they have formed several feral populations in parts of the United Kingdom.
The Golden Pheasant and Lady Amherst Pheasant (Chrysolophus amherstiae) are both Ruffed Pheasants, so named for the ruff the male spreads around his face and neck as part of his courtship ritual. The female Golden Pheasant is brown in color with dark rippled bars running from her head down her body and wings, while her face, throat and rump are buff. The male, on the other hand, is one of the most colorful birds around, with a silky-golden crest, tinged with red at the tips. Its face, chin, throat and sides of its neck are a rusty tan color, while its orbital skin and wattles are yellow. The ruff of the Golden Pheasant is light orange, with a bluish-black border on each feather. The green upper back of the bird contrasts beautifully with its golden-yellow back and rump, while its scarlet breast blends into a light chestnut color on its flanks and underparts. Its tertiary wing feathers are blue, with dark red scapulars, while its central tail feathers are black with buff spots and the tip of its tail being buff.
Although they are brightly colored, they are not always easy to spot in their natural habitat of dense forest, so not much is known about their habits in the wild. What is known is that they forage on the ground, eating grain, leaves and invertebrates, and they can fly short distances, roosting in trees at night.
As they are compatible with other types of birds (but not always with other pheasant species), Golden Pheasants can be kept in an environment with waterfowl, peafowl, doves, pigeons and other birds. They are very hardy, breed easily in captivity and the chicks are easy to raise. As such, Golden Pheasants are a good choice for first-time pheasant owners and a firm favorite among veteran bird keepers.
Canada geese (Branta canadensis L.) represent a majestic symbol of nature and natural world and are a well known migratory species of geese widely recognized across the continent of North America, Northern Europe and in the Asian Far East. The species is native to the continent of North America. The famous "v-shaped" flying pattern of trumpeting and migrating Canada geese flocks are seen as one of the most well known and symbolic signs of the change of season across the range of this beautiful species (Fig 1-2). Several North American and eastern Siberian aboriginal and indigenous groups and communities consider this as a sign of good luck and fortune, and numerous stories about the species are thus included in many of their ethnic folklores and indigenous stories. The majestic species is consider to be an important symbol of the wild west of the continent of North America as well as a dynamic symbol of the natural heritage of the world's second largest country Canada. The species is widely distributed in US and Canada, parts of northern Europe, eastern Siberia, parts of northeastern China and Japan (see map). A population in New Zealand is also known where it was introduced few decades back as wild game species.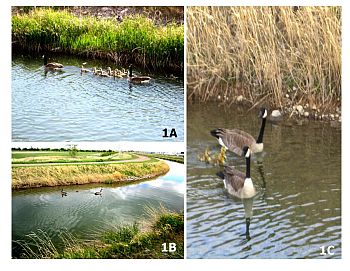 Due to conservation efforts their number and population have increased significantly across their range. Huge standing flocks reside on agricultural farms and devour substantial portions of young crop seedlings as well as seed grains, damaging them extensively. Occasionally they are also known to devour insects and fishes, as well as other aquatic vertebrates and invertebrates. The families start migrating southward for their summer retreats to southern US and northern Mexico when their northern homes start showing signs of freezing.
The species is predominantly aquatic found resting, foraging, nesting and settling around fresh water, inland water bodies and narrow irrigational canals. However, some are even found to be resident on the farms across the Prairies of North America and are also abundant around the Great Lakes. Both males and females look similar, but the female are found to be slightly smaller in size and weight. The males of this species are known to be quite aggressive in protecting their nesting sites and ducklings (Fig 4). Some sub-species are also known to build nests on trees or resting on trees during the night for safety. Egg clutches varies between 2-20 eggs in a single breeding season depending upon their reproductive success, availability of quality food and safe nesting sites. Common predators of eggs and ducklings include foxes, coyotes, badgers and some raptor species. Currently this is a protected species and is considered a valuable wildlife species; and hence hunting, capture and exploitation of the species is illegal under the fish and wildlife acts.
Prime nesting and foraging sites of Canada geese adjoining irrigation canals and at the edges of nearby farmlands are presented in Figs 7-10.
Photo courtesy: Mr Doug Messenger is gratefully acknowledged for kindly providing Fig 2D.
Article contributed by Saikat Kumar Basu
The 9th annual Monterey Bay Birding Festival offers birding enthusiasts the opportunity to explore one of the most spectacular birding and wildlife destinations in North America. With its amazing diversity of habitats, this area is home to Golden Eagles, California Condors, Warblers, Bushtits, Plovers, Shearwaters and much more. For more information on this exciting event go to the Monterey Bay Birding Festival 2013.
Dates: 12-15 September 2013
Venue: Monterey Bay
State: California
Named for its whooping call, the Whooping Crane (Grus americana) is unique in a number of ways. Firstly, at 1.5 meters in height with a wingspan of 2.3 meters, this beautiful bird is the tallest bird in North America. It is also unique in that it is the only crane species that is found exclusively in North America. However, despite their immense size, Whooping Cranes are an endangered species. When counted in 1995, there were 149 Whooping Cranes in the US. This is quite an increase from the 14-16 that were around in the 1940s but a far cry from the 1,500 or so that inhabited parts of western Canada and the US in the 1800s. Fortunately conservations efforts have been largely successful and there are currently more than 320 Whooping Cranes in the world.
Because of their immense size, Whooping Cranes are easily identifiable. They are very large birds with long legs and a long neck. Their dark bills are long and pointed and their long dark legs trail behind them when they fly. Whooping Cranes tend to hold their necks straight, both when resting and during flight, instead of adopting the S-like bend that many other long-necked birds make use of. Adults have a red crown and entirely white plumage. There is a bit of black near the base of their bills which extends onto the cheeks somewhat. You might also spot black wing tips when the adult bird is in flight. Juvenile birds have a white body with scattered brown feathers as well as a pale brown head and neck.
The Whooping Crane prefers to make use of 'muskegs' for breeding purposes. Currently there is only one known nesting location – that of Wood Buffalo National Park which is in Canada. The Whooping Crane nests on the ground in a marshy area. The female lays 1-3 eggs and both the male and female raise the young. Whooping cranes generally mate for life. Usually only one bird survives and the weaker is starved to death or pushed out the nest. Whooping Cranes are omnivorous and they eat snails, insects, leeches, minnows, frogs, small rodents, waste grain, plant roots and berries. They may scavenge on dead birds or muskrats, and in Texas they have been known to eat snakes, acorns, wild fruit, small fish and shellfish. Most of their food is obtained by foraging in shallow water or in fields. The main reason for this bird's dwindling numbers is that of habitat loss. Fortunately several crane conservation projects have resulted in varying measures of success but the bird still has a long way to go before it is no longer considered to be an endangered species.
The Common Redpoll (Carduelis flammea) is a fairly small bird that is commonly found in open subarctic coniferous forest and scrub during the breeding season. In winter it favours open woodland, scrub, weedy fields and suburban areas. It generally avoids dense forests, and displays an irregular migratory pattern, migrating only every few years during the winter months when wild food may be scarce on their normal winter grounds. Though they generally spend most of the time in the upper half of North America and Canada, they have been known to fly as far away as Europe and Asia.
This little bird is between 12-14 cm in length and has a wingspan of 19-22 cm. They weigh only about 11-20 grams and have highly variable plumage characteristics. Generally speaking, the Common Redpoll is a small finch with a small, conical-shaped yellow bill. It has a black chin and lores, red forehead and pale brown body with streaks. The eye line is dark and the cheeks are a paler in colour than the rest of the head and nape. The wings and tail are dark in colour and there are two white wingbars on each wing. Flight and tail feathers are grey with buff-colored edges while the rump is pale and also streaked with grey. Males may have a pink to deep rose wash across their chest. Females do not have this pink colouration.
The Common Redpoll feeds on a variety of small seeds such as birch, willow, alder, grasses and weeds. They generally feed on small branches, using their feet to hold the food down while they pick it off with their beaks. They also have foodpouches which they can use to temporarily store seeds, allowing them to gorge themselves quickly before they fly away to a safer spot to enjoy their food at leisure. The Common Redpoll has also been known to frequent bird feeders. Their nests are made of fine twigs, rootlets and grasses which they weave together into a cup-like shape. They may use feathers or hair to line the nest which is usually found in a small tree or shrub. The female may lay between 4-6 spotted eggs out of which small, helpless and fairly featherless chicks hatch a few weeks later. Once they have lost their down feathers, the immature Common Redpoll resembles the adult bird.