Indigenous to the mountains of central China, Golden Pheasants (Chrysolophus pictus) are spectacularly beautiful birds that are so well adapted to living in captivity they have become popular pets in many countries far from their original habitat. Some researchers are of the opinion that the Golden Pheasant was likely the first species of pheasant brought into North America in the mid-1700s, and they have formed several feral populations in parts of the United Kingdom.
The Golden Pheasant and Lady Amherst Pheasant (Chrysolophus amherstiae) are both Ruffed Pheasants, so named for the ruff the male spreads around his face and neck as part of his courtship ritual. The female Golden Pheasant is brown in color with dark rippled bars running from her head down her body and wings, while her face, throat and rump are buff. The male, on the other hand, is one of the most colorful birds around, with a silky-golden crest, tinged with red at the tips. Its face, chin, throat and sides of its neck are a rusty tan color, while its orbital skin and wattles are yellow. The ruff of the Golden Pheasant is light orange, with a bluish-black border on each feather. The green upper back of the bird contrasts beautifully with its golden-yellow back and rump, while its scarlet breast blends into a light chestnut color on its flanks and underparts. Its tertiary wing feathers are blue, with dark red scapulars, while its central tail feathers are black with buff spots and the tip of its tail being buff.
Although they are brightly colored, they are not always easy to spot in their natural habitat of dense forest, so not much is known about their habits in the wild. What is known is that they forage on the ground, eating grain, leaves and invertebrates, and they can fly short distances, roosting in trees at night.
As they are compatible with other types of birds (but not always with other pheasant species), Golden Pheasants can be kept in an environment with waterfowl, peafowl, doves, pigeons and other birds. They are very hardy, breed easily in captivity and the chicks are easy to raise. As such, Golden Pheasants are a good choice for first-time pheasant owners and a firm favorite among veteran bird keepers.
Canada geese (Branta canadensis L.) represent a majestic symbol of nature and natural world and are a well known migratory species of geese widely recognized across the continent of North America, Northern Europe and in the Asian Far East. The species is native to the continent of North America. The famous "v-shaped" flying pattern of trumpeting and migrating Canada geese flocks are seen as one of the most well known and symbolic signs of the change of season across the range of this beautiful species (Fig 1-2). Several North American and eastern Siberian aboriginal and indigenous groups and communities consider this as a sign of good luck and fortune, and numerous stories about the species are thus included in many of their ethnic folklores and indigenous stories. The majestic species is consider to be an important symbol of the wild west of the continent of North America as well as a dynamic symbol of the natural heritage of the world's second largest country Canada. The species is widely distributed in US and Canada, parts of northern Europe, eastern Siberia, parts of northeastern China and Japan (see map). A population in New Zealand is also known where it was introduced few decades back as wild game species.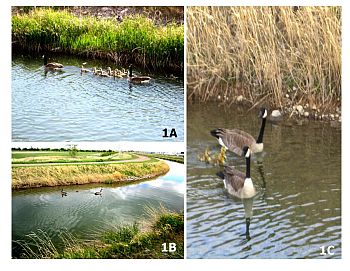 Due to conservation efforts their number and population have increased significantly across their range. Huge standing flocks reside on agricultural farms and devour substantial portions of young crop seedlings as well as seed grains, damaging them extensively. Occasionally they are also known to devour insects and fishes, as well as other aquatic vertebrates and invertebrates. The families start migrating southward for their summer retreats to southern US and northern Mexico when their northern homes start showing signs of freezing.
The species is predominantly aquatic found resting, foraging, nesting and settling around fresh water, inland water bodies and narrow irrigational canals. However, some are even found to be resident on the farms across the Prairies of North America and are also abundant around the Great Lakes. Both males and females look similar, but the female are found to be slightly smaller in size and weight. The males of this species are known to be quite aggressive in protecting their nesting sites and ducklings (Fig 4). Some sub-species are also known to build nests on trees or resting on trees during the night for safety. Egg clutches varies between 2-20 eggs in a single breeding season depending upon their reproductive success, availability of quality food and safe nesting sites. Common predators of eggs and ducklings include foxes, coyotes, badgers and some raptor species. Currently this is a protected species and is considered a valuable wildlife species; and hence hunting, capture and exploitation of the species is illegal under the fish and wildlife acts.
Prime nesting and foraging sites of Canada geese adjoining irrigation canals and at the edges of nearby farmlands are presented in Figs 7-10.
Photo courtesy: Mr Doug Messenger is gratefully acknowledged for kindly providing Fig 2D.
Article contributed by Saikat Kumar Basu
The 9th annual Monterey Bay Birding Festival offers birding enthusiasts the opportunity to explore one of the most spectacular birding and wildlife destinations in North America. With its amazing diversity of habitats, this area is home to Golden Eagles, California Condors, Warblers, Bushtits, Plovers, Shearwaters and much more. For more information on this exciting event go to the Monterey Bay Birding Festival 2013.
Dates: 12-15 September 2013
Venue: Monterey Bay
State: California
The Merlin or as it is scientifically know as, Falco colombarius, is a falcon that breeds in many different continents like North America, Asia and Europe. In North America it is known as a pigeon hawk, and the Latin part of its scientific name, "columba", means dove also indicating the falcon's popular food choice. But the name is incorrect in that it is not a hawk but a falcon and so the name is not often used.
The Merlin is a small bird of prey that breeds in open areas like moor lands, birch scrub and taiga or willow scrub, coasts and desert areas. When temperatures become too cold the Merlin, like its larger counterpart the Peregrine Falcon, will migrate to more temperate regions. These northern European birds will go over to North Africa or to southern Europe, whereas the North American birds will head to southern USA and to northern South America. If the bird is found in Great Britain, one of its milder breeding ranges, it will leave high grounds and move to lowlands and the coast.
In Europe the Merlin is a social bird and will roost communally in winter, many times with Hen Harriers. However, in North America, communal roosting is rare because the Merlin is known for its aggression and it will go so far as to attack any bird of prey, even eagles. Throughout the Merlin's territory range they will nest on the ground, for instance in the United Kingdom they will usually look for a shallow scrape on the heather moor land. They also enjoy long heather but because of the regular burning in that area they tend to be over managed.
The male Merlin's coloring is specifically blue-gray with orange-tinted under parts. The female and the juvenile differ and have a dark brown back and a white belly with brown spots below. The American subspecies go from pale in the Great Plains to dark brown, black in the Pacific Northwest. This particular species is small in size and has dark under parts, and is distinguished from the Peregrine Falcon by its facial features, which are not as strongly marked.
These falcons prey on small birds like pipits, larks and large insects and because of this they rely heavily on their speed and agility to hunt prey. Merlin Falcons hunt by flying low, about one meter off the ground, and very fast catching their prey by surprise.
Known for their beautiful songs Wood Thrushes (Hylocichla mustelina) are more often heard than seen. These delightful birds are a medium-sized thrush and are the only member of the genus Hylocichla. They are migratory, and while their breeding grounds are in eastern North America, they generally fly south at night in mid-August. They may stop on the Gulf Coast for a few days in inclement weather before attempting to fly across the Gulf of Mexico to the tropical forests of southern Mexico and Central America. Wood Thrushes have been found in Western Europe but this is a rare occurrence and these birds are usually vagrants.
The typical Wood Thrush is 18.5 cm long and weighs about 48 grams. Their crowns, napes and upper back are a rusty-brown colour while their underparts are white with random black or dark-brown spotting. The rest of their upperparts are brown and they have a white eye ring and streaked cheeks. The bill is short and pointed with pink colouration near the corners and black colouration on the tip. The legs are also pink. All in all it is quite an attractive bird and both sexes are similar in appearance. The juvenile bird has pale spots on its upperparts but is otherwise difficult to distinguish from the adult. Wood Thrushes are famous for their beautiful flute-like voices and they are capable of combining two notes at once. Their singing is usually stronger and more elaborate just before sunrise and at dusk though they may sing throughout the day during mating season. They usually stop singing by the end of July.
Wood Thrushes generally favour well-shaded areas near water. They feed on beetles, flies, millipedes, earthworms, spiders and sow bugs which they usually find by overturning fallen leaves on the moist soil. They also feed on small fruits and berries. In the springtime, males return to their breeding grounds early to establish their territories. Before long, their beautiful songs attract a mate and a nesting sight that is well concealed and has plenty of shade is chosen. The female will usually build the nest in a fork in a tree, using mud, dead grass and dead leaves to create the structure. Once the nest is built, she will lay 3-4 greenish-blue eggs in it which she will incubate herself. She may have two broods in one season. Once the Wood Thrush chicks are hatched, both parents help to feed the nestlings.