Indigenous to the mountains of central China, Golden Pheasants (Chrysolophus pictus) are spectacularly beautiful birds that are so well adapted to living in captivity they have become popular pets in many countries far from their original habitat. Some researchers are of the opinion that the Golden Pheasant was likely the first species of pheasant brought into North America in the mid-1700s, and they have formed several feral populations in parts of the United Kingdom.
The Golden Pheasant and Lady Amherst Pheasant (Chrysolophus amherstiae) are both Ruffed Pheasants, so named for the ruff the male spreads around his face and neck as part of his courtship ritual. The female Golden Pheasant is brown in color with dark rippled bars running from her head down her body and wings, while her face, throat and rump are buff. The male, on the other hand, is one of the most colorful birds around, with a silky-golden crest, tinged with red at the tips. Its face, chin, throat and sides of its neck are a rusty tan color, while its orbital skin and wattles are yellow. The ruff of the Golden Pheasant is light orange, with a bluish-black border on each feather. The green upper back of the bird contrasts beautifully with its golden-yellow back and rump, while its scarlet breast blends into a light chestnut color on its flanks and underparts. Its tertiary wing feathers are blue, with dark red scapulars, while its central tail feathers are black with buff spots and the tip of its tail being buff.
Although they are brightly colored, they are not always easy to spot in their natural habitat of dense forest, so not much is known about their habits in the wild. What is known is that they forage on the ground, eating grain, leaves and invertebrates, and they can fly short distances, roosting in trees at night.
As they are compatible with other types of birds (but not always with other pheasant species), Golden Pheasants can be kept in an environment with waterfowl, peafowl, doves, pigeons and other birds. They are very hardy, breed easily in captivity and the chicks are easy to raise. As such, Golden Pheasants are a good choice for first-time pheasant owners and a firm favorite among veteran bird keepers.
Canada geese (Branta canadensis L.) represent a majestic symbol of nature and natural world and are a well known migratory species of geese widely recognized across the continent of North America, Northern Europe and in the Asian Far East. The species is native to the continent of North America. The famous "v-shaped" flying pattern of trumpeting and migrating Canada geese flocks are seen as one of the most well known and symbolic signs of the change of season across the range of this beautiful species (Fig 1-2). Several North American and eastern Siberian aboriginal and indigenous groups and communities consider this as a sign of good luck and fortune, and numerous stories about the species are thus included in many of their ethnic folklores and indigenous stories. The majestic species is consider to be an important symbol of the wild west of the continent of North America as well as a dynamic symbol of the natural heritage of the world's second largest country Canada. The species is widely distributed in US and Canada, parts of northern Europe, eastern Siberia, parts of northeastern China and Japan (see map). A population in New Zealand is also known where it was introduced few decades back as wild game species.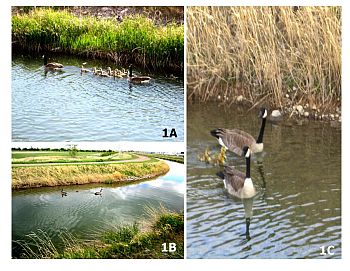 Due to conservation efforts their number and population have increased significantly across their range. Huge standing flocks reside on agricultural farms and devour substantial portions of young crop seedlings as well as seed grains, damaging them extensively. Occasionally they are also known to devour insects and fishes, as well as other aquatic vertebrates and invertebrates. The families start migrating southward for their summer retreats to southern US and northern Mexico when their northern homes start showing signs of freezing.
The species is predominantly aquatic found resting, foraging, nesting and settling around fresh water, inland water bodies and narrow irrigational canals. However, some are even found to be resident on the farms across the Prairies of North America and are also abundant around the Great Lakes. Both males and females look similar, but the female are found to be slightly smaller in size and weight. The males of this species are known to be quite aggressive in protecting their nesting sites and ducklings (Fig 4). Some sub-species are also known to build nests on trees or resting on trees during the night for safety. Egg clutches varies between 2-20 eggs in a single breeding season depending upon their reproductive success, availability of quality food and safe nesting sites. Common predators of eggs and ducklings include foxes, coyotes, badgers and some raptor species. Currently this is a protected species and is considered a valuable wildlife species; and hence hunting, capture and exploitation of the species is illegal under the fish and wildlife acts.
Prime nesting and foraging sites of Canada geese adjoining irrigation canals and at the edges of nearby farmlands are presented in Figs 7-10.
Photo courtesy: Mr Doug Messenger is gratefully acknowledged for kindly providing Fig 2D.
Article contributed by Saikat Kumar Basu
The 9th annual Monterey Bay Birding Festival offers birding enthusiasts the opportunity to explore one of the most spectacular birding and wildlife destinations in North America. With its amazing diversity of habitats, this area is home to Golden Eagles, California Condors, Warblers, Bushtits, Plovers, Shearwaters and much more. For more information on this exciting event go to the Monterey Bay Birding Festival 2013.
Dates: 12-15 September 2013
Venue: Monterey Bay
State: California
The American Kestrel (Falco sparverious) can be easily identified by its unique markings. They have a wingspan of 21 inches and measure 8.5 inches in length. The American Kestrel has a short, hooked beak, and the adult males have rust patches on their crown, tail, breast, back and nape. Their bellies are pale in color, and have dark feathers at intervals, which creates a spotted effect. Black spots can also be found on the wings coverts, flanks and on the scapulars. The immature males have streaked breasts and have predominantly rust and black coloring on their backs. The female American Kestrels are streaked with brown across their chests, and their wings and back are predominantly black. This tiny little falcon might not be colorful, but is the most commonly found raptor in North America.
American Kestrels can generally be found in the stretch of land between Alaska and Tierra de Feugo. These North American birds are also comfortable living in populated areas. American Kestrels are extremely interesting birds when it comes to their hunting tactics. A suitable perch to view the ground from is preferable, but they are not dependant on seating arrangements. These North American birds are very graceful during flight, and can reach high speeds quite rapidly. If an American Kestrel is hunting without being able to perch themselves, they are able to hover over a specific area. Hover-hunting is not favorable though, as they are easily spotted by their prey. American Kestrels are raptors, and therefore their prey usually consists of rats, mice, young squirrels and bats. They will also eat other birds, worms, beetles, crickets and dragonflies. Small reptiles and amphibians may also make it onto the American Kestrel's menu.
During the winter months, it is believed that the females migrate south first, giving them the opportunity to find and establish territories during the winter months. The females prefer the open habitats, and the males are usually found in the more wooded areas. It seems that their winter homes are not by choice, but having to take whatever area is left unoccupied by the females.
The nesting period for American Kestrels starts approximately during mid-March, with the females laying their eggs, usually four to six, in the beginning of April. The incubation period for a female American Kestrel
is between 28 to 30 days. During this time, the male will hunt on behalf of the female. Another strange attribute exclusive to the American Kestrel, is its nesting habits. They are known to squirt feces on the walls of the nest cavity, which is left to dry. The feces together with the remains of half eaten prey does not make this nest the best smelling home in North America, and it is no surprise that the young kestrels decide to fledge the nest after 28 to 30 days.
The Rock Ptarmigan (Lagopus mutus) has features similar to a chicken with a small black bill. The tail is a square shape and it is between 11 to 16 inches long. The Ptarmigan's legs and toes are feathered, which helps them walk through the snow and keep warm without a problem. During the summer periods the male Ptarmigan has as whitish belly and wings with a dappled grey and brown back. The male bird has a red comb that falls over their eyes. The females on the other hand are completely dappled grey and brown. In winter the Rock Ptarmigan's coloring completely changes to a snow-white color, excepting for a black tip on its tail and a black line over its eyes.
The Ptarmigan's territory is circumpolar, which means it spreads in a circle around the arctic. In North America they can be found in Northern Canada and Alaska and in other places like Scandinavia, Greenland, Finland and Russia. Their habitat is mainly in upland tundras that have willows, thickets and heath, and in alpine areas. They eat insects now and again but their diet is mainly made up of a variety of different plant parts, which include twigs, buds and berries.
The adult Rock Ptarmigan will look for a suitable breeding territory and once he has selected one he will protect it from other male birds. The male Ptarmigan will protect his territory with aerial displays, by chasing other males or by calls. Aerial displays consist of the male leaping into the air while flapping his wings; he flies straight up, then fans his tail out and gently glides back to the ground.
The Rock Ptarmigans' courtship is something to watch, the male will drag one of his wings on the ground, fan his tail out, raise his red comb and basically circle the female he is interested in. The female will make a nest out of a sheltered hollow and line it with pieces of moss and grass. Here she will lay between six and ten eggs. The male and female will stay paired up until incubation reaches half way, from then on the female Ptarmigan is on her own. After just under a month the chicks will hatch. A day after the chicks have hatched they are already searching for food in amongst the tundra. The chicks fledge after two weeks and are completely independent from about three months.