Canada geese (Branta canadensis L.) represent a majestic symbol of nature and natural world and are a well known migratory species of geese widely recognized across the continent of North America, Northern Europe and in the Asian Far East. The species is native to the continent of North America. The famous "v-shaped" flying pattern of trumpeting and migrating Canada geese flocks are seen as one of the most well known and symbolic signs of the change of season across the range of this beautiful species (Fig 1-2). Several North American and eastern Siberian aboriginal and indigenous groups and communities consider this as a sign of good luck and fortune, and numerous stories about the species are thus included in many of their ethnic folklores and indigenous stories. The majestic species is consider to be an important symbol of the wild west of the continent of North America as well as a dynamic symbol of the natural heritage of the world's second largest country Canada. The species is widely distributed in US and Canada, parts of northern Europe, eastern Siberia, parts of northeastern China and Japan (see map). A population in New Zealand is also known where it was introduced few decades back as wild game species.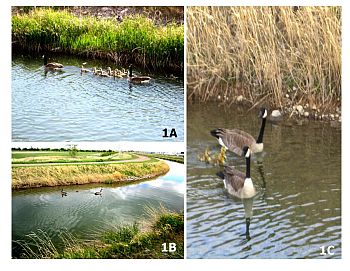 Due to conservation efforts their number and population have increased significantly across their range. Huge standing flocks reside on agricultural farms and devour substantial portions of young crop seedlings as well as seed grains, damaging them extensively. Occasionally they are also known to devour insects and fishes, as well as other aquatic vertebrates and invertebrates. The families start migrating southward for their summer retreats to southern US and northern Mexico when their northern homes start showing signs of freezing.
The species is predominantly aquatic found resting, foraging, nesting and settling around fresh water, inland water bodies and narrow irrigational canals. However, some are even found to be resident on the farms across the Prairies of North America and are also abundant around the Great Lakes. Both males and females look similar, but the female are found to be slightly smaller in size and weight. The males of this species are known to be quite aggressive in protecting their nesting sites and ducklings (Fig 4). Some sub-species are also known to build nests on trees or resting on trees during the night for safety. Egg clutches varies between 2-20 eggs in a single breeding season depending upon their reproductive success, availability of quality food and safe nesting sites. Common predators of eggs and ducklings include foxes, coyotes, badgers and some raptor species. Currently this is a protected species and is considered a valuable wildlife species; and hence hunting, capture and exploitation of the species is illegal under the fish and wildlife acts.
Prime nesting and foraging sites of Canada geese adjoining irrigation canals and at the edges of nearby farmlands are presented in Figs 7-10.
Photo courtesy: Mr Doug Messenger is gratefully acknowledged for kindly providing Fig 2D.
Article contributed by Saikat Kumar Basu
While the navigational skills of birds remain largely unexplained, the theory that they use the magnetic field of the earth to some degree to map their positions is generally accepted. The magnetic field of the earth is weakest at the equator, becoming stronger toward the north and south poles. This change in magnetic strength may give birds an estimate of their latitude while in flight. This amazing ability to navigate is especially evident in homing pigeons which are able to find their way home over distances of as much as 1,100 miles (1,800 km) with unwavering accuracy. Research has revealed that pigeons have a significant number of iron particles on top of their beaks, which act as a natural compass to guide them, along with visual landmarks and olfactory markers.
It has long been debated whether manmade electromagnetic fields are detrimental to human health, and conservationists share this concern when it comes to animals, particularly migratory birds. A recent study by scientists from Oldenburg University in Germany has found that manmade electromagnetic fields are confusing migrating robins, which also rely on the earth's magnetic field for navigation. The study was prompted by observations made seven years ago when it was noted that European robins (Erithacus rubecula) stopping over at the university campus during their annual migration appeared confused. Over the next seven years, experiments were carried out by alternatively blocking and unblocking electromagnetic radiation and observing the behavior of the birds. It became clear that when the birds were exposed to the manmade electromagnetic forces they became disoriented. It is worth noting that birds are susceptible to far lower levels than those deemed safe for humans as set by the International Commission on Non-Ionizing Radiation Protection (ICNIRP) which mandates guidelines for all types of electrical devices, including power lines and mobile phones.
What this means for both animals and humans will no doubt remain a matter for debate as more research is carried out to understand the impact of modern technology on the natural world.
This annual event offers guided birding tours, programs and talk by leading bird experts, loads of informative books for sale by the Michigan Audubon bookstore and a chance to view migrating birds on the waters of Lake Huron. For more information visit www.tawasbirdfest.com
Dates: 15-18 May 2014
Venue: Tawas Point, East Tawas
State: Michigan
The 18th annual Great Louisiana BirdFest takes place during the spring migration, offering the opportunity for birders to gather and share in the excitement of spotting many migrant bird species passing through south Louisiana as they travel from South America and Mexico. For more information visit northlakenature.org
Dates: 11-13 April 2014
Venue: North Lake Nature Center
City: Mandeville
State: Louisiana
Country: United States
The 17th annual Great Backyard Bird Count (GBBC) is set to take place from February 14 through to February 17 in multiple locations all over the world. This four day event calls on bird watchers of all ages and levels of experience to count the birds they see in one location over a fifteen-minute period. Participants need only do one fifteen-minute stint, but are welcome to do more than that if they have the time. After tallying the number of individual birds of each species spotted within the fifteen-minute time period, birders enter the data on the GBBC website.
Data gathered from all over the world is valuable to researchers in many ways, particularly when it is compared with data collected in previous years. Information from the GBBC and other projects supported by citizen-scientists help researchers determine the health of various species by monitoring changes in populations; how the weather influences bird populations; changes in the timing of annual migrations; how diseases affect birds in specific regions; and where irruptive species go when they don't visit the same location as the previous year. It also helps researchers with a comparison of bird diversity within city limits, suburbs, rural areas and reserves.
Through projects like the GBBC, modern technology offers birders the opportunity to be part of a worldwide community, while at the same time gathering information that no team of scientist would ordinarily be able to do. Thousands of people in more than one hundred countries will be participating in the event, which is supported by the National Audubon Society, Cornell Lab of Ornithology and Bird Studies Canada. It's also the perfect opportunity for children to learn about the importance of birds within their environment, and how birds are an indicator of the general health of the ecology. So, why not do your bit and register for the 2014 Great Backyard Bird Count.