Canada geese (Branta canadensis L.) represent a majestic symbol of nature and natural world and are a well known migratory species of geese widely recognized across the continent of North America, Northern Europe and in the Asian Far East. The species is native to the continent of North America. The famous "v-shaped" flying pattern of trumpeting and migrating Canada geese flocks are seen as one of the most well known and symbolic signs of the change of season across the range of this beautiful species (Fig 1-2). Several North American and eastern Siberian aboriginal and indigenous groups and communities consider this as a sign of good luck and fortune, and numerous stories about the species are thus included in many of their ethnic folklores and indigenous stories. The majestic species is consider to be an important symbol of the wild west of the continent of North America as well as a dynamic symbol of the natural heritage of the world's second largest country Canada. The species is widely distributed in US and Canada, parts of northern Europe, eastern Siberia, parts of northeastern China and Japan (see map). A population in New Zealand is also known where it was introduced few decades back as wild game species.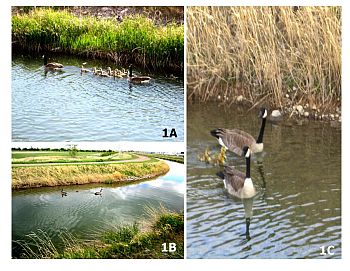 Due to conservation efforts their number and population have increased significantly across their range. Huge standing flocks reside on agricultural farms and devour substantial portions of young crop seedlings as well as seed grains, damaging them extensively. Occasionally they are also known to devour insects and fishes, as well as other aquatic vertebrates and invertebrates. The families start migrating southward for their summer retreats to southern US and northern Mexico when their northern homes start showing signs of freezing.
The species is predominantly aquatic found resting, foraging, nesting and settling around fresh water, inland water bodies and narrow irrigational canals. However, some are even found to be resident on the farms across the Prairies of North America and are also abundant around the Great Lakes. Both males and females look similar, but the female are found to be slightly smaller in size and weight. The males of this species are known to be quite aggressive in protecting their nesting sites and ducklings (Fig 4). Some sub-species are also known to build nests on trees or resting on trees during the night for safety. Egg clutches varies between 2-20 eggs in a single breeding season depending upon their reproductive success, availability of quality food and safe nesting sites. Common predators of eggs and ducklings include foxes, coyotes, badgers and some raptor species. Currently this is a protected species and is considered a valuable wildlife species; and hence hunting, capture and exploitation of the species is illegal under the fish and wildlife acts.
Prime nesting and foraging sites of Canada geese adjoining irrigation canals and at the edges of nearby farmlands are presented in Figs 7-10.
Photo courtesy: Mr Doug Messenger is gratefully acknowledged for kindly providing Fig 2D.
Article contributed by Saikat Kumar Basu
A kingfisher from Poland has reportedly set a new record for the longest migration distance between the Continent and the United Kingdom, by flying a distance of more than 620 miles from its Polish habitat to the Orford Ness National Nature Reserve in Woodbridge, Suffolk. The ringed bird was captured, and later released, by members of the Felixstowe-based Landguard Bird Observatory who were carrying out routine studies on bird ringing at Orford Ness.
The previous record set by a bird of this species was 603 miles, traveling from Marloes, Pembrokeshire to Irun in Spain. The last ringed kingfisher found to have traveled from Europe to the UK, traveled 509 miles from Aken, Germany, in October 2008. While it still needs to be confirmed where exactly the kingfisher was ringed in order to establish the correct distance, Poland is further east than any of the other destinations recorded, making it a record-breaking flight irrespective of where in Poland the bird originated. While kingfishers routinely breed in Poland, a small number are known to migrate to the United Kingdom in autumn, presumably to escape areas that face long periods of freezing conditions.
While acknowledging that bird ringing is not a perfect science, the National Trust warden for Orford Ness, Duncan Kent, pointed out that over a period of time huge amounts of information are collected, providing insight into how long birds live, how far they travel and other valuable data for research purposes. Orford Ness site manager for the National Trust, Grant Lohoar, noted that the capture of the ringed kingfisher highlights the importance of this practice as a tool for conservation, as it allows researchers to identify individual birds.
Research carried out at Orford Ness is considered to be of utmost importance as, with its reed beds, marshes and lagoons, the area serves as a critical stopover site for migrating birds. Landguard Bird Observatory volunteer, Mike Marsh noted that if the kingfisher is indeed confirmed to be from Poland it will be one of the longest migrations for this species recorded in the database for bird ringing. The British Trust for Ornithology will follow up with Polish authorities to determine the point of origin of the record-breaking kingfisher.