Myna (Mynah) is a member of the starling (Sturnidae) family under the order Passeriformes. Mynas have been part of the avifauna of the subcontinent for long. Some of the species like the Common Myna or the Indian myna (Acridotheres tristis) are found to be moderate to closely associate with human settlements and habitation throughout their range. Because of their ability to quickly adapt to urban and semi-urban conditions they have been quite successful in breeding and propagating in the urban and city environments. Like the rock dove they have been an opportunistic species and hence have been successful in their survival in the concrete forests of the modern metropolis. The cities as well as the rural areas of the subcontinent have been undergoing rapid transformations in the past five decades. There has been expansion of the industrial belts as well as encroachments of different ecosystems for the spread of agriculture and human habitation. This has impacted fragmentation of several pristine habitats and has impacted some species of myna in different localities and habitation pockets within the subcontinent. While the highly adaptive species have survived this changing dynamics of both urban and rural landscapes and have propagated successfully. The vanishing of the old trees and parks and undisturbed corners of major cities in India have been impacted due to anthropogenic pressures as well as rapid human economic developments. This has certainly reduced the breeding and nesting sites for several myna species but some have adapted to a certain extent to such disturbances and adjusted with the changes happening in their immediate environment.
Common Myna. Photo credit-Saikat Kumar Basu
The Common Myna has been an opportunistic species; that has adapted successfully to the urban life (A & E) and survived under the rapidly transforming metro cities with severe anthropogenic pressures with stark contrast between modern apartments (C) and encroaching slum areas (B & D); and even in absence of open spaces such as abandoned undisturbed areas and parks (F). Photo credits: Ratnabali Sengupta & Srimoyi Mazumder.
The different myna species reported from the Indian subcontinent include:
1. COMMON MYNA/INDIAN MYNA (Acridotheres tristis Linnaeus)
2. PIED MYNA (Gracupica contra Linnaeus)
3. BANK MYNA (Acridotheres ginginianus Latham)
4. Great myna (Acridotheres grandis Moore)
5. Collared myna (Acridotheres albocinctus Godwin-Austen & Walden)
6. Golden-crested myna (Ampeliceps coronatus Blyth)
7. JUNGLE MYNA (Acridotheres fuscus Wagler)
8. COMMON HILL MYNA/ HILL MYNA (Gracula religiosa Linnaeus)
9.Southern hill myna (Gracula indica Cuiver)
10. Sri Lanka hill myna/Ceylon myna/Sri Lanka myna (Gracula ptilogenys Blyth)

Map of the Indian subcontinent.
One the most common and abundant of all the myna species reported from the subcontinent are the Indian Mynas or the Common Mynas (Acridotheres tristis). Their range includes the entire Indian subcontinent China, Central Asia & SE Asia and has been introduced to different locations in Australia New Zealand, parts of west Asia and different island chains in the Atlantic, Pacific and Indian Oceans ranging from Asia to Africa. The species has been regarded as acutely invasive in some countries and has been placed under pest status in other localities. The species has actively adapted to different urban environment very successfully.

Common Myna (Acridotheres tristis L.) foraging. Photo credit-Manorma Sharma

Common Myna (Acridotheres tristis L.) is a highly urbanized bird species that has well adapted to city life by foraging on garbage dumps and other human trash. Photo credit: Srimoyi Mazumder.
Most of the species are distributed across the subcontinent and SE Asia with the Southern Hill Myna  (Gracula indica) reported from peninsular India and Sri Lanka; and the Sri Lankan Hill Myna (Gracula ptilogenys) being endemic to Sri Lanka. The Collared Myna (Acridotheres albocinctus) is more common in the eastern and north eastern states of India, southern China and in western Myanmar. According to IUCN all the species reported from the subcontinent are currently placed under the Least Concerned (LC) status. The Southern Hill Myna (Gracula indica) very closely resembles the Common Hill Myna (Gracula religiosa) and is quite difficult to differentiate between them morphologically; although they are two different species under the same genus Gracula. The Sri Lankan hill myna (Gracula ptilogenys) was previously described as a sub species of the Southern Hill Myna but has later been designated as a separate and endemic species found only in Sri Lanka. The Sri Lankan Hill Myna is easily distinguishable from both the Common and Southern Hill Myna species. The color is comparatively duller in comparison to the Common and Southern Hill Myna species; both of which have shiny black plumage, bright orange beaks and bright yellow skin patch (wattle) around the head and the nape.

Common Hill Myna Photo credit- Rahul Ray
The orange-crested myna (Ampeliceps coronatus) is easily identifiable with the black body and bright yellow colored head. The great myna (Acridotheres grandis) and the jungle myna (Acridotheres fuscus) have close resemblance; however, the former is bigger in size and is dark black while the latter is shiny brownish in color and can be separated based on that.  Furthermore, great myna has yellow beak and legs; while the jungle myna has orange beak and legs. The collared myna (Acridotheres albocinctus) is also similar to the Great Myna and the Jungle Myna in external appearance but could be easily separated due to the presence of bright distinct yellow colored ring or patch around the neck.

Southern Hill Myna.  Photo credit- Rahul Ray
The mynas are vocal species and are dedicated parents caring for their young ones. They usually love nesting around cracks and corners of abundant houses and buildings, woods, forests and on high trees. They are capable of surviving in disturbed habitats and forage on plant parts, fruits and seeds, grains, worms, insects, human food and also by forging on garbage or trash materials. The species is territorial with males engaged in frequent fights with opponents and rivals in defending their territories. The fights are seldom threatening and are usually terminated with the weaker individual flying away to avoid further combat engagements. Some species like the Indian Hill Myna are targeted exclusively by the poachers for their value in the illegal pet trade due to their unique ability to mimic human communication and words. Due to their high demand in both regional and international illegal pet markets, a large number of them are trapped and captured and illegally transferred over long distances for sale. The Indian Hill Myna is the 'State Bird' for the Indian states of Chhattisgarh and Meghalaya.

Pied Myna (Gracupica contra L) is also now considered a starling rather than a true myna. Photo credi: Rahul Ray.

Brahminy Myna or Brahminy Starling (Sturnia pagodarum Gmelin) is not actually a true myna or a jungle myna; but actually a starling belonging to the same family as the mynas. Reported across the Indian subcontinent, the species is considered as Least Concerned by IUCN. Photo credits: Rahul Ray 
Article submitted by Saikat Kumar Basu and Rahul Ray
Birds constitute an important aspect of our natural world. They are an important part of the global ecosystem and biodiversity, food source and inspiration for several aspects of human art, sculpture, culture, ethnicity, literature and society. Different bird species inhabit all the continents of the globe representing both the 'Old World' as well as the 'New World' including the northern polar region, Siberia and Greenland to the Antarctica. They are present in all the cities and towns and rural areas dotted across the planets from the remote islands to the barren deserts; and from the high mountains to the fertile plain lands and dry, arid plateau regions. They have successfully invaded every ecosystem on earth and adapted to them accordingly for their survival and multiplication from the geologic past.
They have invaded the boreal forests and the cactus infested deserts; they have migrated huge distances unimaginable to reach remote islands and distant continents to make their new homes and have established strong feral populations in the urban areas in different corners of the planet. From the lush green tropical forests to the bare vegetation deserts and from the lofty mountains to the open sea; they have occupied every possible and available space with success and great efficiency. Many species have settled close to human habitations and prospered by sharing resources and trash of their human neighbors to carve out a successful niche for them. In exchange, birds have provided humans with sources of food and nutrition from the very early days of hominid evolution to the modern high tech industrial, poultry production systems.
However, this nice balance of sharing and co-inhabiting the same space has been greatly shifted to a negative ends from the dynamics of the human perspective. Several species of birds have been placed increasingly under Near Threatened, Threatened, Endangered and Critically Endangered status by the IUCN from every continent due to significant changes to their population structure. Severe anthropogenic pressures across the world due to indiscriminate poaching (illegal hunting, capture, trade and transportation of endemic, exotic and vulnerable species), loss of habitats (loss of key foraging, hunting, breeding and nesting sites; habitat degradation and habitat fragmentation; destruction of virgin forests) forest fires, environmental pollution (global warming and climate change, nuclear radiation, discharge of untreated industrial effluents into the natural environment, emission of toxic gases from automobiles and industries, indiscriminate and over application of agro-chemicals polluting underground and surface water resources), spread of several deadly pathogenic diseases, over exploitation of natural resources both aquatic (marine and fresh water sources) and terrestrial (rapid infrastructural, industrial and agricultural expansions and developments, aggressive mining activities and rapid and unplanned urbanization drives) without any long term planning and non-judicious management of natural resources for short term financial gains; and deep and unrestricted encroachments inside fragile and susceptible ecosystems and environments for purely commercial ventures are some of the factors that are negatively impacting global avian population.
It is important to think about why is this happening across the world and what we could do to help the conservation of our precious avian members? One of the most important factors that can play an important role in the successful conservation of the avian species across the planet is the education and awareness of the people, particularly the young children who are our future citizens. It is absolute necessary to bring the causes of decline in the global avian populations to our dinner table and make it a household discussion so that people can realize, understand and appreciate the values of avian conservation. The first step in achieving that end as mentioned above is raising the education and awareness level of the global human community by catching them young.
The school systems constitute one of the basic frameworks of early education and that should be the primary focus of the bird conservation education and awareness programs. It should be important to reach the young kids through interactive programs organized and integrated within their school curriculum to expose them slowly to the importance of the diversity of bird life, their life cycles, and how they survive in different ecosystems and in stressing why they should be conserved for the future generations. Movies and videos, small hand on workshops, art works and interactive lecture session geared towards young children needs to be designed. It will be also important to keep in mind the socio-cultural perspective of the target kids when the programs are being designed. What works for the urban students may not be suitable for the students coming from the rural communities and what appears more appropriate from the perspective of a developed nation, may not be practical for students from developing and under developed nations. Hence such programs need to be custom designed based on the specific student populations to reach them more efficiently.
The secondary and tertiary levels of education could include even more engaging and involving projects such as participation in field projects like bird survey, nature photography, and preparation of reports (such as field data report, eco report or environment report), high school or university level research projects on bird life, bird ecosystem and conservation, data generation on several endangered, critically endangered or threatened local species, study on different exotic and endemic species, study on different anthropogenic pressure and activities and how they are shaping and changing local bird life and behaviors, studying and photographing interesting bird behavior and making presentations back to the class. Involving the peers for spreading education and awareness on bird conservation could be an effective strategy in reaching more young people efficiently. Older students could be trained to communicate about their experiences in bird conservation to the younger students for better appreciation of their peer achievements and to learn significantly from their experiences rather than external source of education and awareness.
Class based sharing of stories and presentations made using the black board or smart board options or use of colorful posters or hand made story boards prepared by students could not only engage students but also other members of the society. The interactive student sessions could be extended to the parents, teachers, instructors and lecturers and also to the senior citizen groups for highlighting the causal factors behind the declining aspect of global avian population and their possible recovery through consistent, long term, sustainable and coordinated efforts of the government and non-government organizations; different local, regional and international conservation organizations and local community members. Slowly such education and awareness drives could not only reach the younger generation but broadly to all members of the society. The supportive role of the media could not be ignored at all and they should be made important stakeholders in the process of education and awareness of the public through their investigative reports, periodicals and serials on bird conservation efforts around the globe, talk shows, documentaries and mocumentaries on bird related topics, newspaper reports, columns, editorials, features, letter to editors, magazine articles and different interactive question-answer session could greatly help in engaging public towards avian conservation.
It is important to realize that we have to understand and cater to the anthropogenic issues first to solve the problem of crisis in the avian life. Several biodiversity hotspots are located in the poor developing and under developed nations of the world. The poor economy, unstable political situations and ethnic tensions have pushed several local communities towards the forest and making them dependent on these ecologically fragile resource bases heavily. Unless the social and economic situations of such remote rural settlers, village communities and forest fringe residents are improved, and they are relocated where possible, the ground situation in both avian and other wildlife conservation has little chances for success. The bird conservation education and awareness programs must highlight the plight of such people to all to understand the dynamics of human-animal conflicts better to resolve the problem. Unless the anthropogenic issue is critically addressed the fruits of the conservation efforts will not be able to take its roots successfully.
Article submitted by Saikat Kumar Basu
Photo credits: Saikat Kumar Basu, Ratnabali Sengupta, Srimoyi Mazumder, Jayati Naskar, Manorma Sharma, Monikankana Dasgupta, Olga Osdachuk, Peiman Zandi, Xiuhua Wu & Cenny Yau.
The urbanization pattern of the megacity of Kolkata (88º 30′ E -22º 33′ N; 6.4 meters above mean sea level), capital of the State of West Bengal in India, has been rapidly changing over the past few decades. The real estate business has been catching grounds in the metro city and the population goes on increasing without proper planning and initiatives from the perspective of modern urban development. Consequently, the megacity has been expanding with modern high rises, malls and multiplexes along with the existence of different slums in less-developed parts of the megacity. This megacity extends up to different sub-urban areas to accommodate her huge population without proper civic amenities available to the mass. The proper megacity has grown into 13th most populous metropolitan areas of the globe having a staggering population of 44,86,679 with population density of 24.252 people/km2 (according to 2011 Census). Population of Greater Kolkata with all its suburbs as per 2011 Census is 1,41,12,536 persons. It is the 7th largest city of India in area and a sex-ratio of 956 females per 1000 males with a literacy rate of 81.31% (Basic Statistics of Kolkata, Kolkata Municipal Corporation, retrieved January 31, 2015).



Map showing the location of the city of Kolkata in eastern India

The complexity of the intense anthropogenic pressures has rapid negative impact on urban wildlife and avian population. One of the worst hit unfortunate species is the House Sparrow (Passer domesticus Linnaeus, 1758). The tiny bird varies in length between 13-15 cm and 20-40 gm in weight. It belongs to the Family-Passeridae and the Order-Passeriformes. The species is sexually dimorphic with males are distinct with their darker brownish back plumage compared to the duller females. The males also have a black streak mark just below their beak absent in the females. The species is known to be quite social and vocal with large social breeding groups nesting closely to one another. The females have been more difficult to spot recently in comparison to the males; possibly indicating some skewed sex ratio that need to be confirmed through extensive survey.




Sexual dimorphism in house sparrows, with dull patterned female sparrow on the top left and brightly colored on the top right. An excellent example of natural camouflage demonstrated by a lone male house sparrow in Kolkata (bottom image). The bird could not be easily distinguished from the background and hence highlighted within the circle for easy spotting. Photo credit: Srimoyi Mazumder

In local dialect (Bengali) it is known as 'Chorai' or 'Chorui'. This noisy bird is very familiar with humans and is often seen in close association with human settlements. It has been well known to be a successful urban species that usually nests around snug corners of houses, edges and corners of the roofs and any opportunistic availability of spaces and sites within and around human settlements such as a higher unreachable corner of a balcony, old unused shelves inside unused rooms, ventilators and inside of brick tiles.
During 1990s some ornithologists first noticed the declining rate of sparrows. In 2012, with the cooperation of 'Nature Forever Society`, a citizen's science activity was initiated in India to collect various data about sparrow. The data showed that sparrow number dwindled alarmingly in central and north-eastern India. The report identified some factors behind this declining number of sparrows.

A male sparrow foraging.  Photo credit: Srimoyi Mazumder

Nowadays old houses in and around Kolkata are disappearing quickly leaving spaces for modern housing apartments, multistoried buildings, skyscrapers, high rises and malls in quest for urban development. The real estate boom in this megacity has been transforming several old localities into high value concrete jungles. The design and construction of these modern buildings do not attract or appeal to the friendly house sparrows as potential nesting sites. Moreover, in these buildings normally the windows are made by glass/fiber or glass/steel where the sparrows have very little chance to enter the room. Modern scientific amenities, e.g. air conditioner in these buildings also make lives of sparrows at stake due to change of air temperature between inside and outside of room. The economic boom has been transforming the city dynamics and landscaping feature drastically. Old bungalows, one or two storied houses and apartments with lawns, gardens in the midst of short stretches of untouched city woods are disappearing speedily. This ultimately leads the unfortunate sparrows in losing their potential safe nesting and breeding sites. Felling of several old trees for the construction of highly modernized, scenic and well lighted boulevards and avenues further reduces potential nesting sites for these smaller birds.


Old single storied traditional residence (A), big roadside trees (B) and shrubs, city wetlands (C) and parks (D) are disappearing fast and making space for modern multi-storied offices and housing apartments (E-G) reducing foraging, nesting and breeding sites for house sparrows. Photo credits: Saikat Kumar Basu, Ratnabali Sengupta, Sutapa Basu & Pallav Mulhopadhyay.
The increased migration of people from the rural areas into the megacity from adjoining districts and states for economic opportunities has added additional anthropogenic pressures on Kolkata. In absence of opportunity to grow to keep up with the pace of such unprecedented human migration into the megacity in terms of urban projects and developments slums, shanties and illegal constructions have taken place mostly in an unplanned way in every available free space within city boundaries. This unrestricted and unbalanced growth of population due to in migration has further reduced the availability of open and undisturbed green stretches within the megacity. It results in lessening breeding opportunities for several erstwhile city wildlife and avian populations including the helpless and hapless house sparrows. Naturally their numbers started falling over the past decades. Moreover, lack of safe nesting sites exposes these tiny birds and their chicks to several predators including cats, crows, raptors, snakes and humans.




Existing traditional and old school residences are still attractive nesting sites of house sparrows (A). The real estate boom in the city has been rapidly transforming and expanding the city of Kolkata negatively impacting the resident avifauna like house sparrow (B). Photo credit: Srimoyi Mazumder.
Extensive use of chemical pesticides in agricultural fields lying in greater Kolkata also expedites the rate of declining number of sparrows. These pesticides mostly kill the soft skinned insects which are favorite foods of sparrows. A mother sparrow normally feeds its chicks with these soft skinned insects. Hence, killing of soft skinned insects by pesticides creates food crisis for chicks. The sparrows are often seen to take dead insects killed by chemical pesticide poisoning as their foods. It becomes fatal for them. These tiny birds are very fond of grains. Today these grains are not free from chemical pesticides. Resultantly the sparrows become affected by these deadly pesticides. Apart from this, the grains in past are seen to be scattered over an open vast stretch of land under direct sunlight for drying. Sparrows meet up their hunger freely from there. But, nowadays, rapid processing of food grains in modern closed mechanized farming leave very little chances for sparrows to collect foods from scattered grains.




Resting on perch.  Photo credit: Rahul Ray
Extensive unwise and indiscriminate installation of mobile phone towers within the megacity and its adjoining areas is normally believed to be one of the major factors of decreasing sparrow population. Mobile towers emit 900-1800 mega hertz electromagnetic waves. This wave is detrimental for the nervous system of these tiny birds and gradually they lose their flying ability which in turn affects their food collection. It reveals through observation that the sparrows hardly stay for 7-10 days in nests if it built very near to mobile towers. Normally the incubation period of sparrows is 10-14 days, but it has been observed that in the vicinity of mobile towers even after a 30 day incubation period no chicks emerge from the eggs. However, some environmentalists and prominent ornithologists have argued that till date no such concrete and decisive conclusion regarding installation of mobile towers and declining rate of sparrows has been reached by any peer reviewed scientific literature. But they do admit that electromagnetic waves of such unmonitored towers are not congenial.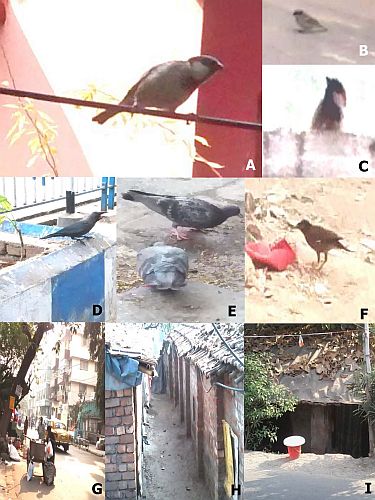 Resident male house sparrows (Passer domesticus ) roosting (A), foraging (B) and defending (C) its territory. Although house sparrows are on serious decline in the city, but other opportunistic avian members have aggressively occupied the niche and are represented by three most abundant, urbanized, highly adaptive and tolerant species in the city of Kolkata; such as the house crow [Corvus splendens Vieillot] (D), rock dove or rock pigeon [Columba livia Gmelin] (E) and common myna [Acridotheres tristis Linnaeus] (F). The densely populated city with enhanced air pollution and scarcely available green spaces; provides little opportunity for sensitive species such as house sparrow to breed and thrive successfully (G-I). Photo credits: Srimoyi Mazumder & Ratnabali Sengupta.
In India's capital New Delhi, sparrow has been declared as 'State Bird` in 1992. The house sparrow is also the 'State Bird' for the State of Bihar in eastern India. As per 'Royal Society for Protection of Birds` of Britain, sparrows are enlisted in 'Red Data Book` which is a comprehensive list of endangered and near-extinct species prepared by 'International Union for Conservation of Nature and Natural Resources` (IUCN). Although IUCN has placed house sparrow under the Least Concerned (LC) status for now; but an alarming decline is being noticed in Kolkata and surrounding areas. What is more worrying is the fact that several unconfirmed reports are also indicating a sharp decline of house sparrows in other parts of India too. It is now time for a serious nationwide comprehensive survey to evaluate the true status of the species so that appropriate measures could be adopted for the successful conservation of this declining species. The United Nation (UN) observes, 20th March every year as the 'World Sparrow Day' signifying the global importance of this species.




The resurgence of sensitive avian species back to a busy and congested metro like Kolkata could happen by sincere attempts of greening and landscaping the city to the best of our ability through the creation of roof gardens (A-F), backyard gardens (G-H), city parks (I-N), boulevards (O), avenue (P), kitchen gardens (Q-R) and water bodies (S-T) to function as city oasis. With the resurgence of green patches back onto the city landscape we will be able to welcome sensitive avian species like the house sparrow to once again occupy their lost niche within the city ecosystem by providing them with opportunities for nesting, foraging and breeding. Photo credits: Saikat Kumar Basu
Article contributed by: Saikat Kumar Basu and Rahul Ray
Peafowl constitutes three species, the Indian peacock or the Indian peafowl or the Blue peafowl (Pavo cristatus L.) distributed widespread across the entire Indian subcontinent; the Green peafowl or the Java peafowl (Pavo muticus L.) restricted predominantly to South-East Asia; and the Congo peafowl or Congo peacock (Afropavo congensis Chapin) endemic to the Congo basin of central Africa. Although the Blue Peafowl is in the Least Concern category of IUCN, the green peafowl has been placed under Endangered and the Congo Peacock under Vulnerable status. The Indian and African species are sexually dimorphic, suggesting that male and female members show distinctly different appearance and plumage; while the Green peafowls are almost similar in appearance. The most common and widely distributed among these three is the majestic Indian peafowl or the Blue Peafowl found across the entire Indian subcontinent including India, Pakistan, Nepal and Bhutan, as far as Sri Lanka (Pavo cristatus singhalensis) and as an introduced species in the continents of North America, Europe and Australia. The species is unfortunately reported to be extinct in the wild in Bangladesh.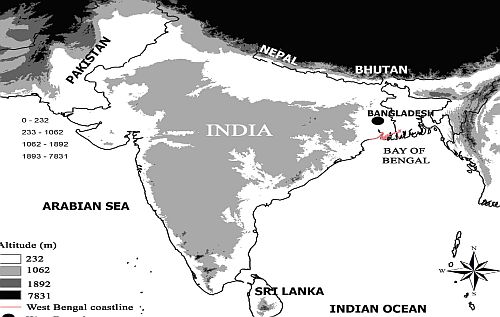 Map of the Indian subcontinent showing native range/distribution of Blue peafowl.

The Blue peafowl (peacock) is the national bird of the Republic of India and has been an inseparable part of the local culture, religion, tradition and history, art and sculpture, myths and legends of the great Indian subcontinent from time immemorial. It is believed that the bird was introduced in Europe by Alexander's retreating army after their grand campaigns in Persia and India; as an exotic bird species for the elites of the society with spectacular beauty. The spectacular courtship behavior of the Blue peafowl has been a part of several local myths and legends related to eternal love and romanticism for centuries and mentioned in several ancient texts and scriptures suggesting their long association with their human neighbors. The bird has been a symbol of the royalty and elites and has been a regular pet reared in the royal gardens and parks in both ancient and medieval India along with spotted (axis) deer and black bucks.



Photo credit: Peiman Zandi

The blue peafowl has a characteristic blue and green image with iridescent properties. Occasional white peafowls (mostly leucistic) are also reported that are commonly breed by zoological gardens and by private bird parks or gardens across the globe for their high ornamental values and popularity with the visitors. True albinos are also reported but comparatively rare in nature. The most spectacular aspect of the Blue peafowl is the majestic tail feathers of the males (peacocks) with distinct "eyes" that are best observed when the males display their tail feathers well stretched to attract the females for breeding purposes. Although the males of the species (peacocks) are characterized by their spectacular colorful feathers; the females (peahens) are less spectacularly ornamented with a mix of dull green, grey, white and brown feathers and are slightly smaller in size than the males. They also lack the long extensive tail feathers of the peacocks. Both have crest or crown on their heads, but the peacocks have brighter colors compared to the peahens. The young and immature peafowls (peachicks) are dull in coloration, varying between tawny to yellow and with inconspicuous patches or streaks of dull brown or white.



Photo credit: Peiman Zandi

The species exhibit elaborate courtship displays, with several competing males (peacocks) displaying their majestic tail feathers with distinctive eyes to a target female (peahen). The peahens sleet the individuals with most elaborate displays which is believed to be sign for their genetic fitness and good health and features. There are several theories put forward since the time of Charles Darwin in explaining such elaborate courtship displays and their role in evolution. They constitute one of the best examples for sexual selection.



Photo credit: Rahul Ray

The males are extremely territorial and they defend their territory fiercely by engaging in close combats with their challengers and intruders; and are often quite aggressive during the breeding season and in defending their nesting sites from different predators. These are terrestrial birds that nest and forage on the ground and roost on the branches of high trees. Their diets include a mixture of various plants and plant parts, different arthropods including insects, reptiles (snakes) and amphibians (frogs). They are a noisy species with frequent territorial and alarm calls of the males are a well know feature of wild India. Several pairs may nest close to one another and raise their chicks; but are extremely territorial and intolerant, if another (particularly males) dare to venture into the territory claimed by a resident breeding couple.
Photo credit: Rahul Ray

Article contributed by: Rahul Ray and Saikat Kumar Basu
Conservation is a long term investment for any locality, region or nation for a better and prosperous tomorrow by building on from the experiences of the past and the premium strengths of the present. Through conservation of different endangered avifauna and wildlife species and our environment, we are able to rediscover ourselves and the hidden strengths that we carry inside while trying to make this planet a better place for all of us to share and live behind for our future generations. A recent report (November, 2014) on indiscriminate killing of houbara bustard (Chlamydotis undulate Jacquin, 1784) birds in Balochistan province of Pakistan by royal tourists from Saudi Arabia has sent global shockwaves around the world. The species, one of the largest among the bustard members have been designated as vulnerable by the International Union Conservation of Nature (IUCN) and is in immediate need of conservation across its entire distribution range from North Africa to west Asia. Although the provincial High Court has passed the ruling henceforth banning the practice of bird hunting; but in a country that has so poor record of human rights and economic development and plagued with innumerable problems, it is quite doubtful whether the conservation practices could be implemented effectively. Pakistan's poor economy and lack of growth is heavily dependent on foreign aids for survival and the economic conditions in remote and rural areas of the Balocistan province is worst in the county in spite of the region being richest in natural resources due to a number of factors such as lack of planning and proper wealth distribution, poor administration, infrastructure, connectivity, industrialization and job opportunities. The economic deprivation of the region makes it even more vulnerable for any successful conservation efforts for the houbara bustards, since the economic situation of the people in the province as well as those settled around protected areas are deplorable. The national government needs to look for sustainable approaches in developing the region and only then can successful conservation of vulnerable species takes shape in the future. For now, the situations look extremely grim both for the people as well as the local, helpless, endangered wildlife species. It seems that in spite of reaching the 21st century we have not been able to establish the stringent avian and wildlife conservation policies across the globe for several reasons.
Recently stringent initiatives adopted by the local governments have been successful in reducing the poaching incidents, which was on sharp rise for the past two years. Deployment of highly trained forest guards with advanced monitoring and surveillance and use of sophisticated arms; along with highly coordinated support extended by army intelligence and ground troops have resulted in the deaths of a number of members of organized international poaching units operating here. However, the death of poachers will only temporarily reduce poaching or disperse them to other less secured forest belts for their sustenance; but will never be able to eradicate them completely, resulting in gain at one region with severe loss introduced in another. The death of a poacher means that a poor and helpless family depending on that poaching income will be further pushed backwards; and will possibly force another member from the same family to opt for poaching as an illegal profession, since they do not have any viable economic alternative. This is the hidden factor that tells us why the increasing number of death of poachers has only increased poaching in recent years.
The dangers of illegal trade on different avifauna species and other wildlife species have been on rise across the globe, particularly impacting biodiversity rich developing and under developed nations. However, it is important to identify the root causes of the phenomenon rather than simply voicing against it. Unless we understand that why illegal wildlife trade are existing in the first place, no concrete steps could be adopted for successful eradication of this evil trade and successful conservation efforts could be implemented for protecting the wildlife. In most developing and under developed countries of Asia, Africa and Latin America rich in biodiversity resources; the national economies have been under deplorable shape and condition over decades post World War II following the end of different colonial rulers. The newly independent nations from these continents under the poor leadership and successively corrupt, incapable and handicapped national governments mismanaged their economies with no long term sustainable planning for the progressive development of their nations. As a consequence, a substantial part of the population who where painfully exploited during the colonial periods have continued to live under abject poverty with very poor and negligible education, training and regular employment opportunities, societal and racial discriminations, serious ethnic conflicts, civil wars, economic exploitations by the other better off members of the society taking advantage of their downtrodden situation of the poorest of the poor and the political instability and anarchy existing in these nations.
A significant part of these deprived communities from developing and under developed world are located in remote rural areas, forest fringes, under developed backyards and badlands and several of them are in real sense of the term forest residents. They have neither any future nor opportunity to grow economically and are heavily dependent on their scanty local forest resources for their daily sustenance. Hence, for their desperate attempts of survival they have been at the base of the theoretical pyramid of stakeholders involved in illegal wildlife trade. These helpless and poor communities are recruited by local war lords or corrupt politicians and/or administrators, local business people and black marketers (as the case may be) involved at the next higher level of this illegal trade. Higher above this are the middlemen who links these corrupted business communities to further bigger national and international trading syndicates that constitute a formidable stakeholder elite group in the process that provides the huge economic, political and administrative, communication and intelligence support necessary for maintaining the trade. At the peak of the pyramid of stakeholders are the consumers who are paying for this illegal wildlife trade for their fascination for wildlife as pet and trophy items, for their use in traditional medicine and illegal pharmaceutical markets based in the strong and immerging economies of the middle east, central, south, south east and far eastern reaches of Asia, EU, North America, Australia and other economically prosperous regions of the world. This is happening in spite of strict legislative and administrative safe guards discouraging illegal wildlife trade through loop holes in the system and black markets of wildlife trade existing in these progressive nations. Furthermore, insurgencies have developed in the rural and under developed areas of several such poor nations; and the cash flow from this trade are being efficiently used by some opportunistic quarters for fuelling such activities further promoting anarchy and destabilization complicating the process. The whole situation has much broader eco-sociological implications and what we have been observing through the global illegal wildlife trade is only the tip of the iceberg of a much serious and deeper inter- and intra- societal economic and political crisis in the developing and under developed nations. Hence, unless the deplorable and helpless conditions of the remote rural settlers, forest fringe community members and local poor residents are made economically sustainable there is no way any nation in this planet, whatsoever economically and politically strong could ever put an end to this evil trade.
Reasons for the urgent need of conservation of the global avifauna and wildlife species are presented below:
Conservation is very important for the protection of our environment preventing us from several natural disasters and calamities such as floods, drought, famines, fire and cyclonic storms. Case in point is the mangrove forests of the Sunderbans. Rapid deforestation and degradation of this key habitat, home to several endangered avian and wildlife species, due to severe anthropogenic pressures have been making the inland more vulnerable to frequent cyclonic disturbances and large scale damages of property and life.
The loss of several key animal and plant species from any such fragile ecosystem as mentioned above is reducing sustenance opportunities for the local resident human populations due to over exploitation, non-judicious use and heavy consumption of local forest resources with whatsoever no long term planning. All these approaches in turn are making the life of the local people extremely difficult with lesser economic opportunities by each passing year.
Conservation of avian and wildlife species is also important in effectively preventing rapidly advancing and impending desertification at several places. With the loss of several important plant species and vegetation, the productivity of the land is invariably reduced. In absence of the vegetation, the top soil is soon eroded due to several geological factors, exposing the barren under skeleton of the soil profile. The approaching deserts then slowly consume adjoining agriculturally suitable lands curbing livelihood opportunities for local people. Rapid loss of vegetation is also an important factor contributing towards devastating landslides.




Rapid fragmentation of habitats. Loss of animal migration corridors (due to several factors like unplanned expansion of rural housing, agricultural and industrial complexes in previously forested areas, severe environmental pressures due to anthropogenic influences beyond the carrying capacity of a ecological zone) pushes resident wildlife populations out of their conventional range areas into direct confrontation with local resident human populations, rural inhabitants and forest fringe dwellers.
The severe competition for food, water and space between wildlife and local residents are resulting in severe human-animal conflicts in majority of the developing and under developed nations resulting in the loss of local wildlife as well as human life and properties.

Loss of species is related to severe degradation of vulnerable ecosystems. Many of such ecological and biodiversity hotspots are important tourism centers for both local and foreign visitors enthusiastic about wildlife, bringing in economic prosperities for such areas and valuable foreign exchange for any nation.
Death of such key tourism centers will certainly block the much needed cash flow into a region and suspend the economic growth of the local people for better life and opportunities.

Conservation not only helps in preserving plants and animals, but it also builds the nation by strengthening the bases of natural resources and caters to the life of the people by supporting the growth of the local and regional economies. It not only helps in protecting the endangered species but it also makes the region secure against environmental pollution, natural calamities and ecological disasters.




Over-exploitation of the fishing stocks and non-judicious and indiscriminate harvesting for the purpose of commercial fisheries​ and increasing consumer demands are seriously jeopardizing ​global fish populations. Hence it is important to have strong legislative protection and safeguards for the long term sustainability of both the marine and freshwater fishing industries for conserving several important species that have been endangered due to commercial overexploitation. Another factor that is important to mention here is that the depletion of global fish stocks as well as several terrestrial and aquatic (freshwater, estuarine and marine) vertebrate and invertebrate species are not only impacting us, but also birds and other wildlife species due to loss of their prey base and important food sources.

It is nice to know about different local, regional and international conferences on avian and wildlife conservation efforts and about human-animal conflicts. There are no doubt important discussions made in these platforms and certainly some resolutions are arrived at the end of the deliberations by several noted participants who are well known in their respective fields and are also highly respected for their roles. However, whether such conferences will be able to provide a guide map for future conservation of the wildlife and help in significant contribution towards protecting the species is doubtful. One of the missed angles in all such conferences is the lack of participation of the most important stakeholders, the local residents who spend their lives along with wildlife species both in India and abroad. Without really getting the feedback from their perspective, how far the conservation efforts are going to be successful in the long term is questionable. It will be important to include stakeholders from the lowest level of engagement with the species in future deliberations to identify the true genre of human-elephant conflict to carve out a passage way for the successful conservation of the species. One of the significant lessons learnt in successful conservation of other major species in different corners of the world, particularly from the developing and under-developed world is the strong correlation between the economic development, year long employment opportunities and sustainability of the local residents with protection of target bird and wildlife species.

The loss and thefts of protected species, including highly endangered avifauna from several zoological gardens, biodiversity and eco-parks around the world, has been increasing at an alarming proportion. It is absolutely shocking to note that protected species are being targeted from the sacred haven where they are placed for highest protection. This must be an insider mediated activity and through investigations need to be conducted to reach to the bottom of the incident. The level of security in the zoological gardens across the nation and their poor maintenance is a certain cause of national shame and the failure to provide security is indeed a grave crime. It is sad to note that so many species including avifauna in the zoos across the nation are suffering due to such negligence on the part of the zoo management committees.

Mangrove belts across the planet are facing serious challenges of environmental pollution, climate change regimes due to global warming and rising sea water level are further compounded by the local anthropogenic pressures. One important example is the Sunderbans that constitute the world's largest mangrove delta in the Indian subcontinent across the Bay of Bengal spread across the two sister nations of India and Bangladesh. The tremendous anthropogenic pressures generated on the Sunderban ecosystem due to poor people living across the border of the two countries in combination of other factors are seriously endangering the mangrove vegetation threatening several local bird species and other wildlife with the eminent threats of extinction and is in need of immediate attention.



Although the economic empowerment of any region is absolutely important; however, the challenges of the conservation of the local ecosystem and environment constituting the fragile local biodiversity; and wildlife and avian members will be monumental. Unless a healthy balance is maintained between economic developments and the environment conservation simultaneously in following the principles of Eco-sociology; there could be substantial challenges the conservation of biodiversity. This vicious cycle is a never ending wave of jeopardy and will continue to haunt all the stakeholders in the process-the society, rural resident and fringe dwellers, forest guards and managers, endangered species, government and the public. Wildlife conservation is not that easy and exciting as it appears on the surface but way more daunting and critically challenging since it has a broad eco-sociological base to it. Without solving the anthropogenic crisis, the wildlife conservation is only but a distant dream in developing and under developed nations. The loss of endangered avian species is extremely painful and more such losses are anticipated in the future, since we do not want to take up the task of dealing with the real socio-economic factor resulting in poaching and illegal capture of birds and wildlife in vulnerable ecosystems. Furthermore, if the local flagship species are so severely impacted, one can well understand the impact it could have on other avian members of disturbed habitats.

We can therefore conclude that global biodiversity and avian and wildlife species conservation and climate change mitigation are all important aspects of protecting the natural environment and ecosystem and every nation has its own dynamics and policies to deal with these challenges. We need to remember what applies and are successful in developed nations may not be suitable and adaptable in developing and under developed countries; although on surface they may appear to be excellent ideas. Furthermore, almost all protected areas (such as sanctuaries, national parks, biodiversity parks, eco reserves and eco-parks, reserve forests and nature biospheres) have to deal with challenges of human encroachments and illegal rural settlements in remote areas, permanent forest residents and fringe forest dwellers that are heavily dependent on the local forest resources for their daily sustenance threatening the biodiversity. They are deprived of health centers, year round job opportunities, education and awareness and almost zero economic developments in the region. Unless these important eco-sociological parameters are taken care of for dealing with the anthropogenic pressures on the local biodiversity, no conservation efforts are ever going to be completely successful. Global avian and wildlife conservation is integrated with socio-economic development of the local human population and without the active support and participation of the local residents; biodiversity conservation in the real sense of the term is only but a distant dream.

Article contributed by: Saikat Kumar Basu
Photo credits: Saikat Kumar Basu (Canada), Nancy Butler (USA), William Cetzal-Ix (Mexico), Tony Elders (Australia), Ratnabali Sengupta, Jayoti Naskar, Sheuli Dasgupta, Srimoyi Mazumder, Monikankana Dasgupta & Pallav Mukhopadhyay (India), Sonam Tashi (Bhutan), Harun Rashid (Bangladesh), Peiman Zandi (Iran), Xiuhua Wu (China), Sukrishna Ishii (Japan) & Olga Osdachuk (Russia)