The urbanization pattern of the megacity of Kolkata (88º 30′ E -22º 33′ N; 6.4 meters above mean sea level), capital of the State of West Bengal in India, has been rapidly changing over the past few decades. The real estate business has been catching grounds in the metro city and the population goes on increasing without proper planning and initiatives from the perspective of modern urban development. Consequently, the megacity has been expanding with modern high rises, malls and multiplexes along with the existence of different slums in less-developed parts of the megacity. This megacity extends up to different sub-urban areas to accommodate her huge population without proper civic amenities available to the mass. The proper megacity has grown into 13th most populous metropolitan areas of the globe having a staggering population of 44,86,679 with population density of 24.252 people/km2 (according to 2011 Census). Population of Greater Kolkata with all its suburbs as per 2011 Census is 1,41,12,536 persons. It is the 7th largest city of India in area and a sex-ratio of 956 females per 1000 males with a literacy rate of 81.31% (Basic Statistics of Kolkata, Kolkata Municipal Corporation, retrieved January 31, 2015).



Map showing the location of the city of Kolkata in eastern India

The complexity of the intense anthropogenic pressures has rapid negative impact on urban wildlife and avian population. One of the worst hit unfortunate species is the House Sparrow (Passer domesticus Linnaeus, 1758). The tiny bird varies in length between 13-15 cm and 20-40 gm in weight. It belongs to the Family-Passeridae and the Order-Passeriformes. The species is sexually dimorphic with males are distinct with their darker brownish back plumage compared to the duller females. The males also have a black streak mark just below their beak absent in the females. The species is known to be quite social and vocal with large social breeding groups nesting closely to one another. The females have been more difficult to spot recently in comparison to the males; possibly indicating some skewed sex ratio that need to be confirmed through extensive survey.




Sexual dimorphism in house sparrows, with dull patterned female sparrow on the top left and brightly colored on the top right. An excellent example of natural camouflage demonstrated by a lone male house sparrow in Kolkata (bottom image). The bird could not be easily distinguished from the background and hence highlighted within the circle for easy spotting. Photo credit: Srimoyi Mazumder

In local dialect (Bengali) it is known as 'Chorai' or 'Chorui'. This noisy bird is very familiar with humans and is often seen in close association with human settlements. It has been well known to be a successful urban species that usually nests around snug corners of houses, edges and corners of the roofs and any opportunistic availability of spaces and sites within and around human settlements such as a higher unreachable corner of a balcony, old unused shelves inside unused rooms, ventilators and inside of brick tiles.
During 1990s some ornithologists first noticed the declining rate of sparrows. In 2012, with the cooperation of 'Nature Forever Society`, a citizen's science activity was initiated in India to collect various data about sparrow. The data showed that sparrow number dwindled alarmingly in central and north-eastern India. The report identified some factors behind this declining number of sparrows.

A male sparrow foraging.  Photo credit: Srimoyi Mazumder

Nowadays old houses in and around Kolkata are disappearing quickly leaving spaces for modern housing apartments, multistoried buildings, skyscrapers, high rises and malls in quest for urban development. The real estate boom in this megacity has been transforming several old localities into high value concrete jungles. The design and construction of these modern buildings do not attract or appeal to the friendly house sparrows as potential nesting sites. Moreover, in these buildings normally the windows are made by glass/fiber or glass/steel where the sparrows have very little chance to enter the room. Modern scientific amenities, e.g. air conditioner in these buildings also make lives of sparrows at stake due to change of air temperature between inside and outside of room. The economic boom has been transforming the city dynamics and landscaping feature drastically. Old bungalows, one or two storied houses and apartments with lawns, gardens in the midst of short stretches of untouched city woods are disappearing speedily. This ultimately leads the unfortunate sparrows in losing their potential safe nesting and breeding sites. Felling of several old trees for the construction of highly modernized, scenic and well lighted boulevards and avenues further reduces potential nesting sites for these smaller birds.


Old single storied traditional residence (A), big roadside trees (B) and shrubs, city wetlands (C) and parks (D) are disappearing fast and making space for modern multi-storied offices and housing apartments (E-G) reducing foraging, nesting and breeding sites for house sparrows. Photo credits: Saikat Kumar Basu, Ratnabali Sengupta, Sutapa Basu & Pallav Mulhopadhyay.
The increased migration of people from the rural areas into the megacity from adjoining districts and states for economic opportunities has added additional anthropogenic pressures on Kolkata. In absence of opportunity to grow to keep up with the pace of such unprecedented human migration into the megacity in terms of urban projects and developments slums, shanties and illegal constructions have taken place mostly in an unplanned way in every available free space within city boundaries. This unrestricted and unbalanced growth of population due to in migration has further reduced the availability of open and undisturbed green stretches within the megacity. It results in lessening breeding opportunities for several erstwhile city wildlife and avian populations including the helpless and hapless house sparrows. Naturally their numbers started falling over the past decades. Moreover, lack of safe nesting sites exposes these tiny birds and their chicks to several predators including cats, crows, raptors, snakes and humans.




Existing traditional and old school residences are still attractive nesting sites of house sparrows (A). The real estate boom in the city has been rapidly transforming and expanding the city of Kolkata negatively impacting the resident avifauna like house sparrow (B). Photo credit: Srimoyi Mazumder.
Extensive use of chemical pesticides in agricultural fields lying in greater Kolkata also expedites the rate of declining number of sparrows. These pesticides mostly kill the soft skinned insects which are favorite foods of sparrows. A mother sparrow normally feeds its chicks with these soft skinned insects. Hence, killing of soft skinned insects by pesticides creates food crisis for chicks. The sparrows are often seen to take dead insects killed by chemical pesticide poisoning as their foods. It becomes fatal for them. These tiny birds are very fond of grains. Today these grains are not free from chemical pesticides. Resultantly the sparrows become affected by these deadly pesticides. Apart from this, the grains in past are seen to be scattered over an open vast stretch of land under direct sunlight for drying. Sparrows meet up their hunger freely from there. But, nowadays, rapid processing of food grains in modern closed mechanized farming leave very little chances for sparrows to collect foods from scattered grains.




Resting on perch.  Photo credit: Rahul Ray
Extensive unwise and indiscriminate installation of mobile phone towers within the megacity and its adjoining areas is normally believed to be one of the major factors of decreasing sparrow population. Mobile towers emit 900-1800 mega hertz electromagnetic waves. This wave is detrimental for the nervous system of these tiny birds and gradually they lose their flying ability which in turn affects their food collection. It reveals through observation that the sparrows hardly stay for 7-10 days in nests if it built very near to mobile towers. Normally the incubation period of sparrows is 10-14 days, but it has been observed that in the vicinity of mobile towers even after a 30 day incubation period no chicks emerge from the eggs. However, some environmentalists and prominent ornithologists have argued that till date no such concrete and decisive conclusion regarding installation of mobile towers and declining rate of sparrows has been reached by any peer reviewed scientific literature. But they do admit that electromagnetic waves of such unmonitored towers are not congenial.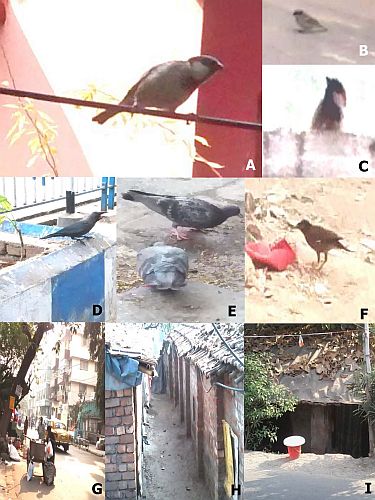 Resident male house sparrows (Passer domesticus ) roosting (A), foraging (B) and defending (C) its territory. Although house sparrows are on serious decline in the city, but other opportunistic avian members have aggressively occupied the niche and are represented by three most abundant, urbanized, highly adaptive and tolerant species in the city of Kolkata; such as the house crow [Corvus splendens Vieillot] (D), rock dove or rock pigeon [Columba livia Gmelin] (E) and common myna [Acridotheres tristis Linnaeus] (F). The densely populated city with enhanced air pollution and scarcely available green spaces; provides little opportunity for sensitive species such as house sparrow to breed and thrive successfully (G-I). Photo credits: Srimoyi Mazumder & Ratnabali Sengupta.
In India's capital New Delhi, sparrow has been declared as 'State Bird` in 1992. The house sparrow is also the 'State Bird' for the State of Bihar in eastern India. As per 'Royal Society for Protection of Birds` of Britain, sparrows are enlisted in 'Red Data Book` which is a comprehensive list of endangered and near-extinct species prepared by 'International Union for Conservation of Nature and Natural Resources` (IUCN). Although IUCN has placed house sparrow under the Least Concerned (LC) status for now; but an alarming decline is being noticed in Kolkata and surrounding areas. What is more worrying is the fact that several unconfirmed reports are also indicating a sharp decline of house sparrows in other parts of India too. It is now time for a serious nationwide comprehensive survey to evaluate the true status of the species so that appropriate measures could be adopted for the successful conservation of this declining species. The United Nation (UN) observes, 20th March every year as the 'World Sparrow Day' signifying the global importance of this species.




The resurgence of sensitive avian species back to a busy and congested metro like Kolkata could happen by sincere attempts of greening and landscaping the city to the best of our ability through the creation of roof gardens (A-F), backyard gardens (G-H), city parks (I-N), boulevards (O), avenue (P), kitchen gardens (Q-R) and water bodies (S-T) to function as city oasis. With the resurgence of green patches back onto the city landscape we will be able to welcome sensitive avian species like the house sparrow to once again occupy their lost niche within the city ecosystem by providing them with opportunities for nesting, foraging and breeding. Photo credits: Saikat Kumar Basu
Article contributed by: Saikat Kumar Basu and Rahul Ray
Peafowl constitutes three species, the Indian peacock or the Indian peafowl or the Blue peafowl (Pavo cristatus L.) distributed widespread across the entire Indian subcontinent; the Green peafowl or the Java peafowl (Pavo muticus L.) restricted predominantly to South-East Asia; and the Congo peafowl or Congo peacock (Afropavo congensis Chapin) endemic to the Congo basin of central Africa. Although the Blue Peafowl is in the Least Concern category of IUCN, the green peafowl has been placed under Endangered and the Congo Peacock under Vulnerable status. The Indian and African species are sexually dimorphic, suggesting that male and female members show distinctly different appearance and plumage; while the Green peafowls are almost similar in appearance. The most common and widely distributed among these three is the majestic Indian peafowl or the Blue Peafowl found across the entire Indian subcontinent including India, Pakistan, Nepal and Bhutan, as far as Sri Lanka (Pavo cristatus singhalensis) and as an introduced species in the continents of North America, Europe and Australia. The species is unfortunately reported to be extinct in the wild in Bangladesh.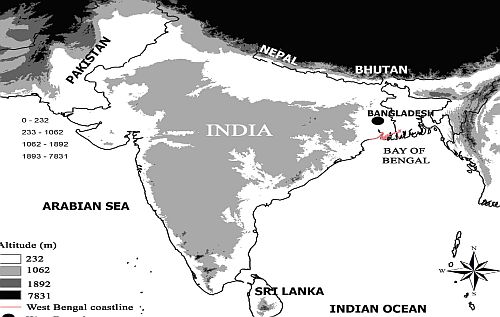 Map of the Indian subcontinent showing native range/distribution of Blue peafowl.

The Blue peafowl (peacock) is the national bird of the Republic of India and has been an inseparable part of the local culture, religion, tradition and history, art and sculpture, myths and legends of the great Indian subcontinent from time immemorial. It is believed that the bird was introduced in Europe by Alexander's retreating army after their grand campaigns in Persia and India; as an exotic bird species for the elites of the society with spectacular beauty. The spectacular courtship behavior of the Blue peafowl has been a part of several local myths and legends related to eternal love and romanticism for centuries and mentioned in several ancient texts and scriptures suggesting their long association with their human neighbors. The bird has been a symbol of the royalty and elites and has been a regular pet reared in the royal gardens and parks in both ancient and medieval India along with spotted (axis) deer and black bucks.



Photo credit: Peiman Zandi

The blue peafowl has a characteristic blue and green image with iridescent properties. Occasional white peafowls (mostly leucistic) are also reported that are commonly breed by zoological gardens and by private bird parks or gardens across the globe for their high ornamental values and popularity with the visitors. True albinos are also reported but comparatively rare in nature. The most spectacular aspect of the Blue peafowl is the majestic tail feathers of the males (peacocks) with distinct "eyes" that are best observed when the males display their tail feathers well stretched to attract the females for breeding purposes. Although the males of the species (peacocks) are characterized by their spectacular colorful feathers; the females (peahens) are less spectacularly ornamented with a mix of dull green, grey, white and brown feathers and are slightly smaller in size than the males. They also lack the long extensive tail feathers of the peacocks. Both have crest or crown on their heads, but the peacocks have brighter colors compared to the peahens. The young and immature peafowls (peachicks) are dull in coloration, varying between tawny to yellow and with inconspicuous patches or streaks of dull brown or white.



Photo credit: Peiman Zandi

The species exhibit elaborate courtship displays, with several competing males (peacocks) displaying their majestic tail feathers with distinctive eyes to a target female (peahen). The peahens sleet the individuals with most elaborate displays which is believed to be sign for their genetic fitness and good health and features. There are several theories put forward since the time of Charles Darwin in explaining such elaborate courtship displays and their role in evolution. They constitute one of the best examples for sexual selection.



Photo credit: Rahul Ray

The males are extremely territorial and they defend their territory fiercely by engaging in close combats with their challengers and intruders; and are often quite aggressive during the breeding season and in defending their nesting sites from different predators. These are terrestrial birds that nest and forage on the ground and roost on the branches of high trees. Their diets include a mixture of various plants and plant parts, different arthropods including insects, reptiles (snakes) and amphibians (frogs). They are a noisy species with frequent territorial and alarm calls of the males are a well know feature of wild India. Several pairs may nest close to one another and raise their chicks; but are extremely territorial and intolerant, if another (particularly males) dare to venture into the territory claimed by a resident breeding couple.
Photo credit: Rahul Ray

Article contributed by: Rahul Ray and Saikat Kumar Basu
The Sunderbans, represents a sensitive ecological region that is split across the international boundary of India and Bangladesh in South Asia and represents an unique ecosystem unparallel to anywhere else in the world due to its spectacular mangrove forest and amazing biodiversity. Home to a wide variety of highly endangered flora and fauna the region deserves special conservation status. However, the mangrove vegetation has been negatively impacted as a result of unrestricted growth of local human population well beyond the carrying capacity of this fragile ecosystem. The majority of the population being impacted due to lack of economic opportunities is heavily dependent on the easily accessible forest resources for their daily sustenance. As a consequence, the highly endangered mangrove vegetation and the local wildlife have been seriously impacted due to anthropogenic activities such as encroachments in the restricted forest belts, non-judicious harvest of forest and riverine products, poaching and capturing wildlife, deforestation, pollution and diseases. Due to severe anthropogenic pressures, the mangrove vegetation is rapidly disappearing making this region extremely vulnerable to cyclonic disturbances from the Bay of Bengal.
Figure 1. The map of the Sunderbans.
The mangrove vegetation serves as an important natural barrier to the regular micro-climatic turbulence and fluctuations in weather pattern of the adjoining Bay of Bengal with enhanced frequency of powerful cyclones (Fig 1). The local mangrove vegetation (Fig 2) is a nature's safeguard in the form of a protective shelter belt to the devastating cyclones impacting this region from geological past. The rapid and unrestricted destruction of this natural shelter belt is soon or later going to have serious environmental impacts in South Bengal and adjoining region including the city of Kolkata, India (Fig 3).
Figure 2. The spectacular mangrove vegetation of the Sunderbans.
Similar situation is also prevalent in adjoining Bangladesh with similar impacts. It is therefore important for all of us to realize the ecological significance of the mangrove forest and take every necessary measure to protect it from further degradation. Unless suitable monitoring and stringent laws are not applied very soon the ecosystem that has been stretched beyond its carrying capacity may be irreparably damaged. Since anthropogenic impacts are the significant factors impacting the stability of this ecosystem; as long as the economic condition of the local human populations of the region remains impoverished, very little is expected in terms of successful conservation of the fragile mangrove ecosystem.
Figure 3. Progressive deterioration of coastal mangrove vegetation due to severe anthropogenic pressure, environmental pollution and natural disasters is severely impacting the local ecosystem and its unique wildlife.
This unique global ecosystem is home to a wide diversity of avifauna such as fishing eagles or ospreys, Pallas's sea-eagle, white-bellied sea eagles, peregrine falcons, brahminy kite, pariah kites, northern eagle owl, brown fish owl, common crow, jungle crow, white-breasted kingfisher, pied kingfishers, white collared kingfisher, black-capped kingfisher, pied kingfisher, brown-winged kingfisher, woodpeckers, drongo, common snipes, crow pheasant, magpie robin, wood sandpipers, marsh harriers, paradise flycatchers, jungle babbler, green pigeon, spotted dove, cotton teal, munia, common mynah, black-tailed godwit, sparrow, red jungle fowl, swamp partridge, Indian cuckoo, rose ringed parakeet, Rufous treepie, water hen, coot, pheasant tailed jacana, cormorant, grey heron, purple heron, green-backed heron, night heron, golden plover, pintail, egret, white ibis, white-eyed pochard, greater adjutant, Asian open billed stork, black-necked stork, herring gull, spotted-billed pelicans to name only a handful. However, the rapid and illegal encroachments and severe anthropogenic pressure has been negatively impacting the habitat of the helpless avifauna as they are proving detrimental to all forms of wildlife inhabiting this unique ecosystem.
Figure 4. Avifauna of the Sunderbans. Photo credit: Rahul Ray
Heavy rates of poaching, illegal capture of birds for both local and international, underground pet markets, pollution of the local stream and tidal creeks through toxic wastes directly released into the river without treatment and detoxification from industrial workhouses and agricultural run offs rich in toxic agro-chemicals (synthetic fertilizers, pesticides, insecticides fungicides, weedicides etc) are deteriorating the local environment and negatively impacting the fish and other estuarine and aquatic food sources which in turn is having their subsequent secondary impact on the avian population. Several of the bird species inhabiting this ecosystem are top predators and as such are severely impacted through the process of biomagnifications as a consequence of consistent and unrestricted environmental pollution. Recently ecological disasters in this region in the form of oil spillage from oil tankers travelling across the sensitive ecozone and from accidents are further deteriorating this ecosystem making the life of the local wildlife including the avifauna at the turn of a dangerous peril; Unless strict measures of conservation are adopted and the anthropogenic pressure on this ecosystem is not considerably curbed the future of this unique ecosystem and environment and its majestic wildlife and avifauna stands the chance of being slowly wiped out in the not so distant future.
Figure 5. Avifauna diversity of the Sunderbans. Photo credits: Saikat Kumar Basu, Rahul Ray, Peiman Zandi, Srimoyi Mazumder and Pallav Mukhopadhyay
Figure 6. Avifauna of the Sunderbans. Photo credits: Saikat Kumar Basu, Manorma Sharma, Rahul Ray and Srimoyi Mazumder.
Fig 7. Anthropogenic pressure on Sunderbands include growing human population, extensive and unrestricted developments in horticulture, agriculture, fisheries, small industries, tourism and increased transportation severely impacting this fragile ecosystem. Photo credits: Saikat Kumar Basu, Ratnabali Sengupta, Srimoyi Mazumder, and Pallav Mukhopadhyay.
Article contributed by Saikat Kumar Basu
Taking place on 21-22 December 2013, the Dungarpur Bird Fair invites bird, wildlife and nature lover to experience the biodiverse habitats of Dungarpur and its environs. While the lakes and forests of Dungarpur are host to a large diversity of resident and locally migratory birds all year around, from October through to March it also hosts a variety of winter visitors from Central Asia and Europe, making this region in India especially attractive to birding enthusiasts. For more information visit http://dungarpurbirds.blogspot.in/
Dates: 21-22 December 2013
Venue: Dangarpur
State: Rajasthan
Country: India
Sixteen groups, consisting of approximately nine birders per group, will take on a variety of hiking trails from the 7th to the 10th of November 2009, in search of as many bird species as they can find, to identify and record them. Some of the trails include the Jhilmil Jheel Conservation Reserve, Ganga Mandakini and Yamuna. This magnificent initiative and bird watching opportunity is supported by the Forest Department of Uttarakhand. Bird lovers eager to participate should inquire about the Great Himalayan Bird Count, as places are limited.
For more information, contact Prateek Panwar on 941 205 4216 or email arch.birdcountr@yahoo.in
Date: 7 – 10 November 2009
Venue: Various
City: Dehradun
Country: India