This essay is primarily about a collection of photos of certain birds found in the sprawling and lush campus of the University of Hyderabad, Hyderabad, India. It includes birds like, Red-ringed Parrot, Asian Paradise Flycatcher, Golden Indian Oriole, Green Bee-Eater, Indian Pond Heron, King Fisher, Little Black Cormorant, Oriental White eye, Red-wattled Lapwing and Spotted owlet.  The photographs capture the everyday behaviour of the birds within the natural spaces of the campus.
Although birds are delicate and small in appearance yet they have inspired some of the most challenging human quests for freedom, flight, beauty and nurture. But what have we given them in return? I ask myself this question, as I see the city gradually replacing its rocks and trees with glass and steel corporate structures.
Birds in and around Gachibowli, a place which is fast becoming a symbol of India's hyper-modern corporate sheen, seem to have found refuge in the campus. The calm and green expanse of this institution has become a 'Birdopia': a place where these birds can live, love and laugh, freely. The purpose of this collection is not only to highlight the beauty and diversity of the birds but also their discovery of an almost utopic space within the swamps, trees and gardens of the university.
Indian Red-ringed Parrots
Asian Paradise Flycatcher
Indian Golden Oriole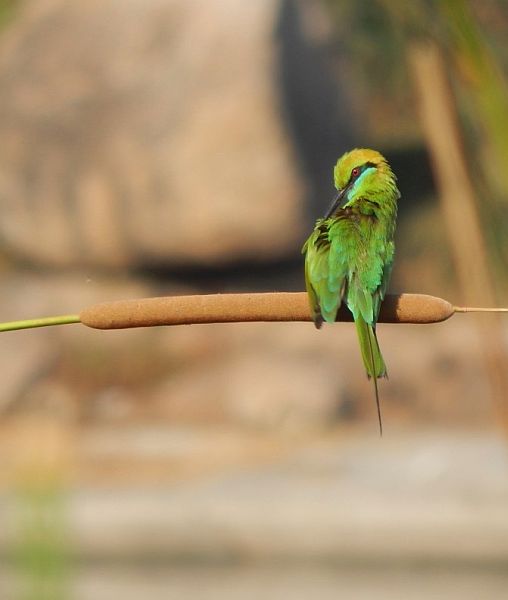 Green Bee-Eater
Indian Pond Heron
Indian Kingfisher
Little Black Cormorant
Oriental White Eye
Red-watteld Lapwing
Spotted Owlet
Article contributed by Jhilam Chattaraj
Vultures constitute an important component of the ecosystem. Being carrion feeders, they perform an important task as finishers in the ecosystem in returning human and animal corpses into their elemental forms back into the system and thus play a significant role as cleaners or disposers in the nature. They are capable of stripping carcasses free of all flesh, soft and hard tissues such as tendons, cartilages, softer bones, skins, hairs and keratins with their sharp claws and beaks; and due to special enzymes in their stomach are capable of digesting them. Different species of vultures are reported from the Indian subcontinent and unfortunately the populations of most of these ecologically important species are showing serious signs of decline across most of their natural ranges. Some of the factors that have contributed towards the rapid decline of the populations of different species of vultures across the subcontinent include: loss of habitats and habitat fragmentations; removal of old and big trees in and around city fringes, city parks and city gardens causing loss of suitable nesting sites; rapid and unplanned urbanization drive to cater to the growing human populations in the cities and towns; unprecedented boom of real estate business and infrastructural developments causing the loss of green spaces within and around the major city areas, the added areas and their subsequent extensions and in the greater metropolitan areas including district towns and municipalities; rapid, unrestricted, unplanned and unmonitored growth of both legal as well as illegal industrial units within city limits and adjacent areas causing pollution of the local environment; severe anthropogenic pressures in the remaining open spaces at the city fringes due to human encroachments and establishments of slums and shanties; communicable diseases among vulture populations; and last but not the least, poisoning of the animal carcasses on which these birds feed as their primary food sources both intentionally as well as accidentally. Furthermore, pesticide poisoning of the birds have also been reported from several parts of the subcontinent.
Subsequent scientific studies established that diclofenac, an anti-inflammatory drug commonly administered to the Indian livestock for the treatment of wounds and inflammations, as one of the potent chemicals that have been killing and decimating the vulture populations in India through the process of biomagnification. The leading cause of death through poisoning by the drug among vultures is through drastic renal failures. The species that have been worst impacted are the Indian vulture (Gyps indicus Scopoli), the white-rumped vulture (Gyps bengalensis Gmelin) and the slender-billed vulture (Gyps tenuirostris Hodgson (in Gray)); that were reduced from stable populations of several millions to just a few thousands over the span of two-three decades.
In several parts of their former ranges a decline between >70-85% to < 97-99% in their wild populations have been reported raising an important concern for their threats to extinction in the next 20-25 years.  Unfortunately, the Indian vulture, the slender-billed vulture and the white-rumped vultures are all now placed under the category of critically endangered by the IUCN; while the Egyptian vulture (Neophron percnopterus Linnaeus) is currently considered to be endangered. The only species that is evaluated to be near threatened in the wild is the famous Himalayan vulture or better known as the Himalayan griffon vulture (Gyps himalayensis Hume) that is restricted to the Himalayas and the Tibetan plateau and is not dependent too heavily upon livestock carcass as their principal dietary source; and the Eurasian griffon (Gyps fulvus Hablizil) which is under the least concern category. The facts clearly indicate that the vultures belonging to the genus Gyps are most readily impacted and also these species are distributed predominantly in the river valleys, great northern and western plain lands and the plateau region of the subcontinent with significant agronomic activities and substantial livestock populations. Hence the biomagnification poisoning through diclofenac has been identified as one of the most devastating factors decimating the vulture populations in the Indian subcontinent in addition to several other anthropogenic factors mentioned above.
Several vulture rehabilitation, breeding and reintroduction centers have been established in India being alarmed with the sharp decline of the vulture populations and a few more are coming or are being proposed. However, their numbers are too meager compared to the need from the context of species revival. Some success has been documented in the breeding, rearing and reintroduction of different vulture species in the wild in various parts of their former home ranges; however, much needed to be done. Steps have been taken in removing diclofenac as the preferred veterinary drug by the cattle handlers and livestock operators with other alternatives having much lower impacts on the vulture populations has been recommended and/or prescribed. But the drug is continued to be used in small to moderate numbers till date across the home range of the vultures. Lack of education and awareness; as also lack of care and empathy for the long term sustainability of the local ecosystem and environment by agricultural workers, cattle handlers and livestock operators have been another serious concern that needs to be addressed sincerely by the vulture conservation agencies. It will be necessary to completely ban this drug from the livestock industry and strong monitoring and surveillance will be necessary to evaluate the wild populations of vultures in the coming decades. Unless a comprehensive conservation, rehabilitation and reintroduction policy is adopted with strong legislative measures and effective wildlife management strategy is implemented and practiced in saving the Indian vultures, their future looks extremely grim and vulnerable with dangers of extinction in the wild.
Article contributed by: Saikat Kumar Basu
The North Eastern (NE) region of the India is a biodiversity hotspot and represents one of the highest avian biodiversity of the Indian subcontinent. The region is ecologically represented by the Eastern Himalayan biome and is rich in a number of endemic flora and fauna. Several avian species inhabiting this unique ecosystem are not found or reported anywhere else in the world. The region is represented by seven Indian states, namely: Assam, Arunachal Pradesh, Manipur, Meghalaya, Mizoram, Nagaland and Tripura. Often these seven NE states are referred to as the Seven Sisters. The region has international boundaries with Bhutan, China, Myanmar and Bangladesh. The Himalayan state of Sikkim and the Darjeeling district and northern reaches of the Cooch Behar and Jalpaiguri districts of the eastern Indian state of West Bengal are ecologically contiguous with this region and together they represent an unique region with unparallel natural beauty, amazing ethnic diversity and a spectacular biodiversity of birds.
The NE India constitutes vast evergreen forests of the Brahmaputra river valley, the broad leaf forests at the foothills and the high altitude sub-alpine coniferous vegetation and the Indo-Myanmar dense bamboo and pine forests. This is a vast ecosystem include the elements of riparian as well as low and high altitude mountainous ecosystems suitable as premier bird habitats. This region hosts one of the most famous and celebrated sanctuaries and reserved forests of the subcontinent as well as the world, known for their spectacular avian biodiversity: Dibang, Namdhapa, Eaglenest, Kamlang & Mehao (Arunachal Pradesh); Manas, Kaziranga, Garampani, Nameri, Dipor Bil, Pobitora, Pabha, Laokhowa, Bornadi & Oran (Assam); Bhagmara, Siju & Nongkhyllem (Meghalaya); Fakim, Intanki & Pulebatze (Nagaland); Keibul Lam Jao (Manipur); Ngengpui & Khawnglung (Mizoram), Gumti, Charilam & Sepaijhola (Tripura), Kyongnosla, Pangolakha, Meanam & Shingba  (Sikkim) and Jaldapara, Gorumara, Singalila & Senchal (West Bengal).
The avifauna diversity of this region is spectacular and home to the Great Indian Hornbill (Buceros bicornis L) that has been placed under Near Threatened (NT) status by the IUCN.  Several rare species of both resident and migratory birds are reported from this pristine habitat. Being located within the biome of the majestic Eastern Himalayas, the eco-region provides a unique habitat for a wide diversity of local species. This is not only an important ecosystem for the local and resident avian species; but also a diverse habitat for numerous short and long distance migrant species that crisscross the region during their annual and semi-annual migration. The unique ecosystem provides multiple species with adequate opportunity to feed and forage as well as nest, breed and raise their chicks successfully with relatively little anthropogenic pressures and carbon foot prints.
Fig 1. Diversity of avian species from NE India
Several avian species come and visit the NE from other parts of the subcontinent such as Central and Western Himalayas and southern India; and there are also species visiting the regions from the distant Siberia (Russia), Mongolia, central, southern and SE China, Myanmar Thailand, Indo-Chine, Pakistan, Afghanistan, Iran and Central Asian countries like the Tajikistan, Uzbekistan, Azerbaijan, Kyrgyzstan, Turkmenistan and Kazakhstan and west Asia.  The avian diversity of the region include different species of ducks, swans, geese, teals, grebes, pochards, pintails, ibis, shanks, terns, pelicans, storks, Asian open bills, bitterns, spoonbills, sandpipers, plovers, cranes, egrets, herons, cormorants, kingfishers, lesser adjutants, greater adjutants, crakes, water hens, coots, moorhens, snipes, swamp hens, jacanas, rails, falconets, kestrels, hobbys, hawks, kites, vultures, harriers, goshawks, falcons, owls, owlets, eagles, ospreys, woodpeckers, pheasants, weaver birds, tailor birds, rollers, honey guides, hornbills, sunbirds, bee eaters, orioles, sand grouses, frogmouths, lapwings, muniyas, parakeets, quails, hoopoe, crow pheasants, yuhina, parrot bill, martins, warblers, tree creepers, babbler, pipits, wagtails, leafbirds, flowpeckers, sunbirds, grosbeaks, bantings, larks, thrushes, flycatchers, blackbirds, drongos, treepies, sparrows, common crow, jungle crow, mynas, starlings, barbets, bulbuls, nightjars, swifts, swiftlets, swallows, magpies, fintails, shrikes, wood shrikes, pigeons and doves, blue peafowls, piculets, robins, wild pheasants, swamp francolins, Bengal floricans, coucals, cuckoos, minivets, pitas, dollar bird, malkohas, curlews, ruffs, stints, cuckooshrikes, godwits and different finches to name only a handful.
Fig 2. NE India, a biodiversity rich eco-zone with numerous bird species
However, due to the remote nature of this region, economic development in this zone has been much slower compared to the rest of India. This eco-zone has been traditionally under developed; relying mostly on the vast forest resources, traditional agriculture and tourism as major industry. This actually left the local ecosystem and the environment undisturbed for several decades post independence with a unique habitat completely preserved and globally recognized as an important biodiversity hotspot center. However, the changing population dynamics of the region together with need for economic opportunities for the resident population the call for economic development of the region together with infrastructural initiatives has been sharply rising over the past two decades in areas of hydroelectricity, oil and gas exploration and an aggressive tourism industry. There has been significant proposal of inter-connecting the region with railway and roadway networks. The Indian Railways has notorious reputation in colliding with different wildlife crossing the railway tracks during the night in eastern India; and hence it will be necessary to be extra cautious to avoid such unwanted incidences in this vulnerable eco-region. The new surge for agricultural and industrial developments in the region may have some significant impacts on the local ecosystem and highly vulnerable avian populations.

Fig 3. Unique habitats from NE India and subsequent impacts of anthropogenic pressure on the local ecosystems.
Hence it will be important to follow a long term, sustainable and judicious use of the abundant natural resources of this unique ecosystem. The economic priorities should not completely erode the importance of conserving big parts of this pristine habitat and centre of global biodiversity hotspot representing numerous avian species inhabiting this region.  It will be important to apply the principle of eco-sociology in regulating economic opportunities along with environmental conservation simultaneously. There will be certainly some major irreversible and negative impacts on the local ecosystem; however, care must be taken to minimize the losses to the best of the ability to reduce impact on the local wildlife and avian populations. If the wheel of economic development goes out of gear and the conservation priorities get derailed the economic as well as ecological future of this region could be significantly impacted. All the stakeholders in this process need to make cautious move while following a strict principle of stringent monitoring and surveillance at every step of the proposed economic development in an extremely fragile eco-region.
Fig 4. The diversity of avian species and ecosystems from NE India
Fig 5. Rapid urbanization and anthropogenic developmental and economic activities has the potential to impact the sensitive local ecosystem and the local avifauna.
Photo credits: Saikat Kumar Basu, Rahul Ray, Manorma Sharma & Manikankana Dasgupta
Parakeets are an integral part of the Indian subcontinent as well known and highly celebrated avifauna members down the ages. Although commonly misidentified as 'parrots' all the members of the parrot family reported from the Indian subcontinent are actually 'parakeets' and not true parrots, with the exception of the Vernal Hanging Parrot (Indian Lorikeet). The distinctive calls of the parakeets are reminiscent of both the Indian wild as well characteristic of the resident feral populations in several cities and towns of the continent. The parakeets have been closely associated with the art, culture, literature, language, ethnicity and history of the land in a colorful and interwoven mosaic. The close association of the different parakeet species to the subcontinent life and culture represent a kaleidoscope of people, culture and a vast array of noisy, colorful and majestic species of birds closely integrated together. Several parakeet species from the subcontinent have also been introduced in other countries on different continents; and like their native habitats have been successful in establishing feral populations in their new homes overseas.
The parakeets belong to the Order Psittaciformes, Superfamily-Psittacoidea, Family-Psittaculidae; Sub family-Psittaculinae and the genus Psittacula. True parrots (such as Macaws, Parrots and African Grey Parrot) belong to the Superfamily-Psittacoidea, Family-Psittacidae; while Cockatoos belong to the Super Family-Cacatuoidea and Family-Cacatuidae and are then placed under different sub-families and sub genera. There is a third group of parrots called the New Zealand Parrots belonging to the Super Family-Strigopoidea. Leaving aside all the taxonomic jargon, we can simply mention that both parakeets and parrots belong to the same family but are then separated morphologically, genetically and geographically.
Parrots are represented by over 350 species and over 80 genera across the planet but they are most well know in the regions of Central and South America, Africa and Australasia. The parakeets (often called the lesser parrots) are smaller in size compared to the true parrots; and are more common in Australia and the Indian subcontinent. The most popular and well known parakeet in the world is the Australian budgerigar or the famous budgie or the keet (Melopsittacus undulates Shaw) and is reported to be one of the most common pets, following dogs and cats.
There are 11 parakeets reported from the Indian subcontinent (please see the table below) and the 12th one is suspected to be a hybrid (Intermediate Parakeet or Rothschild's Parakeet). Only one hanging parrot species is reported from the region (Vernal Hanging Parrot or Indian Lorikeet). All the 11 parakeets belong to different species under the same genus ; with the Vernal Hanging Parrot or Indian Lorikeet that belongs to the genus Loriculus. Many of the parakeets have different sub species occupying different geographical regions. They vary in size between 14 cm (Vernal Hanging Parrot or Indian Lorikeet), the smallest of the Indian parakeets, to as big as the Alexandrine parakeet (53 cm) and the Nicobar parakeet (61 cm). The Nicobar parakeet is the largest reported parakeet. Other members are intermediate in lengths between these two extremes but are all above 35 cm on average.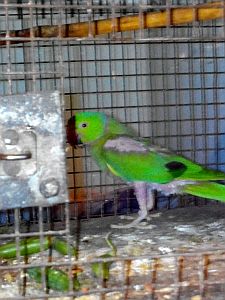 Juvenile Alexandrine Parakeet (Psittacula eupatria Linnaeus). Photo credit: Manorma Sharma
The Long-tailed Parakeet, the Malabar Parakeet and the Nicobar parakeet are reported to be endemic to their localities in the subcontinent. Majority of the parakeet species are sexually dimorphic and often the juvenile and sub-adults differ in coloration and plumage from the adult members. Most of these species are known by various vernacular names in the ethnically and linguistically diverse subcontinent and often similar name (s) from different regions may or may not represent same species. The parakeets are extremely popular as pets in most parts of the subcontinent; and hence an important point of concern for their successful conservation. The Rose-Ringed Parakeet is one of the most common species seen as pets in home across the region. But according to TRAFFIC (India) eight out of 12 parakeet species has been commonly seen in the Indian pet markets during their survey, indicating that ~67% of the species reported form the region has been seriously impacted by poaching, illegal capture and pet trade.
Rose-ringed parakeet or Ring-necked parakeet (Psittacula krameri Scopoli). Photo credit-Manorma Sharma.
Commonly known Indian subcontinent species are mentioned below:
| | | | | | |
| --- | --- | --- | --- | --- | --- |
| English name | Scientific name | Length (cm) | IUCN Status | Sexual dimorphism | Distribution |
| Alexandrine Parakeet or Parrot or Large Indian Parakeet | Psittacula eupatria Linnaeus | 53 | LC, SC-IV | Yes | Indian subcontinent & SE Asia |
| Blossom-headed Parakeet | Psittacula roseate Biswas | 36 | LC, SC-IV | Yes | NE India & SE Asia |
| Lord Derby's Parakeet or Derbyan Parakeet | Psittacula derbiana Fraser | | NT, SC-I, PART-III | Yes | NE India (Arunachal Pradesh) & limited distribution southern China |
| Grey-headed Parakeet or Humes Parakeet or Finsch's Parakeet | Psittacula finschii Humes | 36 | LC, SC-IV | No | NE India & SE Asia |
| Intermediate Parakeet or Rothschild's Parakeet (?) | Psittacula intermedia Rothschild | 36 (?) | ? | Yes | Never seen or officially reported in the wild and is believed to be most plausibly a hybrid between Slaty- & Plum headed Parakeets with considerable variations among different specimens. Could be generated under some captive breeding. Some unconfirmed reports highlights on Sub-Himalayan distribution (?) |
| Long-tailed Parakeet or Rosy or Red Cheeked Parakeet | Psittacula longicauda Boddaert | 47 | NT, SC-IV | Yes | Andaman & Nicobar islands (India), restricted localities of SE Asia (parts of Indonesia, Malaysia and Singapore)* |
| Malabar Parakeet or Blue Winged Parakeet | Psittacula columboides Vigors | 38 | LC, SC-IV | Yes | Western Ghats (India)* |
| Nicobar Parakeet or Blyth's Parakeet | Psittacula caniceps Blyth | 61 | NT, SC-IV | Yes | Nicobar islands (India)* ; largest among the parakeets |
| Plum-headed Parakeet | Psittacula cyanocephala Linnaeus | 36 | LC, SC-IV | Yes | Indian subcontinent* |
| Red-breasted Parakeet or Mustached Parakeet | Psittacula alexandri Linnaeus | 38 | LC, SC-IV | Yes | Indian subcontinent |
| Rose-ringed Parakeet or Ring-necked Parakeet | Psittacula krameri Scopoli | 42 | LC, SC-IV | Yes | Indian subcontinent & Africa |
| Slaty-headed Parakeet or Himalayan Parakeet | Psittacula himalayana Lesson | 41 | LC, SC-IV | Yes | The Himalayas; across the subcontinent; demonstrate altitudinal migration pattern |
| Vernal Hanging Parrot or Indian Lorikeet (Sub Family-Agapornithinae) | Loriculus vernalis Spartman | 14 | LC, SC-IV | No | Indian subcontinent & SE Asia |
NT: Near Threatened; LC: Least Concerned; ?: Doubtful status;  *: Endemic species; SC: Schedule III & IV under Indian Wildlife Act (1972), Protected Species

Map on the Indian Sub-Continent
The diet of the parakeets usually include seeds, nuts and wild fruits, cereal grains, pigeon peas, buds and flowers, orchard fruits and other plant parts; rarely insects and worms. They are also found to flock in huge numbers along edges of river beds eating mud to supplement their diet with mineral elements. They usually like nesting in the cavities of old trees or in natural or artificial holes or cavities of old and abandoned towers, chimneys and buildings, abandoned farm houses and factories etc. They live in the wild as dedicated pairs and are fiercely territorial in nature. Both parents take part in rearing their chicks and are known to be devoted parents. Most commonly observed courtship behaviors noticed in different parakeet species varies between courtship feeding, rubbing of bills, sitting closely with the partner and head bobbing and other related behaviors. The young hatch after an incubation period of about 20-40 days and fledge between 4-10 weeks depending on the species concerned. Each clutch again varies between 2-8 eggs depending on the species of the parakeet.
The eggs laid by all the parakeets are white in color. Fledglings are usually old enough to leave the protection of their nest before the onset of monsoon. Chicks are usually monomorphic and show their dimorphic plumage on adulthood depending upon their species. The males usually have brighter spots, patches, marks and rings compared to the female of the species exhibiting dimorphism. Most parakeets make affectionate and adorable pets. However, many species are aggressive and could bite when disturbed, threatened, irritated and provoked in self defense. In addition to humans; other predators of the parakeet eggs and chicks include snakes, monitor lizards, mongoose, civets, monkeys and birds of prey. Feral populations of different parakeet species have been well established in different cities, municipalities and towns of the subcontinent and the species have successfully adapted to the urban environment.
In the rural areas of the subcontinents often giant flocks of different parakeets are considered as pests and attack fruit gardens and orchards causing huge financial damages by foraging on both ripe and immature fruits and flowers. However, under Indian Wildlife Act (1972) all the parrots are protected species and could not be killed and hunted under Indian laws. The life expectancy in the wild varies between 6-12 years depending upon species; while in captivity and in the zoological gardens and aviaries they have been reported to live for almost 30-40 years or even more. Breeding the Indian parakeets in captivity is not greatly successful and hence the pet trade has been a detrimental factor causing illegal capture and sale of different species; the most popular being the Indian Rose-ringed Parakeet. But other species are also observed in the illegal pet markets in great numbers. Few species being capable of mimicking human speech and have been highly endured as popular pets causing further damages to their natural population dynamics. Chicks are often trapped for the purpose of illegal trade on pets and are responsible for their high mortality.
Often housed in small cages with poor diet and poor access to fresh water and sunlight have cased the deaths of several parakeets in confinement. Transportation after capture over long distances also results in high mortality rates. Furthermore, poor sanitation of the cages, insufficient diet, over crowding, diseases and exhaustion kills a large number of the captured parakeets even before they are sold; and many die off soon after reaching their end consumer due to too much care (over care) or total negligence and lack of training and necessary knowledge in managing, rearing and handling caged parakeets.
In addition to the anthropogenic pressures in the form of poaching, hunting and capture; the parakeets are also impacted by rapid degradation of their natural habitats, devegetation, habitat fragmentation, forest fires and pollution. Stringent monitoring and surveillance of the illegal pet markets by both government and non-government organizations will be absolutely important along with raising awareness and education among the general public  for successful and long term conservation of the beautiful parrot species of the subcontinent.

©TRAFFIC (India). Published with kind permission of TRAFFIC (India) for the purpose of education and awareness. The poster is available at: http://www.wwfindia.org/?6900/TRAFFIC-helps-to-claw-back-illegal-parrot-trade-in-India
Article submitted by: Saikat Kumar Basu
Myna (Mynah) is a member of the starling (Sturnidae) family under the order Passeriformes. Mynas have been part of the avifauna of the subcontinent for long. Some of the species like the Common Myna or the Indian myna (Acridotheres tristis) are found to be moderate to closely associate with human settlements and habitation throughout their range. Because of their ability to quickly adapt to urban and semi-urban conditions they have been quite successful in breeding and propagating in the urban and city environments. Like the rock dove they have been an opportunistic species and hence have been successful in their survival in the concrete forests of the modern metropolis. The cities as well as the rural areas of the subcontinent have been undergoing rapid transformations in the past five decades. There has been expansion of the industrial belts as well as encroachments of different ecosystems for the spread of agriculture and human habitation. This has impacted fragmentation of several pristine habitats and has impacted some species of myna in different localities and habitation pockets within the subcontinent. While the highly adaptive species have survived this changing dynamics of both urban and rural landscapes and have propagated successfully. The vanishing of the old trees and parks and undisturbed corners of major cities in India have been impacted due to anthropogenic pressures as well as rapid human economic developments. This has certainly reduced the breeding and nesting sites for several myna species but some have adapted to a certain extent to such disturbances and adjusted with the changes happening in their immediate environment.
Common Myna. Photo credit-Saikat Kumar Basu
The Common Myna has been an opportunistic species; that has adapted successfully to the urban life (A & E) and survived under the rapidly transforming metro cities with severe anthropogenic pressures with stark contrast between modern apartments (C) and encroaching slum areas (B & D); and even in absence of open spaces such as abandoned undisturbed areas and parks (F). Photo credits: Ratnabali Sengupta & Srimoyi Mazumder.
The different myna species reported from the Indian subcontinent include:
1. COMMON MYNA/INDIAN MYNA (Acridotheres tristis Linnaeus)
2. PIED MYNA (Gracupica contra Linnaeus)
3. BANK MYNA (Acridotheres ginginianus Latham)
4. Great myna (Acridotheres grandis Moore)
5. Collared myna (Acridotheres albocinctus Godwin-Austen & Walden)
6. Golden-crested myna (Ampeliceps coronatus Blyth)
7. JUNGLE MYNA (Acridotheres fuscus Wagler)
8. COMMON HILL MYNA/ HILL MYNA (Gracula religiosa Linnaeus)
9.Southern hill myna (Gracula indica Cuiver)
10. Sri Lanka hill myna/Ceylon myna/Sri Lanka myna (Gracula ptilogenys Blyth)

Map of the Indian subcontinent.
One the most common and abundant of all the myna species reported from the subcontinent are the Indian Mynas or the Common Mynas (Acridotheres tristis). Their range includes the entire Indian subcontinent China, Central Asia & SE Asia and has been introduced to different locations in Australia New Zealand, parts of west Asia and different island chains in the Atlantic, Pacific and Indian Oceans ranging from Asia to Africa. The species has been regarded as acutely invasive in some countries and has been placed under pest status in other localities. The species has actively adapted to different urban environment very successfully.

Common Myna (Acridotheres tristis L.) foraging. Photo credit-Manorma Sharma

Common Myna (Acridotheres tristis L.) is a highly urbanized bird species that has well adapted to city life by foraging on garbage dumps and other human trash. Photo credit: Srimoyi Mazumder.
Most of the species are distributed across the subcontinent and SE Asia with the Southern Hill Myna  (Gracula indica) reported from peninsular India and Sri Lanka; and the Sri Lankan Hill Myna (Gracula ptilogenys) being endemic to Sri Lanka. The Collared Myna (Acridotheres albocinctus) is more common in the eastern and north eastern states of India, southern China and in western Myanmar. According to IUCN all the species reported from the subcontinent are currently placed under the Least Concerned (LC) status. The Southern Hill Myna (Gracula indica) very closely resembles the Common Hill Myna (Gracula religiosa) and is quite difficult to differentiate between them morphologically; although they are two different species under the same genus Gracula. The Sri Lankan hill myna (Gracula ptilogenys) was previously described as a sub species of the Southern Hill Myna but has later been designated as a separate and endemic species found only in Sri Lanka. The Sri Lankan Hill Myna is easily distinguishable from both the Common and Southern Hill Myna species. The color is comparatively duller in comparison to the Common and Southern Hill Myna species; both of which have shiny black plumage, bright orange beaks and bright yellow skin patch (wattle) around the head and the nape.

Common Hill Myna Photo credit- Rahul Ray
The orange-crested myna (Ampeliceps coronatus) is easily identifiable with the black body and bright yellow colored head. The great myna (Acridotheres grandis) and the jungle myna (Acridotheres fuscus) have close resemblance; however, the former is bigger in size and is dark black while the latter is shiny brownish in color and can be separated based on that.  Furthermore, great myna has yellow beak and legs; while the jungle myna has orange beak and legs. The collared myna (Acridotheres albocinctus) is also similar to the Great Myna and the Jungle Myna in external appearance but could be easily separated due to the presence of bright distinct yellow colored ring or patch around the neck.

Southern Hill Myna.  Photo credit- Rahul Ray
The mynas are vocal species and are dedicated parents caring for their young ones. They usually love nesting around cracks and corners of abundant houses and buildings, woods, forests and on high trees. They are capable of surviving in disturbed habitats and forage on plant parts, fruits and seeds, grains, worms, insects, human food and also by forging on garbage or trash materials. The species is territorial with males engaged in frequent fights with opponents and rivals in defending their territories. The fights are seldom threatening and are usually terminated with the weaker individual flying away to avoid further combat engagements. Some species like the Indian Hill Myna are targeted exclusively by the poachers for their value in the illegal pet trade due to their unique ability to mimic human communication and words. Due to their high demand in both regional and international illegal pet markets, a large number of them are trapped and captured and illegally transferred over long distances for sale. The Indian Hill Myna is the 'State Bird' for the Indian states of Chhattisgarh and Meghalaya.

Pied Myna (Gracupica contra L) is also now considered a starling rather than a true myna. Photo credi: Rahul Ray.

Brahminy Myna or Brahminy Starling (Sturnia pagodarum Gmelin) is not actually a true myna or a jungle myna; but actually a starling belonging to the same family as the mynas. Reported across the Indian subcontinent, the species is considered as Least Concerned by IUCN. Photo credits: Rahul Ray 
Article submitted by Saikat Kumar Basu and Rahul Ray