The wetlands of Iran constitute an important destination of several migratory bird species from Europe, and Russia including Siberia, Mongolia, China, Central Asia and Africa. Several species fly unbelievably long distances between the continents and cross over the Caspian Sea to enter the borders of Iran and finally settling into different wetlands, forested areas and river valleys. The two major migration paths that include Iran as transit points are the Central Asian migratory route and the African-Eurasian migration pathway. The inland geographical location of Iran within the Asian continent along with multiple seasons, abundant wetlands (in the form of water bodies like inland lakes, pools, ponds, ditches, swamps, marshlands), plain forests, mountain forests, dry forests, woods, scrubs, river valleys, riverine forests, diverse ecosystems and abundant food sources making it an attractive destination for a large number of migratory bird species from Central Asia, Europe and Africa. Different species of ducks and geese, grebes, pochards, cormorants, bitterns, egrets, cranes, herons, storks, spoonbills, ibis, flamingo, lapwings, phalaropes, coots, plovers, sandpipers, curlews, snipes, terns, common greenshanks, dunlins etc visit Iran as migratory species. In addition different species of raptors such as vultures, falcons and eagles also migrate to Iran following their strong prey base that takes refuge within the boundaries of the nation. On an average, between 2-4 million migratory birds are estimated to pass through Iran every year.
Thus the wetlands and forests of Iran constitute a global hotspot rich with numerous magnificent avian species foraging, nesting and breeding and then leaving at the end of the winter for their home ranges. These areas have traditionally grown into important tourist hubs due to the exquisite natural beauty, relatively pollution free environment, spectacular biodiversity, wild nature and serenity. Several tourists from the major Iranian cities like Teheran flock to these tourist centers to enjoy a glimpse of the natural beauty. However, a section of the tourist and local community members also get together for the purpose of hunting both with and without proper hunting licenses. It is this unprecedented surge of hunting pressure and poaching that has been causing havoc with several migratory species of birds, seriously impacting their population bases while visiting the Iranian wetlands as their winter refuge. Several species such as the Siberian crane, sociable lapwing, white backed vulture etc are migratory species that have been placed under the critical endangered species category by IUCN; while white-headed duck, Egyptian vulture etc have become nearly threatened.
Several local legal and illegal (underground/black) markets have also developed in and round these regions selling meat of wild migratory birds to the tourists and visitors and to the local population as cheap source of animal protein and as an exotic meat. The meat of migratory birds are extremely popular with the tourists as well as locals and are openly served in local restaurants, pubs and hotels; and has also turned into a common food item for the domestic kitchens. Due to high local demand several local youths and tribesmen has changed into poachers and hunters who illegally capture, slaughter and sell the defenseless birds to the middlemen; who then sell it to the local businessmen operating meat trade in the local legal and illegal markets. The worst hit is particularly different migratory species of wild ducks and geese. According to the local agencies approximately 3 out of 4 million migratory birds are illegally hunted by poachers and local hunters; and that these people are rarely arrested or prosecuted. The hunting and poaching pressures on these wetlands and other available refuges of migratory bird species in Iran has gone up exponentially pushing several migratory bird species to the status of vulnerable, endangered and critically endangered from not threatened in the span of just last three decades. Furthermore, due to tremendous anthropogenic pressures on the migratory bird habitats by tourists, locals, hunters and poachers; several species are running the risk of extinctions if such activities continue for future decades without any intervention.
The lack of education and awareness among the local and tribal communities in remote corners of the country, poor management and regulations, poor economic development and lack of opportunities for sustainable economic growth on a long term basis, lack of political initiatives and will, local traditions and taboos, social customs, insurgence of unplanned, unrestricted and unmonitored tourism have been some of the socio-economic factors contributing towards the sharp rise in poaching and illegal capture of migratory birds in these regions. The government and non-government agencies in charge of the conservation and protection of the regions are ill equipped, poorly trained and funded to deal with the grim situation. The number of incidents of poaching is way too high for the existing staff members and volunteers working on these projects to handle efficiently and effectively.
They are short of manpower, funding, gears and equipments to deal with the proper survey, study, monitoring and evaluation. They are acutely short staffed in regulating and/or restricting the incidents of rampant poaching and operation of legal and illegal migratory bird meat markets and illegal pet trade centers operating in these localities. Often the poachers and illegal business operators on wild birds have better organized networks, sophisticated arms and instruments than the regulatory agencies. The poor salary structure, harsh job conditions, long working hours and lack of opportunities and incentives do not attract enough quality candidates to apply for these job positions. Due to lack of proper advertisement and initiatives, dedicated and sincere volunteers are also not easy to recruit. The consequence being a poorly trained and severely marginalized force has to operate with their poor infrastructure and facilities in the conservation and protection of huge areas, which become both logically as well as logistically impossible to manage efficiently.  Under these circumstances the future of several migratory bird species in Iran is hopeless and dimensionless and if no appropriate measures are taken at the earliest, several species of migratory birds could be threatened with the dangers of extinction in the not so distant future.
Socio-economic development of the under privileged regions will be important for possible improvements in conservation efforts. It is necessary to establish alternate employment opportunities and economic engagement for people involved in the illegal trade on migratory bird species and poaching activities. Highly organized campaigns will be needed to promote education and awareness among the local populations, indigenous communities, tourists and visitors about the importance of the migratory bird species and their role in maintaining healthy balance of the extremely fragile and sensitive ecosystems. Proper training and funding for the different regulatory and environmental protection and conservation agencies will be necessary to well organize and equip the personnel involved in successfully conducting regular surveys on endangered bird populations; monitoring and surveillance of the sensitive local ecosystems; raids, arrests and conviction of those involved in poaching and illegal trade on wild meat of migratory bird species. Above all campaigns in educating general public making them aware of the impending dangers of the possibility of extinction of the critically threatened migratory bird species need to be emphasized.
Article submitted by: Saikat Kumar Basu and Peiman Zandi
Photo credit: Peiman Zandi
Suggested readings
Ashoori, A., Barati, A., and Reihanian, H.- r. (2007) Recent observations of the Red Phalarope Phalaropus fulicarius at Boujagh National Park, Gilan Province, and Agh Gol wetland, Hamedan Province and its status in Iran. Podoces. Vol. 2(2): 148-150.
Ghasemi, A. Omidi, Z. Mohammadi, G. Barati, A. (2012) Wetlands as habitats for migratory birds (Case study: Agh-gol and Abshineh wetlands). Journal of Environmental Sciences and Technology, 53-54: 31-39.
Khaleghizadeh, A., Scott, D.A., Tohidifar, M., Musavi, S.B., Ghasemi, M., Sehhatisabet, M.E.,  Ashoori,  A.,  Khani,  A.,  Bakhtiari,  P., Amini, H., Roselaar, C., Ayé,  R., Ullman, M., Nezami, B., and Eskandari, F. (2011) Rare Birds in Iran in 1980−2010. Podoces. Vol. 6(1): 1–48.
Web resources:
http://www.iran-daily.com/News/58717.html
http://www.parstimes.com/travel/iran/hunting.html
http://fatbirder.com/links_geo/middle_east/iran.html
http://www.guyanajournal.com/wildlife_conservation.html
http://www.birds.com/blog/wetland-birds-a-conservation-priority-for-iran/
http://observers.france24.com/content/20150120-iran-wetlands-migrating-birds-hunters
http://www.worldmigratorybirdday.org/
http://www.birds.com/blog/avian-parks-and-gardens-are-important-conservation-and-education-tools-a-case-study-from-iran/
With their forked tails and scythe-shaped wings, swifts herald the arrival of spring in Europe and are seen as the bringers of rain in parts of Africa where they spend their winters. These amazing birds spend almost their entire lives in flight, so much so that their legs are small and too weak to support them for long when perching, explaining why their family name, Apodidae, is taken from the Greek word meaning 'without feet'. Spine-tailed swifts, also known as white-throated needletails, have been measured as flying up to speeds of 105 mph (169km/h), while common swifts are known to routinely reach speeds of 70 mph (112 km/h).
Although they resemble swallows, swifts are placed in the same order as hummingbirds, Apodiformes, while swallows are of the order Passeriformes. Their similarities are attributed to convergent evolution, a phenomena where differing species develop similar traits due to lifestyle adaptations, in this case their habit of catching insects in flight.
Distances are immaterial to swifts, as they can easily fly 500 miles in a day. Most swifts remain airborne from when they fledge to the first time they breed – a period of roughly four years. It's been estimated that in a swift's lifetime it will cover a distance of around 1.28 million miles. They even roost on the wing, circling gently for hours as the two sides of their brains take turns in sleeping. Swifts only nest to raise their young, and are fond of doing so inside roofs of houses. Parents can gather and carry as many as 1,000 insects to feed their young, making them very effective insect controllers. When the fledglings leave the nest, they all take to the skies and so the cycle continues.
When swifts are feeding in the late afternoon, they swoop through the air in a series of aerobatics that are fascinating to watch. As is the case with hummingbirds, swifts are able to rotate their wings in a manner that keeps them fully extended and rigid, delivering power on both the upstroke and downstroke, thereby increasing their speed and maneuverability. No other bird species are able to do this. So if you happen to have the good fortune to see swifts in action, take some time to appreciate their unique characteristics.
Canada geese (Branta canadensis L.) represent a majestic symbol of nature and natural world and are a well known migratory species of geese widely recognized across the continent of North America, Northern Europe and in the Asian Far East. The species is native to the continent of North America. The famous "v-shaped" flying pattern of trumpeting and migrating Canada geese flocks are seen as one of the most well known and symbolic signs of the change of season across the range of this beautiful species (Fig 1-2). Several North American and eastern Siberian aboriginal and indigenous groups and communities consider this as a sign of good luck and fortune, and numerous stories about the species are thus included in many of their ethnic folklores and indigenous stories. The majestic species is consider to be an important symbol of the wild west of the continent of North America as well as a dynamic symbol of the natural heritage of the world's second largest country Canada. The species is widely distributed in US and Canada, parts of northern Europe, eastern Siberia, parts of northeastern China and Japan (see map). A population in New Zealand is also known where it was introduced few decades back as wild game species.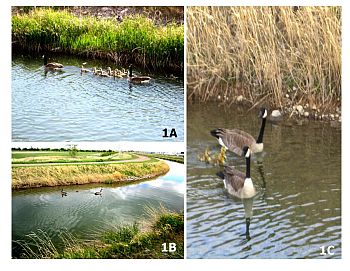 Due to conservation efforts their number and population have increased significantly across their range. Huge standing flocks reside on agricultural farms and devour substantial portions of young crop seedlings as well as seed grains, damaging them extensively. Occasionally they are also known to devour insects and fishes, as well as other aquatic vertebrates and invertebrates. The families start migrating southward for their summer retreats to southern US and northern Mexico when their northern homes start showing signs of freezing.
The species is predominantly aquatic found resting, foraging, nesting and settling around fresh water, inland water bodies and narrow irrigational canals. However, some are even found to be resident on the farms across the Prairies of North America and are also abundant around the Great Lakes. Both males and females look similar, but the female are found to be slightly smaller in size and weight. The males of this species are known to be quite aggressive in protecting their nesting sites and ducklings (Fig 4). Some sub-species are also known to build nests on trees or resting on trees during the night for safety. Egg clutches varies between 2-20 eggs in a single breeding season depending upon their reproductive success, availability of quality food and safe nesting sites. Common predators of eggs and ducklings include foxes, coyotes, badgers and some raptor species. Currently this is a protected species and is considered a valuable wildlife species; and hence hunting, capture and exploitation of the species is illegal under the fish and wildlife acts.
Prime nesting and foraging sites of Canada geese adjoining irrigation canals and at the edges of nearby farmlands are presented in Figs 7-10.
Photo courtesy: Mr Doug Messenger is gratefully acknowledged for kindly providing Fig 2D.
Article contributed by Saikat Kumar Basu
Taking place on 21-22 December 2013, the Dungarpur Bird Fair invites bird, wildlife and nature lover to experience the biodiverse habitats of Dungarpur and its environs. While the lakes and forests of Dungarpur are host to a large diversity of resident and locally migratory birds all year around, from October through to March it also hosts a variety of winter visitors from Central Asia and Europe, making this region in India especially attractive to birding enthusiasts. For more information visit http://dungarpurbirds.blogspot.in/
Dates: 21-22 December 2013
Venue: Dangarpur
State: Rajasthan
Country: India
Swooping through the air in flocks of up to a million birds, starlings have long been a feature of rural life in the United Kingdom. A flock of starlings in flight looks like a dark cloud constantly changing shape as they expand and contract randomly with no apparent leader. This bustle of activity usually takes place near their nesting grounds, in both rural and urban settings, and while some see them as pests, primarily because such large flocks of birds produce large amounts of droppings which can become toxic, starlings are considered to be part of the UK's natural heritage. So, a recent report by the RSPB based on the annual Big Garden Birdwatch showing that the starling population in the UK had dropped by 80 percent since 1979, with almost a third disappearing in the past decade, is viewed as a cause for concern. Research further reveals that, since 1980, up to 40 million starlings have vanished from European Union countries, translating into a rate of 150 birds an hour.
As primarily insectivorous birds, but eating grains, fruit, and seeds if available, starlings keep insect numbers in check. They have an interesting feeding habit that ensures all in the flock are fed. As they forage amongst short-cropped grasses, birds from the back will continually fly to the front so eventually every bird will have had an opportunity to lead the flock and be first in line to probe the ground for insects. They are also very successful at snatching insects in mid-flight. Unpaired males build nest with which to attract a potential mate, and they often decorate the nest with flowers and green foliage. Upon accepting a mate, the female promptly discards the decorations. Males sing as they construct their nests and will launch into their full repertoire if a female approaches the nest. With starlings nesting quite closely together in large numbers, courting season is a lively time.
The RSPB has launched a research project to try and determine the cause of the drastic decline and formulate a conservation plan. RSPB researchers will be working in conjunction with farmers in Gloucestershire and Somerset to examine whether there are sufficient nesting sites and food sources for starlings resident in livestock areas. Conservation director for the RSPB, Martin Harper, noted that they hope the research will yield the information necessary to provide the starlings with a secure future through the development of practical and cost effective solutions for farmers and land managers to implement.