The urbanization pattern of the megacity of Kolkata (88º 30′ E -22º 33′ N; 6.4 meters above mean sea level), capital of the State of West Bengal in India, has been rapidly changing over the past few decades. The real estate business has been catching grounds in the metro city and the population goes on increasing without proper planning and initiatives from the perspective of modern urban development. Consequently, the megacity has been expanding with modern high rises, malls and multiplexes along with the existence of different slums in less-developed parts of the megacity. This megacity extends up to different sub-urban areas to accommodate her huge population without proper civic amenities available to the mass. The proper megacity has grown into 13th most populous metropolitan areas of the globe having a staggering population of 44,86,679 with population density of 24.252 people/km2 (according to 2011 Census). Population of Greater Kolkata with all its suburbs as per 2011 Census is 1,41,12,536 persons. It is the 7th largest city of India in area and a sex-ratio of 956 females per 1000 males with a literacy rate of 81.31% (Basic Statistics of Kolkata, Kolkata Municipal Corporation, retrieved January 31, 2015).



Map showing the location of the city of Kolkata in eastern India

The complexity of the intense anthropogenic pressures has rapid negative impact on urban wildlife and avian population. One of the worst hit unfortunate species is the House Sparrow (Passer domesticus Linnaeus, 1758). The tiny bird varies in length between 13-15 cm and 20-40 gm in weight. It belongs to the Family-Passeridae and the Order-Passeriformes. The species is sexually dimorphic with males are distinct with their darker brownish back plumage compared to the duller females. The males also have a black streak mark just below their beak absent in the females. The species is known to be quite social and vocal with large social breeding groups nesting closely to one another. The females have been more difficult to spot recently in comparison to the males; possibly indicating some skewed sex ratio that need to be confirmed through extensive survey.




Sexual dimorphism in house sparrows, with dull patterned female sparrow on the top left and brightly colored on the top right. An excellent example of natural camouflage demonstrated by a lone male house sparrow in Kolkata (bottom image). The bird could not be easily distinguished from the background and hence highlighted within the circle for easy spotting. Photo credit: Srimoyi Mazumder

In local dialect (Bengali) it is known as 'Chorai' or 'Chorui'. This noisy bird is very familiar with humans and is often seen in close association with human settlements. It has been well known to be a successful urban species that usually nests around snug corners of houses, edges and corners of the roofs and any opportunistic availability of spaces and sites within and around human settlements such as a higher unreachable corner of a balcony, old unused shelves inside unused rooms, ventilators and inside of brick tiles.
During 1990s some ornithologists first noticed the declining rate of sparrows. In 2012, with the cooperation of 'Nature Forever Society`, a citizen's science activity was initiated in India to collect various data about sparrow. The data showed that sparrow number dwindled alarmingly in central and north-eastern India. The report identified some factors behind this declining number of sparrows.

A male sparrow foraging.  Photo credit: Srimoyi Mazumder

Nowadays old houses in and around Kolkata are disappearing quickly leaving spaces for modern housing apartments, multistoried buildings, skyscrapers, high rises and malls in quest for urban development. The real estate boom in this megacity has been transforming several old localities into high value concrete jungles. The design and construction of these modern buildings do not attract or appeal to the friendly house sparrows as potential nesting sites. Moreover, in these buildings normally the windows are made by glass/fiber or glass/steel where the sparrows have very little chance to enter the room. Modern scientific amenities, e.g. air conditioner in these buildings also make lives of sparrows at stake due to change of air temperature between inside and outside of room. The economic boom has been transforming the city dynamics and landscaping feature drastically. Old bungalows, one or two storied houses and apartments with lawns, gardens in the midst of short stretches of untouched city woods are disappearing speedily. This ultimately leads the unfortunate sparrows in losing their potential safe nesting and breeding sites. Felling of several old trees for the construction of highly modernized, scenic and well lighted boulevards and avenues further reduces potential nesting sites for these smaller birds.


Old single storied traditional residence (A), big roadside trees (B) and shrubs, city wetlands (C) and parks (D) are disappearing fast and making space for modern multi-storied offices and housing apartments (E-G) reducing foraging, nesting and breeding sites for house sparrows. Photo credits: Saikat Kumar Basu, Ratnabali Sengupta, Sutapa Basu & Pallav Mulhopadhyay.
The increased migration of people from the rural areas into the megacity from adjoining districts and states for economic opportunities has added additional anthropogenic pressures on Kolkata. In absence of opportunity to grow to keep up with the pace of such unprecedented human migration into the megacity in terms of urban projects and developments slums, shanties and illegal constructions have taken place mostly in an unplanned way in every available free space within city boundaries. This unrestricted and unbalanced growth of population due to in migration has further reduced the availability of open and undisturbed green stretches within the megacity. It results in lessening breeding opportunities for several erstwhile city wildlife and avian populations including the helpless and hapless house sparrows. Naturally their numbers started falling over the past decades. Moreover, lack of safe nesting sites exposes these tiny birds and their chicks to several predators including cats, crows, raptors, snakes and humans.




Existing traditional and old school residences are still attractive nesting sites of house sparrows (A). The real estate boom in the city has been rapidly transforming and expanding the city of Kolkata negatively impacting the resident avifauna like house sparrow (B). Photo credit: Srimoyi Mazumder.
Extensive use of chemical pesticides in agricultural fields lying in greater Kolkata also expedites the rate of declining number of sparrows. These pesticides mostly kill the soft skinned insects which are favorite foods of sparrows. A mother sparrow normally feeds its chicks with these soft skinned insects. Hence, killing of soft skinned insects by pesticides creates food crisis for chicks. The sparrows are often seen to take dead insects killed by chemical pesticide poisoning as their foods. It becomes fatal for them. These tiny birds are very fond of grains. Today these grains are not free from chemical pesticides. Resultantly the sparrows become affected by these deadly pesticides. Apart from this, the grains in past are seen to be scattered over an open vast stretch of land under direct sunlight for drying. Sparrows meet up their hunger freely from there. But, nowadays, rapid processing of food grains in modern closed mechanized farming leave very little chances for sparrows to collect foods from scattered grains.




Resting on perch.  Photo credit: Rahul Ray
Extensive unwise and indiscriminate installation of mobile phone towers within the megacity and its adjoining areas is normally believed to be one of the major factors of decreasing sparrow population. Mobile towers emit 900-1800 mega hertz electromagnetic waves. This wave is detrimental for the nervous system of these tiny birds and gradually they lose their flying ability which in turn affects their food collection. It reveals through observation that the sparrows hardly stay for 7-10 days in nests if it built very near to mobile towers. Normally the incubation period of sparrows is 10-14 days, but it has been observed that in the vicinity of mobile towers even after a 30 day incubation period no chicks emerge from the eggs. However, some environmentalists and prominent ornithologists have argued that till date no such concrete and decisive conclusion regarding installation of mobile towers and declining rate of sparrows has been reached by any peer reviewed scientific literature. But they do admit that electromagnetic waves of such unmonitored towers are not congenial.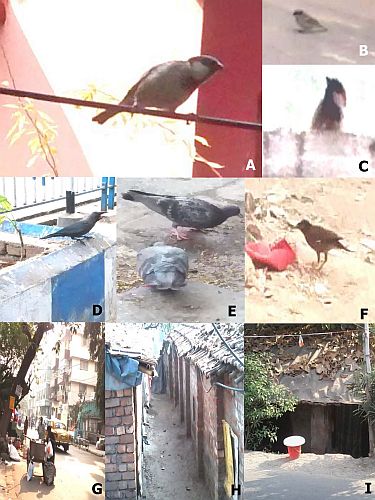 Resident male house sparrows (Passer domesticus ) roosting (A), foraging (B) and defending (C) its territory. Although house sparrows are on serious decline in the city, but other opportunistic avian members have aggressively occupied the niche and are represented by three most abundant, urbanized, highly adaptive and tolerant species in the city of Kolkata; such as the house crow [Corvus splendens Vieillot] (D), rock dove or rock pigeon [Columba livia Gmelin] (E) and common myna [Acridotheres tristis Linnaeus] (F). The densely populated city with enhanced air pollution and scarcely available green spaces; provides little opportunity for sensitive species such as house sparrow to breed and thrive successfully (G-I). Photo credits: Srimoyi Mazumder & Ratnabali Sengupta.
In India's capital New Delhi, sparrow has been declared as 'State Bird` in 1992. The house sparrow is also the 'State Bird' for the State of Bihar in eastern India. As per 'Royal Society for Protection of Birds` of Britain, sparrows are enlisted in 'Red Data Book` which is a comprehensive list of endangered and near-extinct species prepared by 'International Union for Conservation of Nature and Natural Resources` (IUCN). Although IUCN has placed house sparrow under the Least Concerned (LC) status for now; but an alarming decline is being noticed in Kolkata and surrounding areas. What is more worrying is the fact that several unconfirmed reports are also indicating a sharp decline of house sparrows in other parts of India too. It is now time for a serious nationwide comprehensive survey to evaluate the true status of the species so that appropriate measures could be adopted for the successful conservation of this declining species. The United Nation (UN) observes, 20th March every year as the 'World Sparrow Day' signifying the global importance of this species.




The resurgence of sensitive avian species back to a busy and congested metro like Kolkata could happen by sincere attempts of greening and landscaping the city to the best of our ability through the creation of roof gardens (A-F), backyard gardens (G-H), city parks (I-N), boulevards (O), avenue (P), kitchen gardens (Q-R) and water bodies (S-T) to function as city oasis. With the resurgence of green patches back onto the city landscape we will be able to welcome sensitive avian species like the house sparrow to once again occupy their lost niche within the city ecosystem by providing them with opportunities for nesting, foraging and breeding. Photo credits: Saikat Kumar Basu
Article contributed by: Saikat Kumar Basu and Rahul Ray
The global anthropogenic pressure has been quite detrimental to avian populations and with global warming, climate change and environmental pollution several endangered species of birds are on the verge of extinction. In this context, the role of several conservation approaches, like establishment of avian parks or gardens, have significant roles in both entertaining and educating the public about avian life, conservation and avian biodiversity could not be overlooked. Furthermore, several such private gardens have also made important contributions towards conservation of endangered and threatened avian species too. Nowadays, bird's gardens are recognized as important habitats beneficial for those of endangered species and play a major role in the preservation of wildlife. It is worthwhile to mention that the awareness on varied aspects of bird life and their ecological behaviors, orientation with scientific designing and proper gardening approaches and perusing the principle of ecological landscape criteria are important in designing such exquisite gardens. Until recently, there have been more efforts towards designing and establishing avian gardens in different parts of Iran. Till date, nine such facilities are distributed across 8 provinces, including Tehran (Lavizan, Baghershahr‒Atr-e-sib), Isfahan, Guilan (Rasht‒Mahan Bird's garden and Astara), Shiraz, Alborz (Karaj), and Hormozgan (Kish Island) Bird Garden. They have all been established with the hope for promoting tourism, for beautification of the tourist centers in Iran and to promote education and environmental conservation.

Fig1
There are several important factors that should be taken into account during the design and development of avian garden or parks, such as: appropriate designing of different sections to facilitate developing the best bird watching landscape, establishment of appropriate bird habitats by growing trees, shrubs and bushes or artificial aquatic habitats, cages and enclosures for catering to the need of different species, drawing a facility plan for the park or garden, analyzing and controlling soil status within the site, ensuring water security, establishing an avian veterinary unit for treating sick and injured birds and special attention to conservation and propagation of different species, regular monitoring and surveillance and maintaining strict sanitary regulations to prevent the outbreak of diseases and infections among the avian members.

(Source: Google Images)
Mahan Bird's Garden
Mahan Bird Center (as called Mahan Bird's Garden) is situated in the Rasht city of Guilan Province of Northern Iran (37°20'48.8″N, 49°38'27.1″ E). The construction of the site began 1993and it started welcoming visitors since 2009. The center name 'Mahan' has been adopted from the given name of the son of the owner. The center is located in the northeast corner of the city midway between the Rasht and Khomam. The approximate cost of establishment has been estimated ~US $ 100,000 (Khomam News June 25, 2013).  There was no external funding available for the establishment of the center and the major cost of construction and establishment was covered by the management. The owner, Mr. Behzad Mahroo started to think about creating such center mainly due to his personal interest on avian life since he was only 7 years old.  His main objectives behind the establishment of this center links to his intense passion and love for birds for their unique diversity, interesting behavioral patterns and for his emotional attachments towards the conservation of several defenseless species from relentless anthropogenic pressures. With a humble beginning of mere 10 birds, the center soon reached an avian population ~2000 representing an impressive 100 species assigned to over 52 cages and enclosures. The range of species maintained in this center represents ~30% for the local Iranian and ~70% for the exotic bird species. Majority of the avian species included in the center are exotic species collected across the planet. According to the manager, they do not have any immediate plan to have a specialized section of the aviary dedicated to local Iranian or central Asian species. This is mostly due to lack of adequate space and available funding for establishing this specialized section. However, the management prefers to devote the related genera of birds to identical locations due to ecological similarities and/or similarity in their food habits and foraging patterns.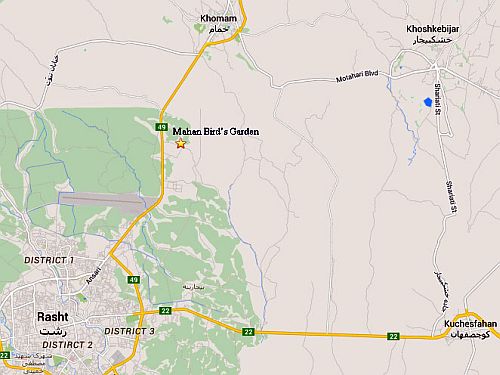 (Source: Google Images)
Among the existing bird species, the following can be mentioned: Peacock or peafowl (Pavo cristatus), Pheasant (Phasianus colchicus), Alexandrine parakeet (Psittacula eupatria), Fischer's lovebird (Agapornis fischeri), Silver pheasant (Lophura nycthemera), Sun conure (Aratinga solstitialis), Silky fowl (Gallus gallus var. domesticus), Golden eagle (Aquila chrysaetos), Mandarin duck (Aix galericulata), Black swan (Cygnus atratus) and Tawny owl (Strix aluco). There are also some woodland mammal species that are kept at the center in a very limited numbers (e.g. Iranian Brown bears found in southern hillside of Alborz Mountains). These mammals are sent to the center by the Iranian Environmental Organization-Rasht for treatment and recovery to good health after being unfortunately threatened, chased or poisoned or being injured in hunting attempts by the local poachers.  At first the center was supposed to occupy an area of 5000 sq m;but during recent years it has reached up to 30,000 sq mspace to accommodate the large avian populations maintained here. The monthly cost of running this center is around US $ 6,000 along with 11 staff members that includes one veterinarian, some experts working in different specialized sections and regular maintenance staff.
The veterinary facilities here are to avail them in time of need for the treatment of sick and injured birds. Despite all the efforts done by the manager, there have been some unfortunate bird deaths in the past due to local disease. However, there has been no report of any bird flu outbreak in the center till date. Majority of the operation fund (~95%) for the center is provided by the management via the owner's direct investment; however, the remaining is procured through entry fees (25,000 Rial ~73 US cents/visitor). The center operates throughout the week (including formal holidays) between 9 AM-6 PM daily. The center is accompanied with some limited amenities like visitor sitting accommodations and refreshment areas. There is a small cafeteria just next to the water habitat for the swans. The center is not only designed to provide entertainment and education for the public; but also to propagate and rear several endangered bird species and to treat and return injured local species back to nature. In that the centre serves as an important conservation cum rehabilitation center for some designated avian species. There are some proposals for establishing organized breeding centers within the garden in the future.
The average annual number of visitors coming to the center depends largely on the climatic and seasonal factors; but, commonly the center welcomes more visitors during the first half of the year. The center is deeply concerned about the terrible and disastrous conditions of several endangered, threatened and migratory bird species within the local lagoons and wetlands of the Guilan province due to recent incidences of unrestricted poaching, indiscriminate pollution and lack of proper monitoring and surveillance. Unfortunately, despite all the efforts made and/or constraints undertaken to date by the Iranian Environmental Organization the incidences of poaching could not be curbed successfully, significantly impacting the local avian population. The management humbly requests the international communities, non-governmental organizations and bird enthusiasts to kindly support their initiatives against all the odds to contribute in the developmental programs of Mahan Birds' garden. The center could be reached via Viber (+989112378535) or direct call (+989111313370). The center also has an active Face Book page at: https://www.facebook.com/Rasht.Mahan.Birds.Garden
Photo credits: Peiman Zandi
Article contributed by: Peiman Zandi and Saikat Kumar Basu
References
Khomam News (2013) The effective role of Bird's garden in attracting Available at: http://khomam-news.ir/
Further readings
Iranian Biodiversity & Wildlife Bureau (2014) An Updated Checklist of the Birds of Iran. Biodiversity & Wildlife Bureau‒Natural Environment Division- Department of Environment
Yazdandad H (2011) A study on species diversity and population fluctuation of birds in Aquatic ecosystem of Khorasan Razavi province, iran. J Animal Environ 3(1):45-58.
Mansoori, J., 2008. [In Persian: A guide to the birds of Iran]. 2 ed., Ketab Farzane Pub. Tehran. 513 pp.
Benson  John  (2003) Environment  ethics.  Translated  by Abdolhossein  Vahabzadeh,  Jahad  Daneshgahi publications, Mashhad, 1st edition.
Alizadeh  Shabani,  A,  McArthur,  L  and Abdollahian,  M.  (2009) Comparing different environmental  variables  in  predictive  models  of bird distribution. Russian J of Ecol. 40(7): 537-542.
Biodiversity constitutes an important aspect of global wildlife resources. It is important to note that major global biodiversity hotspots are located in developing and under developed nations scattered across different continents. Unfortunately, the socio-economic conditions in these poor but natural resource-rich nations along with their nascent human population, lack of employment opportunities, political unrest and related anthropogenic pressures have serious impacts on local biodiversity. Rapid habitat loss and habitat fragmentation of various species, poaching, illegal wildlife and pet trade on exotic species, illegal harvesting of wildlife and rare plants for non-judicious pharmaceutical and allied industries, extensive grazing in restricted forest areas by local livestock and ranch animals, forest fires, illegal human encroachments into forested areas, extension of industrial and agricultural hubs into virgin forests are gradually destroying the extremely fragile local ecosystem and highly endangered biodiversity. It is, therefore, extremely essential to call for the attention of the academics, researchers, wildlife and nature enthusiasts as well as the commonalty towards global challenges of biodiversity conservation. India being a country rich in biodiversity has a major stake in the global biodiversity conservation. We all need to work passionately in raising awareness and establishing a common platform to work for global biodiversity conservation to the best of our ability.

Since 1974, every year United Nations Environment Program (UNEP) declares a message about specific environmental issues to the people on 5th June observed as 'World Environment Day`. The prime concern behind such messages is to make aware people about various environmental crises of earth and to act accordingly to save this only living planet. UNEP, in 2010, gives us the message –'Many Species, One Planet, One Future' to save the endangered and threatened species of wildlife and plants. Extinction of species is a natural process. Now, scientific evidences reveal that the current rate of extinction is not only alarming but much higher than natural and even any past rate throughout geological time scale. In every twenty minutes one species is now lost forever from this planet. Ecologists strongly indicate higher rate of habitat loss is the predominant force driving this alarming rate of species extinction.

In such bleak and dismal arrays of information there is an incandescent spurt of hopeful effort to conserve biodiversity, especially avifauna, by some local people in Chupi wetland; located in the Burdwan district of the eastern India state of West Bengal. The district is located around south central part of the state. The area of the Chupi wetland is approximately 3.15 square kilometres. This wetland is a stagnant U-shaped ox-bow lake formed by the changing course of River Ganga (Ganges) extending east to west. The length of the ox-bow lake is about 10 kilometres.


The Chupi wetland is rich in biodiversity. One can easily discern underneath a huge variety of zooplanktons and phytoplanktons through the crystal clear water of this wetland. Besides this, multiple species of fishes, toads, crabs, molluscs and insects are also found here. Every winter many species of migratory birds arrive here for these palatable foods. These birds come here crossing some thousands miles mainly from distant Siberia (Russia), Middle-Asia, Europe, Mongolia, China, Bhutan, Nepal, Ladakh (northern India) and from other areas of the Himalayas. They normally remain in the Chupi wetland for the entire winter season from December to February and go back to their abode at the end of the winter. Interestingly, a few migratory species are seen to stay here permanently, like the Lesser Whistling Teal.


The species mainly found here include Gadwall, Mallard, Ruddy Shelduck, Northern Pintail, Ferruginous Pochard, Red Crested Pochard, Lesser Whistling Teal, Open-bill Stork, Common Coot, Osprey, Small Pratincole, Terek Sandpiper, River Tern, Black-winged Stilt, River Lapwing, Spoonbill, Hoopoe, Cotton Pigmy Goose, Red vented Bulbul, Drongo, Pheasant Tailed Jacana, Greater Painted Snipe, Pond Heron or Paddy Bird, Egret, White Wagtail, Purple Moor Hen, Bronzed Winged Jacana, Field Sparrow, Grey Headed Lapwing, Cormorant, Darter, Crow Pheasant, Red Wattled Lapwing, Purple Heron, Jacana, Kingfisher, Pied Kingfisher, Green Bee Eater, Oriole, Woodpecker and so on.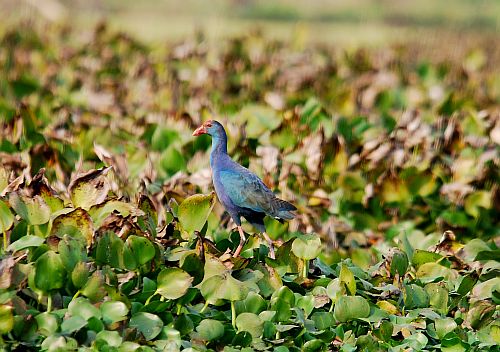 As thousands of migratory birds make this wetland their favourite winter destination; this part of West Bengal quickly became one of the most talked about regions for poaching and illegal capture of several migratory bird species. Poaching became a major menace here. Poachers used nets and poisoned paddy to mercilessly kill the birds. Some poachers put sharp iron hooks hiding in favourite foraging spots of these birds with food baits. The unsuspecting birds very often became nailed in throats to death while swallowing the foods. Some poachers with illegal guns floated upon tubes completely covering themselves with water hyacinth (Eichhornia crassipes (Mart.) Solms; Pontederiace) to indiscriminately shoot the helpless birds or capture them after being severely injured.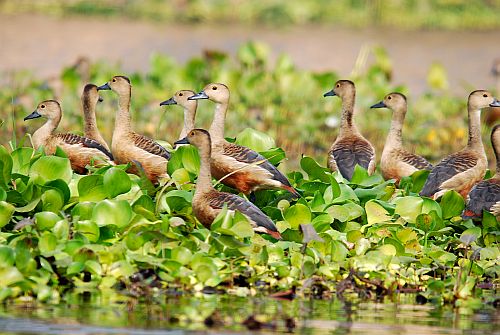 Nowadays illegal markets of these rare migratory birds involve hefty amount of money. While some birds are enmeshed for illegal trade, others are killed to quench the thirst for exotic bird meat. There is also a demand for eggs of these birds for making specialized food items. But, uncommonly, some native local people vehemently protested this illegal trade and capture of the rare species. They even did not step back from the gunpoint of the poachers. These people formed an organization named 'Banobeethi' (A Forest Thoroughfare) to protect the migratory birds and to educate other people about the value of these rare species. By their passionate effort Chupi wetland has slowly transformed into a safe haven for these birds. This, certainly, is a dazzling and infrequent example of environmental movement to save biodiversity even at the risk of their own lives.


Eminent Indian environmental lawyer, Mr. Biswajit Mukherjee, a path breaking green crusader and recipient of the prestigious 'Indira Gandhi National Environment Award' has joined these local inhabitants and has been engaged with the West Bengal State Forest Department to ensure protection of these birds to save local biodiversity. The Directorate of Forest Department has assured that they are seriously thinking over the matter for a broader and meaningful cooperation. We, the commonalty, also want more tightened security to protect these rare migratory birds because conservation of species is doubtlessly a key issue in the pretext of ecological democracy.


It is important that local residents and villagers should be made important stakeholders in the process of biodiversity conservation and this can effectively help in generating some alternative employment. Hiring permanent/temporary/contractual local labours, guards and wildlife staff trained for monitoring and surveillance, afforestation and participatory forest management programs, reconstruction of damaged vegetated areas and habitats and in conserving biodiversity and wildlife will be cheaper and much safer than bringing external labour force to an ecologically vulnerable region. Further, the involvement of local residents through employment and voluntary activities in biodiversity conservation will considerably make it easy to combat with poachers and illegal capture and trade of the helpless bird species. If local people are to be made actively involved in the conservation projects, the long term success of such vulnerable ecological habitats will definitely increase several folds.


Often it is necessary to extend the areas under conservation and it will be necessary to withdraw human residences for bringing a bigger section of vulnerable ecosystem under the umbrella of effective conservation management. The rehabilitation of the displaced people needs to be considered sympathetically so that they do not lose their natural livelihood and socio-cultural practices completely as a result of the conservation initiatives. If both processes are tied together empathetically and judiciously, smooth functioning of environmental protection together with modern industrial and agricultural developments in the line of socio-ecological progress will never be an impossible task. With the forces of development encroaching protected habitats, the existing habitats will never be as same as it was in its pristine state, but we can make it close to what it may be through sincere and dedicated efforts. Although extremely challenging, however, the task is not quite impossible.
Photo credits: Rahul Ray
Article contributed by: Rahul Ray and Saikat Kumar Basu
Conservation is a long term investment for any locality, region or nation for a better and prosperous tomorrow by building on from the experiences of the past and the premium strengths of the present. Through conservation of different endangered avifauna and wildlife species and our environment, we are able to rediscover ourselves and the hidden strengths that we carry inside while trying to make this planet a better place for all of us to share and live behind for our future generations. A recent report (November, 2014) on indiscriminate killing of houbara bustard (Chlamydotis undulate Jacquin, 1784) birds in Balochistan province of Pakistan by royal tourists from Saudi Arabia has sent global shockwaves around the world. The species, one of the largest among the bustard members have been designated as vulnerable by the International Union Conservation of Nature (IUCN) and is in immediate need of conservation across its entire distribution range from North Africa to west Asia. Although the provincial High Court has passed the ruling henceforth banning the practice of bird hunting; but in a country that has so poor record of human rights and economic development and plagued with innumerable problems, it is quite doubtful whether the conservation practices could be implemented effectively. Pakistan's poor economy and lack of growth is heavily dependent on foreign aids for survival and the economic conditions in remote and rural areas of the Balocistan province is worst in the county in spite of the region being richest in natural resources due to a number of factors such as lack of planning and proper wealth distribution, poor administration, infrastructure, connectivity, industrialization and job opportunities. The economic deprivation of the region makes it even more vulnerable for any successful conservation efforts for the houbara bustards, since the economic situation of the people in the province as well as those settled around protected areas are deplorable. The national government needs to look for sustainable approaches in developing the region and only then can successful conservation of vulnerable species takes shape in the future. For now, the situations look extremely grim both for the people as well as the local, helpless, endangered wildlife species. It seems that in spite of reaching the 21st century we have not been able to establish the stringent avian and wildlife conservation policies across the globe for several reasons.
Recently stringent initiatives adopted by the local governments have been successful in reducing the poaching incidents, which was on sharp rise for the past two years. Deployment of highly trained forest guards with advanced monitoring and surveillance and use of sophisticated arms; along with highly coordinated support extended by army intelligence and ground troops have resulted in the deaths of a number of members of organized international poaching units operating here. However, the death of poachers will only temporarily reduce poaching or disperse them to other less secured forest belts for their sustenance; but will never be able to eradicate them completely, resulting in gain at one region with severe loss introduced in another. The death of a poacher means that a poor and helpless family depending on that poaching income will be further pushed backwards; and will possibly force another member from the same family to opt for poaching as an illegal profession, since they do not have any viable economic alternative. This is the hidden factor that tells us why the increasing number of death of poachers has only increased poaching in recent years.
The dangers of illegal trade on different avifauna species and other wildlife species have been on rise across the globe, particularly impacting biodiversity rich developing and under developed nations. However, it is important to identify the root causes of the phenomenon rather than simply voicing against it. Unless we understand that why illegal wildlife trade are existing in the first place, no concrete steps could be adopted for successful eradication of this evil trade and successful conservation efforts could be implemented for protecting the wildlife. In most developing and under developed countries of Asia, Africa and Latin America rich in biodiversity resources; the national economies have been under deplorable shape and condition over decades post World War II following the end of different colonial rulers. The newly independent nations from these continents under the poor leadership and successively corrupt, incapable and handicapped national governments mismanaged their economies with no long term sustainable planning for the progressive development of their nations. As a consequence, a substantial part of the population who where painfully exploited during the colonial periods have continued to live under abject poverty with very poor and negligible education, training and regular employment opportunities, societal and racial discriminations, serious ethnic conflicts, civil wars, economic exploitations by the other better off members of the society taking advantage of their downtrodden situation of the poorest of the poor and the political instability and anarchy existing in these nations.
A significant part of these deprived communities from developing and under developed world are located in remote rural areas, forest fringes, under developed backyards and badlands and several of them are in real sense of the term forest residents. They have neither any future nor opportunity to grow economically and are heavily dependent on their scanty local forest resources for their daily sustenance. Hence, for their desperate attempts of survival they have been at the base of the theoretical pyramid of stakeholders involved in illegal wildlife trade. These helpless and poor communities are recruited by local war lords or corrupt politicians and/or administrators, local business people and black marketers (as the case may be) involved at the next higher level of this illegal trade. Higher above this are the middlemen who links these corrupted business communities to further bigger national and international trading syndicates that constitute a formidable stakeholder elite group in the process that provides the huge economic, political and administrative, communication and intelligence support necessary for maintaining the trade. At the peak of the pyramid of stakeholders are the consumers who are paying for this illegal wildlife trade for their fascination for wildlife as pet and trophy items, for their use in traditional medicine and illegal pharmaceutical markets based in the strong and immerging economies of the middle east, central, south, south east and far eastern reaches of Asia, EU, North America, Australia and other economically prosperous regions of the world. This is happening in spite of strict legislative and administrative safe guards discouraging illegal wildlife trade through loop holes in the system and black markets of wildlife trade existing in these progressive nations. Furthermore, insurgencies have developed in the rural and under developed areas of several such poor nations; and the cash flow from this trade are being efficiently used by some opportunistic quarters for fuelling such activities further promoting anarchy and destabilization complicating the process. The whole situation has much broader eco-sociological implications and what we have been observing through the global illegal wildlife trade is only the tip of the iceberg of a much serious and deeper inter- and intra- societal economic and political crisis in the developing and under developed nations. Hence, unless the deplorable and helpless conditions of the remote rural settlers, forest fringe community members and local poor residents are made economically sustainable there is no way any nation in this planet, whatsoever economically and politically strong could ever put an end to this evil trade.
Reasons for the urgent need of conservation of the global avifauna and wildlife species are presented below:
Conservation is very important for the protection of our environment preventing us from several natural disasters and calamities such as floods, drought, famines, fire and cyclonic storms. Case in point is the mangrove forests of the Sunderbans. Rapid deforestation and degradation of this key habitat, home to several endangered avian and wildlife species, due to severe anthropogenic pressures have been making the inland more vulnerable to frequent cyclonic disturbances and large scale damages of property and life.
The loss of several key animal and plant species from any such fragile ecosystem as mentioned above is reducing sustenance opportunities for the local resident human populations due to over exploitation, non-judicious use and heavy consumption of local forest resources with whatsoever no long term planning. All these approaches in turn are making the life of the local people extremely difficult with lesser economic opportunities by each passing year.
Conservation of avian and wildlife species is also important in effectively preventing rapidly advancing and impending desertification at several places. With the loss of several important plant species and vegetation, the productivity of the land is invariably reduced. In absence of the vegetation, the top soil is soon eroded due to several geological factors, exposing the barren under skeleton of the soil profile. The approaching deserts then slowly consume adjoining agriculturally suitable lands curbing livelihood opportunities for local people. Rapid loss of vegetation is also an important factor contributing towards devastating landslides.




Rapid fragmentation of habitats. Loss of animal migration corridors (due to several factors like unplanned expansion of rural housing, agricultural and industrial complexes in previously forested areas, severe environmental pressures due to anthropogenic influences beyond the carrying capacity of a ecological zone) pushes resident wildlife populations out of their conventional range areas into direct confrontation with local resident human populations, rural inhabitants and forest fringe dwellers.
The severe competition for food, water and space between wildlife and local residents are resulting in severe human-animal conflicts in majority of the developing and under developed nations resulting in the loss of local wildlife as well as human life and properties.

Loss of species is related to severe degradation of vulnerable ecosystems. Many of such ecological and biodiversity hotspots are important tourism centers for both local and foreign visitors enthusiastic about wildlife, bringing in economic prosperities for such areas and valuable foreign exchange for any nation.
Death of such key tourism centers will certainly block the much needed cash flow into a region and suspend the economic growth of the local people for better life and opportunities.

Conservation not only helps in preserving plants and animals, but it also builds the nation by strengthening the bases of natural resources and caters to the life of the people by supporting the growth of the local and regional economies. It not only helps in protecting the endangered species but it also makes the region secure against environmental pollution, natural calamities and ecological disasters.




Over-exploitation of the fishing stocks and non-judicious and indiscriminate harvesting for the purpose of commercial fisheries​ and increasing consumer demands are seriously jeopardizing ​global fish populations. Hence it is important to have strong legislative protection and safeguards for the long term sustainability of both the marine and freshwater fishing industries for conserving several important species that have been endangered due to commercial overexploitation. Another factor that is important to mention here is that the depletion of global fish stocks as well as several terrestrial and aquatic (freshwater, estuarine and marine) vertebrate and invertebrate species are not only impacting us, but also birds and other wildlife species due to loss of their prey base and important food sources.

It is nice to know about different local, regional and international conferences on avian and wildlife conservation efforts and about human-animal conflicts. There are no doubt important discussions made in these platforms and certainly some resolutions are arrived at the end of the deliberations by several noted participants who are well known in their respective fields and are also highly respected for their roles. However, whether such conferences will be able to provide a guide map for future conservation of the wildlife and help in significant contribution towards protecting the species is doubtful. One of the missed angles in all such conferences is the lack of participation of the most important stakeholders, the local residents who spend their lives along with wildlife species both in India and abroad. Without really getting the feedback from their perspective, how far the conservation efforts are going to be successful in the long term is questionable. It will be important to include stakeholders from the lowest level of engagement with the species in future deliberations to identify the true genre of human-elephant conflict to carve out a passage way for the successful conservation of the species. One of the significant lessons learnt in successful conservation of other major species in different corners of the world, particularly from the developing and under-developed world is the strong correlation between the economic development, year long employment opportunities and sustainability of the local residents with protection of target bird and wildlife species.

The loss and thefts of protected species, including highly endangered avifauna from several zoological gardens, biodiversity and eco-parks around the world, has been increasing at an alarming proportion. It is absolutely shocking to note that protected species are being targeted from the sacred haven where they are placed for highest protection. This must be an insider mediated activity and through investigations need to be conducted to reach to the bottom of the incident. The level of security in the zoological gardens across the nation and their poor maintenance is a certain cause of national shame and the failure to provide security is indeed a grave crime. It is sad to note that so many species including avifauna in the zoos across the nation are suffering due to such negligence on the part of the zoo management committees.

Mangrove belts across the planet are facing serious challenges of environmental pollution, climate change regimes due to global warming and rising sea water level are further compounded by the local anthropogenic pressures. One important example is the Sunderbans that constitute the world's largest mangrove delta in the Indian subcontinent across the Bay of Bengal spread across the two sister nations of India and Bangladesh. The tremendous anthropogenic pressures generated on the Sunderban ecosystem due to poor people living across the border of the two countries in combination of other factors are seriously endangering the mangrove vegetation threatening several local bird species and other wildlife with the eminent threats of extinction and is in need of immediate attention.



Although the economic empowerment of any region is absolutely important; however, the challenges of the conservation of the local ecosystem and environment constituting the fragile local biodiversity; and wildlife and avian members will be monumental. Unless a healthy balance is maintained between economic developments and the environment conservation simultaneously in following the principles of Eco-sociology; there could be substantial challenges the conservation of biodiversity. This vicious cycle is a never ending wave of jeopardy and will continue to haunt all the stakeholders in the process-the society, rural resident and fringe dwellers, forest guards and managers, endangered species, government and the public. Wildlife conservation is not that easy and exciting as it appears on the surface but way more daunting and critically challenging since it has a broad eco-sociological base to it. Without solving the anthropogenic crisis, the wildlife conservation is only but a distant dream in developing and under developed nations. The loss of endangered avian species is extremely painful and more such losses are anticipated in the future, since we do not want to take up the task of dealing with the real socio-economic factor resulting in poaching and illegal capture of birds and wildlife in vulnerable ecosystems. Furthermore, if the local flagship species are so severely impacted, one can well understand the impact it could have on other avian members of disturbed habitats.

We can therefore conclude that global biodiversity and avian and wildlife species conservation and climate change mitigation are all important aspects of protecting the natural environment and ecosystem and every nation has its own dynamics and policies to deal with these challenges. We need to remember what applies and are successful in developed nations may not be suitable and adaptable in developing and under developed countries; although on surface they may appear to be excellent ideas. Furthermore, almost all protected areas (such as sanctuaries, national parks, biodiversity parks, eco reserves and eco-parks, reserve forests and nature biospheres) have to deal with challenges of human encroachments and illegal rural settlements in remote areas, permanent forest residents and fringe forest dwellers that are heavily dependent on the local forest resources for their daily sustenance threatening the biodiversity. They are deprived of health centers, year round job opportunities, education and awareness and almost zero economic developments in the region. Unless these important eco-sociological parameters are taken care of for dealing with the anthropogenic pressures on the local biodiversity, no conservation efforts are ever going to be completely successful. Global avian and wildlife conservation is integrated with socio-economic development of the local human population and without the active support and participation of the local residents; biodiversity conservation in the real sense of the term is only but a distant dream.

Article contributed by: Saikat Kumar Basu
Photo credits: Saikat Kumar Basu (Canada), Nancy Butler (USA), William Cetzal-Ix (Mexico), Tony Elders (Australia), Ratnabali Sengupta, Jayoti Naskar, Sheuli Dasgupta, Srimoyi Mazumder, Monikankana Dasgupta & Pallav Mukhopadhyay (India), Sonam Tashi (Bhutan), Harun Rashid (Bangladesh), Peiman Zandi (Iran), Xiuhua Wu (China), Sukrishna Ishii (Japan) & Olga Osdachuk (Russia)
The rhinoceros hornbill (Buceros rhinoceros) is a most unusual looking bird found primarily in the rain forests of Sumatra, Borneo, Java, Singapore, the Malay Peninsula and southern Thailand. Its large yellow-orange hornlike casque, curving upward from between its eyes as an extension of its beak, makes it immediately clear why this species of hornbill is associated with a rhinoceros. As one of the largest hornbills, adults weigh up to 3kg and are typically between 91 and 122 cm long. They have a lifespan of thirty-five years or more in captivity and there is little difference in appearance between the male and female of the species, other than the male having orange or red irises, and the female's irises being whitish in color.
While the casque may be shaded in orange and yellow, the beak of the rhinoceros hornbill is mostly white. When in flight, the rhinoceros hornbill's black wings curve around gracefully towards its head, while it's white tail feathers with a perfect semi-circle of black spreads out like a fan. As omnivores, these fascinating birds eat fruit, insects, rodents, small reptiles and even smaller birds.
During the breeding period the female rhinoceros hornbill is completely dependent on her mate as she incubates the eggs and starts raising their chicks. Upon finding a suitable cavity in a tree trunk, the female lays one or two eggs while the male collects mud which the pair will mix with food and feces to close up the entrance to the nest. They leave a small hole in the newly made wall for the male to pass food through for the female and later for the chicks. The female also defecates through the hole to avoid soiling the nesting cavity. Around thirty days after the eggs hatch the female breaks through the wall and seals it behind her. Both parents continue feeding the chicks through a small hole until they are able to break through the wall on their own, at which point they are ready to fly.
Rhinoceros hornbills are not considered to be endangered at present, however deforestation is a problem which could impact populations in the wild in the future. Moreover, these birds are hunted as food, and ornaments are made out of their casques. Members of the public can play a part in conserving rhinoceros hornbills and other animals by refusing to buy ornaments or other products made from their body parts.