Irrigation canals constitute an important nesting site for several aquatic bird species and have slowly transformed into an excellent natural habitat over the passing decades. Several wild aquatic bird species such as Canada geese (Branta canadensis L.; Fig 1) and mallard ducks (Anas platyrhynchos L.; Fig 2) have in particular found such canals as important nesting, resting, breeding and foraging sites across the Canadian Prairies. The lush vegetation that accompanies irrigation canals traversing across the municipalities and rural districts provides excellent nesting and hiding sites for the breeding aquatic species; while the water in the irrigation canal serves as important foraging ground. The dense vegetation protects the nests, eggs and nestlings from a host of predators making their breeding a success story across the Prairies.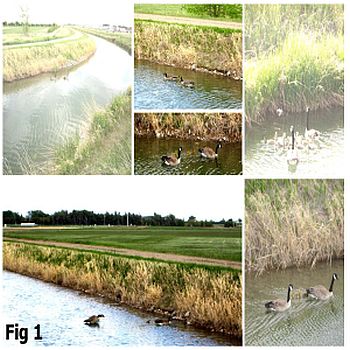 The security of the bushes and the abundant supply of food, water, foraging and nesting resources have made certain stretches of the intricate network of irrigation canal a bold success story for several such aquatic bird species. During the breeding season large flocks are seen to be approaching the canal nesting sites in good numbers both by the mallards (Fig 3) and the Canada geese (Fig 4). Although a number of predatory birds and mammals do also nest in nearby trees (Fig 4) and bushes and woods to take advantage of the yearly bounty; particularly the highly vulnerable nestlings and fledglings such as the young and defenseless ducklings and goslings.
However, the greater number and close guards by the caring parents do not actually impact the species population and is in particular nature's own monitoring in keeping the population under check (Figs 5-6). Hence, in a broader term a healthy and thriving population of the ducks and the geese actually positively contributes towards the stable population of the predatory birds and mammals too; further extending the success of the irrigation canals to other wildlife species. In addition to the mallards and Canada geese or black geese, other species of ducks and geese (such as the grey and white geese) are also known to take advantage of the refuge of the irrigation canal habitats along their annual migration routes. Several other non-aquatic bird species like the different black birds (Fig 5) that inhabit the ecotones between land and water also take advantage of the natural habitats produced by the irrigation canals.
Hence, the construction and development of the large network of irrigation canals across the Prairies have been an excellent natural resource that has been helping in building the population of local birds and in directly contributing towards establishing a sustainable environment. However, it will be important in future to do extensive bird surveys in and adjacent to such artificial habitats for monitoring the bird population and in better understanding the nature and behaviors of different species that have been intelligently using such available resources to their advantage. It is often interesting to note that anthropogenic activities that impact wildlife species so negatively could also have positive impacts in some other ways. It will be therefore important for us to learn from the experience and develop our future technologies in a pro-nature or environment friendly fashion so that we could effectively curb our foot prints on the nature and also successfully reduce our impacts on the population of different wild species of birds.
Prime nesting and foraging habitats of Canada geese adjoining irrigation canals are pictured below (Fig 7-8).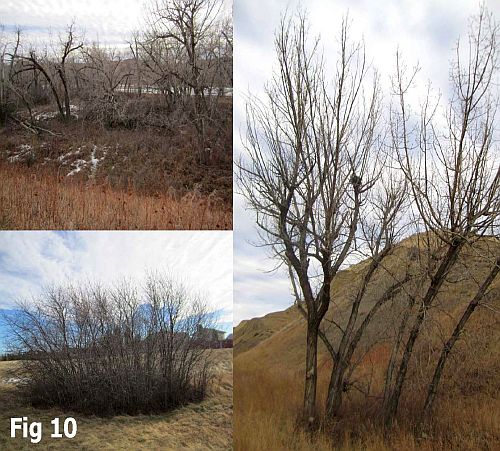 Article contributed by Saikat Kumar Basu
Canada geese (Branta canadensis L.) represent a majestic symbol of nature and natural world and are a well known migratory species of geese widely recognized across the continent of North America, Northern Europe and in the Asian Far East. The species is native to the continent of North America. The famous "v-shaped" flying pattern of trumpeting and migrating Canada geese flocks are seen as one of the most well known and symbolic signs of the change of season across the range of this beautiful species (Fig 1-2). Several North American and eastern Siberian aboriginal and indigenous groups and communities consider this as a sign of good luck and fortune, and numerous stories about the species are thus included in many of their ethnic folklores and indigenous stories. The majestic species is consider to be an important symbol of the wild west of the continent of North America as well as a dynamic symbol of the natural heritage of the world's second largest country Canada. The species is widely distributed in US and Canada, parts of northern Europe, eastern Siberia, parts of northeastern China and Japan (see map). A population in New Zealand is also known where it was introduced few decades back as wild game species.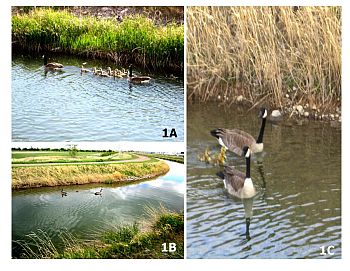 Due to conservation efforts their number and population have increased significantly across their range. Huge standing flocks reside on agricultural farms and devour substantial portions of young crop seedlings as well as seed grains, damaging them extensively. Occasionally they are also known to devour insects and fishes, as well as other aquatic vertebrates and invertebrates. The families start migrating southward for their summer retreats to southern US and northern Mexico when their northern homes start showing signs of freezing.
The species is predominantly aquatic found resting, foraging, nesting and settling around fresh water, inland water bodies and narrow irrigational canals. However, some are even found to be resident on the farms across the Prairies of North America and are also abundant around the Great Lakes. Both males and females look similar, but the female are found to be slightly smaller in size and weight. The males of this species are known to be quite aggressive in protecting their nesting sites and ducklings (Fig 4). Some sub-species are also known to build nests on trees or resting on trees during the night for safety. Egg clutches varies between 2-20 eggs in a single breeding season depending upon their reproductive success, availability of quality food and safe nesting sites. Common predators of eggs and ducklings include foxes, coyotes, badgers and some raptor species. Currently this is a protected species and is considered a valuable wildlife species; and hence hunting, capture and exploitation of the species is illegal under the fish and wildlife acts.
Prime nesting and foraging sites of Canada geese adjoining irrigation canals and at the edges of nearby farmlands are presented in Figs 7-10.
Photo courtesy: Mr Doug Messenger is gratefully acknowledged for kindly providing Fig 2D.
Article contributed by Saikat Kumar Basu