The North Eastern (NE) region of the India is a biodiversity hotspot and represents one of the highest avian biodiversity of the Indian subcontinent. The region is ecologically represented by the Eastern Himalayan biome and is rich in a number of endemic flora and fauna. Several avian species inhabiting this unique ecosystem are not found or reported anywhere else in the world. The region is represented by seven Indian states, namely: Assam, Arunachal Pradesh, Manipur, Meghalaya, Mizoram, Nagaland and Tripura. Often these seven NE states are referred to as the Seven Sisters. The region has international boundaries with Bhutan, China, Myanmar and Bangladesh. The Himalayan state of Sikkim and the Darjeeling district and northern reaches of the Cooch Behar and Jalpaiguri districts of the eastern Indian state of West Bengal are ecologically contiguous with this region and together they represent an unique region with unparallel natural beauty, amazing ethnic diversity and a spectacular biodiversity of birds.
The NE India constitutes vast evergreen forests of the Brahmaputra river valley, the broad leaf forests at the foothills and the high altitude sub-alpine coniferous vegetation and the Indo-Myanmar dense bamboo and pine forests. This is a vast ecosystem include the elements of riparian as well as low and high altitude mountainous ecosystems suitable as premier bird habitats. This region hosts one of the most famous and celebrated sanctuaries and reserved forests of the subcontinent as well as the world, known for their spectacular avian biodiversity: Dibang, Namdhapa, Eaglenest, Kamlang & Mehao (Arunachal Pradesh); Manas, Kaziranga, Garampani, Nameri, Dipor Bil, Pobitora, Pabha, Laokhowa, Bornadi & Oran (Assam); Bhagmara, Siju & Nongkhyllem (Meghalaya); Fakim, Intanki & Pulebatze (Nagaland); Keibul Lam Jao (Manipur); Ngengpui & Khawnglung (Mizoram), Gumti, Charilam & Sepaijhola (Tripura), Kyongnosla, Pangolakha, Meanam & Shingba  (Sikkim) and Jaldapara, Gorumara, Singalila & Senchal (West Bengal).
The avifauna diversity of this region is spectacular and home to the Great Indian Hornbill (Buceros bicornis L) that has been placed under Near Threatened (NT) status by the IUCN.  Several rare species of both resident and migratory birds are reported from this pristine habitat. Being located within the biome of the majestic Eastern Himalayas, the eco-region provides a unique habitat for a wide diversity of local species. This is not only an important ecosystem for the local and resident avian species; but also a diverse habitat for numerous short and long distance migrant species that crisscross the region during their annual and semi-annual migration. The unique ecosystem provides multiple species with adequate opportunity to feed and forage as well as nest, breed and raise their chicks successfully with relatively little anthropogenic pressures and carbon foot prints.
Fig 1. Diversity of avian species from NE India
Several avian species come and visit the NE from other parts of the subcontinent such as Central and Western Himalayas and southern India; and there are also species visiting the regions from the distant Siberia (Russia), Mongolia, central, southern and SE China, Myanmar Thailand, Indo-Chine, Pakistan, Afghanistan, Iran and Central Asian countries like the Tajikistan, Uzbekistan, Azerbaijan, Kyrgyzstan, Turkmenistan and Kazakhstan and west Asia.  The avian diversity of the region include different species of ducks, swans, geese, teals, grebes, pochards, pintails, ibis, shanks, terns, pelicans, storks, Asian open bills, bitterns, spoonbills, sandpipers, plovers, cranes, egrets, herons, cormorants, kingfishers, lesser adjutants, greater adjutants, crakes, water hens, coots, moorhens, snipes, swamp hens, jacanas, rails, falconets, kestrels, hobbys, hawks, kites, vultures, harriers, goshawks, falcons, owls, owlets, eagles, ospreys, woodpeckers, pheasants, weaver birds, tailor birds, rollers, honey guides, hornbills, sunbirds, bee eaters, orioles, sand grouses, frogmouths, lapwings, muniyas, parakeets, quails, hoopoe, crow pheasants, yuhina, parrot bill, martins, warblers, tree creepers, babbler, pipits, wagtails, leafbirds, flowpeckers, sunbirds, grosbeaks, bantings, larks, thrushes, flycatchers, blackbirds, drongos, treepies, sparrows, common crow, jungle crow, mynas, starlings, barbets, bulbuls, nightjars, swifts, swiftlets, swallows, magpies, fintails, shrikes, wood shrikes, pigeons and doves, blue peafowls, piculets, robins, wild pheasants, swamp francolins, Bengal floricans, coucals, cuckoos, minivets, pitas, dollar bird, malkohas, curlews, ruffs, stints, cuckooshrikes, godwits and different finches to name only a handful.
Fig 2. NE India, a biodiversity rich eco-zone with numerous bird species
However, due to the remote nature of this region, economic development in this zone has been much slower compared to the rest of India. This eco-zone has been traditionally under developed; relying mostly on the vast forest resources, traditional agriculture and tourism as major industry. This actually left the local ecosystem and the environment undisturbed for several decades post independence with a unique habitat completely preserved and globally recognized as an important biodiversity hotspot center. However, the changing population dynamics of the region together with need for economic opportunities for the resident population the call for economic development of the region together with infrastructural initiatives has been sharply rising over the past two decades in areas of hydroelectricity, oil and gas exploration and an aggressive tourism industry. There has been significant proposal of inter-connecting the region with railway and roadway networks. The Indian Railways has notorious reputation in colliding with different wildlife crossing the railway tracks during the night in eastern India; and hence it will be necessary to be extra cautious to avoid such unwanted incidences in this vulnerable eco-region. The new surge for agricultural and industrial developments in the region may have some significant impacts on the local ecosystem and highly vulnerable avian populations.

Fig 3. Unique habitats from NE India and subsequent impacts of anthropogenic pressure on the local ecosystems.
Hence it will be important to follow a long term, sustainable and judicious use of the abundant natural resources of this unique ecosystem. The economic priorities should not completely erode the importance of conserving big parts of this pristine habitat and centre of global biodiversity hotspot representing numerous avian species inhabiting this region.  It will be important to apply the principle of eco-sociology in regulating economic opportunities along with environmental conservation simultaneously. There will be certainly some major irreversible and negative impacts on the local ecosystem; however, care must be taken to minimize the losses to the best of the ability to reduce impact on the local wildlife and avian populations. If the wheel of economic development goes out of gear and the conservation priorities get derailed the economic as well as ecological future of this region could be significantly impacted. All the stakeholders in this process need to make cautious move while following a strict principle of stringent monitoring and surveillance at every step of the proposed economic development in an extremely fragile eco-region.
Fig 4. The diversity of avian species and ecosystems from NE India
Fig 5. Rapid urbanization and anthropogenic developmental and economic activities has the potential to impact the sensitive local ecosystem and the local avifauna.
Photo credits: Saikat Kumar Basu, Rahul Ray, Manorma Sharma & Manikankana Dasgupta
Biodiversity constitutes an important aspect of global wildlife resources. It is important to note that major global biodiversity hotspots are located in developing and under developed nations scattered across different continents. Unfortunately, the socio-economic conditions in these poor but natural resource-rich nations along with their nascent human population, lack of employment opportunities, political unrest and related anthropogenic pressures have serious impacts on local biodiversity. Rapid habitat loss and habitat fragmentation of various species, poaching, illegal wildlife and pet trade on exotic species, illegal harvesting of wildlife and rare plants for non-judicious pharmaceutical and allied industries, extensive grazing in restricted forest areas by local livestock and ranch animals, forest fires, illegal human encroachments into forested areas, extension of industrial and agricultural hubs into virgin forests are gradually destroying the extremely fragile local ecosystem and highly endangered biodiversity. It is, therefore, extremely essential to call for the attention of the academics, researchers, wildlife and nature enthusiasts as well as the commonalty towards global challenges of biodiversity conservation. India being a country rich in biodiversity has a major stake in the global biodiversity conservation. We all need to work passionately in raising awareness and establishing a common platform to work for global biodiversity conservation to the best of our ability.

Since 1974, every year United Nations Environment Program (UNEP) declares a message about specific environmental issues to the people on 5th June observed as 'World Environment Day`. The prime concern behind such messages is to make aware people about various environmental crises of earth and to act accordingly to save this only living planet. UNEP, in 2010, gives us the message –'Many Species, One Planet, One Future' to save the endangered and threatened species of wildlife and plants. Extinction of species is a natural process. Now, scientific evidences reveal that the current rate of extinction is not only alarming but much higher than natural and even any past rate throughout geological time scale. In every twenty minutes one species is now lost forever from this planet. Ecologists strongly indicate higher rate of habitat loss is the predominant force driving this alarming rate of species extinction.

In such bleak and dismal arrays of information there is an incandescent spurt of hopeful effort to conserve biodiversity, especially avifauna, by some local people in Chupi wetland; located in the Burdwan district of the eastern India state of West Bengal. The district is located around south central part of the state. The area of the Chupi wetland is approximately 3.15 square kilometres. This wetland is a stagnant U-shaped ox-bow lake formed by the changing course of River Ganga (Ganges) extending east to west. The length of the ox-bow lake is about 10 kilometres.


The Chupi wetland is rich in biodiversity. One can easily discern underneath a huge variety of zooplanktons and phytoplanktons through the crystal clear water of this wetland. Besides this, multiple species of fishes, toads, crabs, molluscs and insects are also found here. Every winter many species of migratory birds arrive here for these palatable foods. These birds come here crossing some thousands miles mainly from distant Siberia (Russia), Middle-Asia, Europe, Mongolia, China, Bhutan, Nepal, Ladakh (northern India) and from other areas of the Himalayas. They normally remain in the Chupi wetland for the entire winter season from December to February and go back to their abode at the end of the winter. Interestingly, a few migratory species are seen to stay here permanently, like the Lesser Whistling Teal.


The species mainly found here include Gadwall, Mallard, Ruddy Shelduck, Northern Pintail, Ferruginous Pochard, Red Crested Pochard, Lesser Whistling Teal, Open-bill Stork, Common Coot, Osprey, Small Pratincole, Terek Sandpiper, River Tern, Black-winged Stilt, River Lapwing, Spoonbill, Hoopoe, Cotton Pigmy Goose, Red vented Bulbul, Drongo, Pheasant Tailed Jacana, Greater Painted Snipe, Pond Heron or Paddy Bird, Egret, White Wagtail, Purple Moor Hen, Bronzed Winged Jacana, Field Sparrow, Grey Headed Lapwing, Cormorant, Darter, Crow Pheasant, Red Wattled Lapwing, Purple Heron, Jacana, Kingfisher, Pied Kingfisher, Green Bee Eater, Oriole, Woodpecker and so on.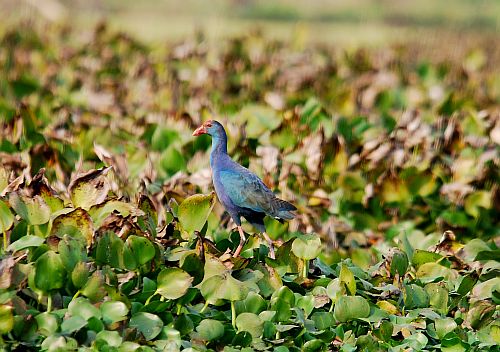 As thousands of migratory birds make this wetland their favourite winter destination; this part of West Bengal quickly became one of the most talked about regions for poaching and illegal capture of several migratory bird species. Poaching became a major menace here. Poachers used nets and poisoned paddy to mercilessly kill the birds. Some poachers put sharp iron hooks hiding in favourite foraging spots of these birds with food baits. The unsuspecting birds very often became nailed in throats to death while swallowing the foods. Some poachers with illegal guns floated upon tubes completely covering themselves with water hyacinth (Eichhornia crassipes (Mart.) Solms; Pontederiace) to indiscriminately shoot the helpless birds or capture them after being severely injured.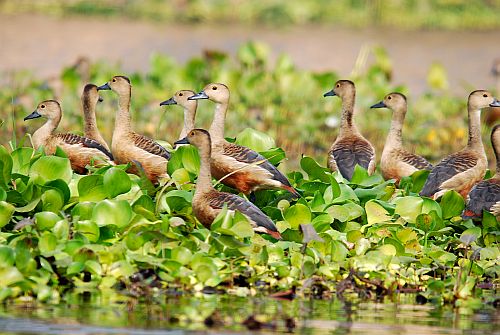 Nowadays illegal markets of these rare migratory birds involve hefty amount of money. While some birds are enmeshed for illegal trade, others are killed to quench the thirst for exotic bird meat. There is also a demand for eggs of these birds for making specialized food items. But, uncommonly, some native local people vehemently protested this illegal trade and capture of the rare species. They even did not step back from the gunpoint of the poachers. These people formed an organization named 'Banobeethi' (A Forest Thoroughfare) to protect the migratory birds and to educate other people about the value of these rare species. By their passionate effort Chupi wetland has slowly transformed into a safe haven for these birds. This, certainly, is a dazzling and infrequent example of environmental movement to save biodiversity even at the risk of their own lives.


Eminent Indian environmental lawyer, Mr. Biswajit Mukherjee, a path breaking green crusader and recipient of the prestigious 'Indira Gandhi National Environment Award' has joined these local inhabitants and has been engaged with the West Bengal State Forest Department to ensure protection of these birds to save local biodiversity. The Directorate of Forest Department has assured that they are seriously thinking over the matter for a broader and meaningful cooperation. We, the commonalty, also want more tightened security to protect these rare migratory birds because conservation of species is doubtlessly a key issue in the pretext of ecological democracy.


It is important that local residents and villagers should be made important stakeholders in the process of biodiversity conservation and this can effectively help in generating some alternative employment. Hiring permanent/temporary/contractual local labours, guards and wildlife staff trained for monitoring and surveillance, afforestation and participatory forest management programs, reconstruction of damaged vegetated areas and habitats and in conserving biodiversity and wildlife will be cheaper and much safer than bringing external labour force to an ecologically vulnerable region. Further, the involvement of local residents through employment and voluntary activities in biodiversity conservation will considerably make it easy to combat with poachers and illegal capture and trade of the helpless bird species. If local people are to be made actively involved in the conservation projects, the long term success of such vulnerable ecological habitats will definitely increase several folds.


Often it is necessary to extend the areas under conservation and it will be necessary to withdraw human residences for bringing a bigger section of vulnerable ecosystem under the umbrella of effective conservation management. The rehabilitation of the displaced people needs to be considered sympathetically so that they do not lose their natural livelihood and socio-cultural practices completely as a result of the conservation initiatives. If both processes are tied together empathetically and judiciously, smooth functioning of environmental protection together with modern industrial and agricultural developments in the line of socio-ecological progress will never be an impossible task. With the forces of development encroaching protected habitats, the existing habitats will never be as same as it was in its pristine state, but we can make it close to what it may be through sincere and dedicated efforts. Although extremely challenging, however, the task is not quite impossible.
Photo credits: Rahul Ray
Article contributed by: Rahul Ray and Saikat Kumar Basu
Pacific Biodiversity Institute invites avid birders to join a research expedition December 2-15, 2014, in the provinces of Salta and Jujuy in northwestern Argentina.
These provinces are renowned for their rich biodiversity and beautiful landscapes. They are ecologically diverse, with imposing mountains, extensive sub-tropical and tropical forests, rivers, canyons, deserts, salt flats and high lakes. The area is extremely rich in bird life, and other wild fauna and flora. Salta and Jujuy also contain some of the most colorful and vibrant culture in Argentina. Evidence of Inca and pre-Inca civilizations are found throughout the landscape. These provinces also contain some of the most important unprotected wildlands in Argentina.
The purpose of the expedition is twofold: 1) to gather more information about this region to aid in its further protection, 2) to introduce new people to this area of incredible contrasts, immense biodiversity, spectacular beauty and great conservation opportunity. Those interested in joining this trip may contact PBI at expeditions@pacificbio.org. Further details can be found here: http://www.pacificbio.org/expeditions/salta_jujuy2014.html
While climate change and global warming are an ongoing cause for concern, monitoring the environment is a costly and time consuming activity for conservationists to carry out without help from local experts – of the feathered variety. Birds are tremendously valuable in assisting conservationists and researchers to pick up changes in the environment and species diversity, enabling them to take action where possible to prevent a bad situation from becoming a catastrophe.
Science has come a long way since canaries were used to detect toxic gases in coalmines, but birds continue to be the most effective sentinel species on the planet. The reasons for this are many and include the fact that birds are found all over the world, in all types of habitats, both in the wild and in urban settings. They are sensitive and adaptive to environmental changes and are relatively easy to monitor as they are highly visible. Birds are among the most researched animals on the planet and with bird watching being a popular activity around the world, birders are often keen to participate as citizen scientists in research projects and organized bird counts. Birding clubs and Audubon societies all over the world get involved in the gathering of data, which can then be coordinated by scientists. Moreover, there exists a wealth of historical data on the activities of birds, providing a baseline against which to compare current data. As birds include species that feed on a wide variety of food sources, they are vulnerable to the accumulation of toxins in both plants and animals they eat, thereby providing an indicator on soil, air and water pollution levels.
As birds are acutely in tune with seasonal cycles, even subtle changes in behavior, feeding and breeding patterns can alert scientists to broader environmental changes. Changes in arrival and departure times of migratory bird species have been linked to changes in temperature, ocean currents and wind patterns. Feeding and breeding patterns of marine predators and seabirds offer scientists the opportunity to monitor the health of the world's oceans and seas and with many species the timing and success of breeding is dependent on food availability.
When birds seemingly inexplicably fall out of the sky, as was reported in Arkansas and New Jersey earlier this year, scientists will try to solve the mystery, because when birds are in distress, it is very likely an indicator that something is very wrong in the environment.
There is a good chance that the Philippines might have to change their conservation efforts when it comes to bird species. If the studies performed by Dr. David Lohman are correct, the Philippines could have more unique bird species than previously thought, and this would most certainly force the Philippine authorities to become stricter in regard to conserving these extraordinary birds. According to Dr. Lohman, it is one of the areas in the world that is overflowing with biodiversity and is astonishing in every way.
Over seven thousand islands make up the Philippines, and its wildlife is considered to be truly unique. Almost seventy-seven percent of the amphibians on the islands and sixty-four percent of the land mammals cannot be seen or found anywhere else in the world. When it comes to the bird life on the islands, it was believed that only thirty-one percent of the birds in the Philippines were endemic. Professor David Lohman then took it upon himself to begin a study to find out if some of the bird fauna could deliver distinct bird species that have not been recognized before. He decided to concentrate mainly on seven perching bird species, and by following the genetic lineages of these species, Professor Lohman has been able to determine a distinct history in regard to these bird species. In previous years, taxonomists would identify bird species through the color of their plumage and various markings found on birds, but Professor Lohman has pointed out that this form of identification is not accurate enough, saying: "Those features are not ideal, since closely related but distinct species can look similar."
Due to the distance between the Philippines and the Asian mainland, it is believed that contact between mainland birds and those on the islands would be minimal, if none at all. By following the evolution of the bird species, Professor Lohman has found that a great number of Philippine populations were unique and not found in various Southeast Asia regions. "These unique genetic lineages were unknown before, however, our research hasn't gone far enough to say these are new species", explained Lohman, continuing by adding that "more rigorous analysis of the morphology may be needed to make that determination."