Normally, if you are planning to add a new bird to your family, you have a specific species in mind, because, after all, a parakeet is quite different from a macaw. You might look for someone with a good reputation who breeds this species. This is one of the most popular ways to obtain a bird. However, there is another great way to find a feathered friend or friends- through a shelter or a parrot rescue.
Many people find themselves unable to care for a parrot once they buy one. Perhaps they are too messy, or too loud, or not social enough. Other times, the owner may have financial or health problems, and as much as they love their bird, they truly can no longer care for him or her. These parrots usually do not end up in a parrot rescue; instead, they are usually turned in to a local animal shelter. Generally, shelters are not good environments for parrots – they are very loud, the employees are generally not able to give the birds a lot of attention, and they are very rarely able to provide toys or treats. That is where a parrot rescue comes in. They take the animal from the shelter, and put them either in their own facility, or in a foster home. Either way, they are generally able to provide the level of care that the bird needs. Many potential parrot owners prefer to adopt from parrot rescues rather than animal shelters, because the rescues generally are able to spend time with their birds and are able to provide a better description of their behaviors and personalities.
If you decide to adopt from a shelter rather than a rescue, be careful. Although your bird may have been turned in for no fault of its own, and it could be a perfectly nice pet, he also could have been surrendered for various behavior problems. Ask an employee if they know what the reason for surrender was, or if they have noticed any behavior problems during the birds' time at the shelter. Ask them if you can spend a little time with the bird; sometimes, a shelter will have a 'visitation room,' where you can spend some time alone with your potential new best friend. Remember, sometimes birds will act up in the shelter – they may be frightened and screech loudly, or they could be so scared that they shy away from human contact. The shelter environment is loud and frightening, especially to a small bird like a parakeet, cockatiel or parrotlet. However, even the biggest macaw may act unusually in this loud and scary place.
You may find that you don't want to adopt from a shelter after all. You might want to adopt from a breeder, where they have truly known the bird its whole life, and can tell you practically everything about it. But remember- if you adopt a bird from a scary situation, you are their hero. Even though you might not realize it, your friend will feel grateful. If you are considering a new avian friend, please consider dropping by a shelter or parrot rescue before you buy from a breeder.
Article contributed by Eliza Kuklinski
This is an observation in August 2005 in west Lethbridge. I have made similar observations before at other places and times, but the observation was recorded on this date. Magpies to my understanding are absolutely fascinating to observe. They are an extremely intelligent species of bird for behavioral studies and what is more important to note is that they seem to observe human behavior and practices closely for their advantage. I was quite intrigued to observe that a black-billed magpie was working its beak through a plastic garbage bag loaded with garbage accidentally left outside a dumpster. As the bird successfully made its way through the soft plastic cover, I noted it started foraging across the contents of the bag occasionally feasting on the food items that it located within the torn bag. Once the feasting was over, possibly within 2-3 minutes, the bird kept on searching into the bag as if it was still looking for anything that may prove useful to it. After another minute or so, I saw that it flew away with something shiny, although it was difficult to decipher what the object was from the distance where I was standing and observing the bird. Anyways, I waited there for another 4-5 minutes and was about to walk towards the nearby London Drugs to buy some postage stamps from the Canada post outlet there, when I was amazed to hear the characteristic sharp calls of the magpies. To my surprise, I saw five other magpies (possibly varying between adults and sub adults) flocking round the torn garbage bag foraging and nervously jumping and fluttering wings. Since the previous bird foraging did not have any specific marking for identification, I was unable to determine if that bird communicated or invited the others to look into the booty, or whether by observing the success of the earlier bird, others in the vicinity have joined in the search and foraging to find things of interest for themselves. However, they flew away after a couple of minutes possibly being unable to find something of interest for them or any other available food items. After a minute or so, three more flew in investigating the bag and left again followed by a couple more in small flocks of 2-3 in the following ten minutes. The foraging was finally interrupted by the sudden visit of a herring gull when the magpies flew back, never to return in the next 10-15 minutes or so. After that I left for the London Drugs.
When I got back after another 10 minutes finishing my job, the bag was found left unattended and there were no birds seen close by. It appeared to me that black billed magpies may have a social communication system like the bees where they communicate among themselves about possible food and other resources among their family or clan or group members or neighbors. However, this is a hypothesis and needs to be verified under controlled experimental conditions. I do find these species of bird to be social and to have some sort of communal bonding and association for mutual benefits; could possibly be a part of their social life and structure too. It seemed to me that they do cooperate and coordinate in group activities while foraging and defending their territories against other intruders. Yet they are intelligent enough to pull back and assess the strengths of their opponents, thereby developing successful strategies of survival.
My other general observations on black billed magpie have been that they are devoted parents and they maintain distinct territories and respect their boundaries. I have seen more birds in the urban settlements compared to rural areas and farming localities. They also possibly use the same nesting sites over the years, however, that has to be verified by proper experiments. I have always seen the birds in the favored nesting sites along the university campus every year; but whether these are the same birds or different ones occupying favored nesting sites need to be verified. Possibly they are more used to city based food sources rather than the rural food sources in their diet preferences. They appeared to me as omnivorous species that are opportunistic in nature and will devour anything that they find useful for their survival under harsh conditions. They are possibly getting used to foods consumed by humans as I have seen that they eagerly accept chips, popcorns, hash browns, fried potatoes, apple, pear, watermelon, cheese and slices of jam bread, cheese cakes, salami and burger but rejecting carrots, broccoli, onion, cucumber, garlic, cauliflower, lettuce, celery, tomato, pepper and pumpkins that I have tried feeding them for my observation. It seemed to me that they possibly have preferences for food items with softer texture and sweeter taste. I have seen them often venturing into empty portico and balconies searching for food. They seem to have a special liking for shiny objects and they are possibly attracted to them as I have observed they often carry them in their beaks. The nests of black-billed magpie that I had the chance to look into often include plastics, thermocol, pieces of nylon wires, pieces of plastic garbage bags etc in addition to twigs and branches as constructing material. They seem to be opportunistic of their urban habitat and select items they feel that are useful for them from their immediate environment.
The birds are noisy, active, and energetic, but nervous and restless, always moving from one tree to another within their defined range. They are often aggressive with in-fights, in which the dominant bird pins the submitting one under its feet to he ground with its belly up and peck each other aggressively. However, I have noted they try and avoid confrontations as much as possible. Active from dawn to dusk, but usually prefer shade during midday or when the temperature is high, usually roost on branches of tall trees and shrubs during night. They are often seen foraging on the ground during active period and fly away at the slightest possible alerts. I have seen magpie catching insects and devouring small wild fruits and berries. They are often chased off by the small red winged black birds nesting along ditches and swamps if the magpie ventures too close to them. They are mostly tree inhabitants and terrestrial in their habitat preferences, however in hot summer evenings I have seen them flocking together and often taking a quick dip in the water of the canal or at the edge of a water body for cooling off.
Continued from Part One
Article contributed by Saikat Kumar Basu
I have been observing black-billed magpie (Pica hudsonia Sabine) for the past nine years and found the species to demonstrate some interesting behavior. I first noted aggressive behavior of the species on the summer (June) of 2004 while I started working on my Masters degree at the University of Lethbridge. The incident took place on the green areas within the university campus close to the Aperture Drive. It appeared to me from a distance that some birds were fighting over the carcass of a Richardson's ground squirrel on the ground. On closer inspection I saw that the carcass was fiercely contested by a black-billed magpie against three marauding crows. What was quite fascinating to note was that the magpie, which we always saw flying away at the slightest movement, stood its ground boldly, held the carcass to the best of its ability and repeatedly hit back at the approaching crows while it also feasted on the meat every now and then. The incident took place for about 5 minutes, after which the crows gave up, chased away by the defending magpie that finally retained its claim on the carcass.
Looking at the fury and the aggressiveness of the magpie I was quite amazed. It flew to the nearby tree shade holding the carcass in its feet and peacefully kept on feasting when I left for my nearby apartment across the main road. They are extremely inquisitive about human reactions and behavior. Parents are quite aggressively protective of their nests and young ones and they take very good care of their young ones. As far as I remember both parents take turns and share the burden of raising the nestlings, bringing food for them continuously so that the chicks grow up fast. The aggressiveness in them is possibly due to the fact that they share a common phylogenetic relationship and belong to the broad family of Corvidae including jackdaws, crows and ravens, rooks, treepies all known for their aggressive reactions under adverse situations.
Early in the summer of 2005, I was jogging along the university lake that is surrounded by an artificial wood. While moving across the corner, I was attracted to the constant calls of the magpie and ventured into that direction. On the ground I saw three new chicks that may have learnt to possibly come out of the nest and venture around. I scanned the nearby places to look for any sign of a nest but was interrupted by the parents. They did not attack me, but started flying in and around me and landing on nearby shrubs and bushes with constant alarm calls. They were extremely vigilant and that paid off. Being annoyed by their constant calls I decided to get back to my jogging trail instead of searching for their nest. But as I turned back, I was surprised to see that 3-4 adult magpies had joined the two parents and were visibly annoyed with my intrusion into their territory. The hue and cry they raised together as a formidable force pushed me out of the wood into the jogging trail. None of them bombed dive at me or attacked me on the head at any stage, but they did fly from one tree branch to another along my jogging trail for a minute or so following me as if to deter me from ever getting back to their hidden nesting site. The behavior surprised me as I have never seen them ganging up together before and realized that may be a strategy they have learnt to practice possibly from previous experiences where they may have found this combined vigilance of their clustered nesting sites for protection is an effective strategy to ward off intruders.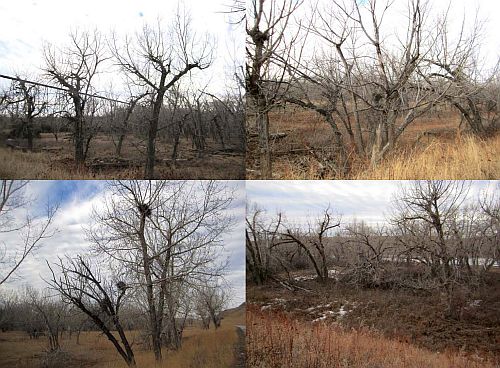 Continued in Part Two
Article contributed by Saikat Kumar Basu
Researchers and scientists have been studying the New Caledonian crow for a number of years now. It has proven to be a bird with extraordinary capabilities, able to solve problems and use tools to gain access to food. This remarkable talent has led to numerous papers being published in regard to the intelligence of the crow. It seems that researchers wanted more and believed that the crows' problem solving skills could be pushed a little further, and they were right. New tests have shown that crows are able to devise plans and show extreme caution in unfamiliar circumstances.
The first round of research was done to see how crows make use of tools to forage. Researchers gave the crows a three phase puzzle which was solved successfully. They first used a short stick to retrieve a longer stick, which they then had to use to get to their food which was placed in a hole. This test already stunned researchers, but the crows have now shown that they use tools for various other actions as well.
Over and above using sticks to find food, it seems that New Caledonian crows also use sticks to look at objects they deem to be potentially dangerous. Instead of inspecting it closely, they make use of their sticks to take a look around first before approaching something they are unfamiliar with. Dr. Joanna Wimpenny, a research zoologist on the team is very excited about the new findings, saying: "Evidence is building up that they're able to plan their actions in advance, which is very interesting from a cognition point of view. It isn't just that they're responding in a pre-programmed sort of way. It seems possible they may potentially view a problem and know what the answer is."
To test this, a rubber snake was used in one instance. The crow moved a little closer, but showed signs of being hesitant. He then used a tool to prod the snake a few times and after seeing no movement, he quickly pulled on the tail while jumping backwards. Once he was sure that the rubber snake posed no danger, he approached completely and began pecking on it. These tests and research prove that crows have an intricate thought process. Further behavioral studies are underway to find out more about these fascinating birds and their intelligent problem solving abilities.
Anting is a form of bird behavior that has yet to be explained by researchers and scientists. Even though hundreds of bird species engage in anting all over the world, no-one has been able to confirm the reason why birds choose to do so.
Anting can take on different forms. Some birds will pick up ants in their beaks and rub the ant over their feathers, after which they eat the ant; while others will open their wings and lie down over an active anthill and allow ants to climb up onto them. But it does seem that one part of anting remains consistent: birds prefer using ants that produce formic acid. Ants use the formic acid their bodies produce as a defense mechanism, which they spray at their attackers, but at the same time provides birds with a certain something that scientists would love to discover.
One theory on anting is that the formic acid could be used as a fungicide, bactericide and as an insect repellent, while others choose to believe that it is the vitamin D content in the acid that birds are after. This leads to another unanswered question: why do birds sometimes use alternative anting tools, such as millipedes and fruit? Some scientists believe that anting is used to preen feathers and helps prevent the drying out of their plumage, but then one again has to ask, that if only some birds include anting in their behavior, could preening really be the answer? Another suggestion that has been made is that anting has an intoxicating effect, as some birds have been known to shake and lose control over their ability to walk. Anting has been documented in a variety of species including crows, babblers, weavers, owls, turkeys, waxbills and pheasants to name but a few. And for all the research done and no lack of theories, it seems the human race will have to be satisfied with the fact that the mystery behind anting might elude us forever, and remain a small secret that nature is not willing to share.