The wetlands of Iran constitute an important destination of several migratory bird species from Europe, and Russia including Siberia, Mongolia, China, Central Asia and Africa. Several species fly unbelievably long distances between the continents and cross over the Caspian Sea to enter the borders of Iran and finally settling into different wetlands, forested areas and river valleys. The two major migration paths that include Iran as transit points are the Central Asian migratory route and the African-Eurasian migration pathway. The inland geographical location of Iran within the Asian continent along with multiple seasons, abundant wetlands (in the form of water bodies like inland lakes, pools, ponds, ditches, swamps, marshlands), plain forests, mountain forests, dry forests, woods, scrubs, river valleys, riverine forests, diverse ecosystems and abundant food sources making it an attractive destination for a large number of migratory bird species from Central Asia, Europe and Africa. Different species of ducks and geese, grebes, pochards, cormorants, bitterns, egrets, cranes, herons, storks, spoonbills, ibis, flamingo, lapwings, phalaropes, coots, plovers, sandpipers, curlews, snipes, terns, common greenshanks, dunlins etc visit Iran as migratory species. In addition different species of raptors such as vultures, falcons and eagles also migrate to Iran following their strong prey base that takes refuge within the boundaries of the nation. On an average, between 2-4 million migratory birds are estimated to pass through Iran every year.
Thus the wetlands and forests of Iran constitute a global hotspot rich with numerous magnificent avian species foraging, nesting and breeding and then leaving at the end of the winter for their home ranges. These areas have traditionally grown into important tourist hubs due to the exquisite natural beauty, relatively pollution free environment, spectacular biodiversity, wild nature and serenity. Several tourists from the major Iranian cities like Teheran flock to these tourist centers to enjoy a glimpse of the natural beauty. However, a section of the tourist and local community members also get together for the purpose of hunting both with and without proper hunting licenses. It is this unprecedented surge of hunting pressure and poaching that has been causing havoc with several migratory species of birds, seriously impacting their population bases while visiting the Iranian wetlands as their winter refuge. Several species such as the Siberian crane, sociable lapwing, white backed vulture etc are migratory species that have been placed under the critical endangered species category by IUCN; while white-headed duck, Egyptian vulture etc have become nearly threatened.
Several local legal and illegal (underground/black) markets have also developed in and round these regions selling meat of wild migratory birds to the tourists and visitors and to the local population as cheap source of animal protein and as an exotic meat. The meat of migratory birds are extremely popular with the tourists as well as locals and are openly served in local restaurants, pubs and hotels; and has also turned into a common food item for the domestic kitchens. Due to high local demand several local youths and tribesmen has changed into poachers and hunters who illegally capture, slaughter and sell the defenseless birds to the middlemen; who then sell it to the local businessmen operating meat trade in the local legal and illegal markets. The worst hit is particularly different migratory species of wild ducks and geese. According to the local agencies approximately 3 out of 4 million migratory birds are illegally hunted by poachers and local hunters; and that these people are rarely arrested or prosecuted. The hunting and poaching pressures on these wetlands and other available refuges of migratory bird species in Iran has gone up exponentially pushing several migratory bird species to the status of vulnerable, endangered and critically endangered from not threatened in the span of just last three decades. Furthermore, due to tremendous anthropogenic pressures on the migratory bird habitats by tourists, locals, hunters and poachers; several species are running the risk of extinctions if such activities continue for future decades without any intervention.
The lack of education and awareness among the local and tribal communities in remote corners of the country, poor management and regulations, poor economic development and lack of opportunities for sustainable economic growth on a long term basis, lack of political initiatives and will, local traditions and taboos, social customs, insurgence of unplanned, unrestricted and unmonitored tourism have been some of the socio-economic factors contributing towards the sharp rise in poaching and illegal capture of migratory birds in these regions. The government and non-government agencies in charge of the conservation and protection of the regions are ill equipped, poorly trained and funded to deal with the grim situation. The number of incidents of poaching is way too high for the existing staff members and volunteers working on these projects to handle efficiently and effectively.
They are short of manpower, funding, gears and equipments to deal with the proper survey, study, monitoring and evaluation. They are acutely short staffed in regulating and/or restricting the incidents of rampant poaching and operation of legal and illegal migratory bird meat markets and illegal pet trade centers operating in these localities. Often the poachers and illegal business operators on wild birds have better organized networks, sophisticated arms and instruments than the regulatory agencies. The poor salary structure, harsh job conditions, long working hours and lack of opportunities and incentives do not attract enough quality candidates to apply for these job positions. Due to lack of proper advertisement and initiatives, dedicated and sincere volunteers are also not easy to recruit. The consequence being a poorly trained and severely marginalized force has to operate with their poor infrastructure and facilities in the conservation and protection of huge areas, which become both logically as well as logistically impossible to manage efficiently.  Under these circumstances the future of several migratory bird species in Iran is hopeless and dimensionless and if no appropriate measures are taken at the earliest, several species of migratory birds could be threatened with the dangers of extinction in the not so distant future.
Socio-economic development of the under privileged regions will be important for possible improvements in conservation efforts. It is necessary to establish alternate employment opportunities and economic engagement for people involved in the illegal trade on migratory bird species and poaching activities. Highly organized campaigns will be needed to promote education and awareness among the local populations, indigenous communities, tourists and visitors about the importance of the migratory bird species and their role in maintaining healthy balance of the extremely fragile and sensitive ecosystems. Proper training and funding for the different regulatory and environmental protection and conservation agencies will be necessary to well organize and equip the personnel involved in successfully conducting regular surveys on endangered bird populations; monitoring and surveillance of the sensitive local ecosystems; raids, arrests and conviction of those involved in poaching and illegal trade on wild meat of migratory bird species. Above all campaigns in educating general public making them aware of the impending dangers of the possibility of extinction of the critically threatened migratory bird species need to be emphasized.
Article submitted by: Saikat Kumar Basu and Peiman Zandi
Photo credit: Peiman Zandi
Suggested readings
Ashoori, A., Barati, A., and Reihanian, H.- r. (2007) Recent observations of the Red Phalarope Phalaropus fulicarius at Boujagh National Park, Gilan Province, and Agh Gol wetland, Hamedan Province and its status in Iran. Podoces. Vol. 2(2): 148-150.
Ghasemi, A. Omidi, Z. Mohammadi, G. Barati, A. (2012) Wetlands as habitats for migratory birds (Case study: Agh-gol and Abshineh wetlands). Journal of Environmental Sciences and Technology, 53-54: 31-39.
Khaleghizadeh, A., Scott, D.A., Tohidifar, M., Musavi, S.B., Ghasemi, M., Sehhatisabet, M.E.,  Ashoori,  A.,  Khani,  A.,  Bakhtiari,  P., Amini, H., Roselaar, C., Ayé,  R., Ullman, M., Nezami, B., and Eskandari, F. (2011) Rare Birds in Iran in 1980−2010. Podoces. Vol. 6(1): 1–48.
Web resources:
http://www.iran-daily.com/News/58717.html
http://www.parstimes.com/travel/iran/hunting.html
http://fatbirder.com/links_geo/middle_east/iran.html
http://www.guyanajournal.com/wildlife_conservation.html
http://www.birds.com/blog/wetland-birds-a-conservation-priority-for-iran/
http://observers.france24.com/content/20150120-iran-wetlands-migrating-birds-hunters
http://www.worldmigratorybirdday.org/
http://www.birds.com/blog/avian-parks-and-gardens-are-important-conservation-and-education-tools-a-case-study-from-iran/
Myna (Mynah) is a member of the starling (Sturnidae) family under the order Passeriformes. Mynas have been part of the avifauna of the subcontinent for long. Some of the species like the Common Myna or the Indian myna (Acridotheres tristis) are found to be moderate to closely associate with human settlements and habitation throughout their range. Because of their ability to quickly adapt to urban and semi-urban conditions they have been quite successful in breeding and propagating in the urban and city environments. Like the rock dove they have been an opportunistic species and hence have been successful in their survival in the concrete forests of the modern metropolis. The cities as well as the rural areas of the subcontinent have been undergoing rapid transformations in the past five decades. There has been expansion of the industrial belts as well as encroachments of different ecosystems for the spread of agriculture and human habitation. This has impacted fragmentation of several pristine habitats and has impacted some species of myna in different localities and habitation pockets within the subcontinent. While the highly adaptive species have survived this changing dynamics of both urban and rural landscapes and have propagated successfully. The vanishing of the old trees and parks and undisturbed corners of major cities in India have been impacted due to anthropogenic pressures as well as rapid human economic developments. This has certainly reduced the breeding and nesting sites for several myna species but some have adapted to a certain extent to such disturbances and adjusted with the changes happening in their immediate environment.
Common Myna. Photo credit-Saikat Kumar Basu
The Common Myna has been an opportunistic species; that has adapted successfully to the urban life (A & E) and survived under the rapidly transforming metro cities with severe anthropogenic pressures with stark contrast between modern apartments (C) and encroaching slum areas (B & D); and even in absence of open spaces such as abandoned undisturbed areas and parks (F). Photo credits: Ratnabali Sengupta & Srimoyi Mazumder.
The different myna species reported from the Indian subcontinent include:
1. COMMON MYNA/INDIAN MYNA (Acridotheres tristis Linnaeus)
2. PIED MYNA (Gracupica contra Linnaeus)
3. BANK MYNA (Acridotheres ginginianus Latham)
4. Great myna (Acridotheres grandis Moore)
5. Collared myna (Acridotheres albocinctus Godwin-Austen & Walden)
6. Golden-crested myna (Ampeliceps coronatus Blyth)
7. JUNGLE MYNA (Acridotheres fuscus Wagler)
8. COMMON HILL MYNA/ HILL MYNA (Gracula religiosa Linnaeus)
9.Southern hill myna (Gracula indica Cuiver)
10. Sri Lanka hill myna/Ceylon myna/Sri Lanka myna (Gracula ptilogenys Blyth)

Map of the Indian subcontinent.
One the most common and abundant of all the myna species reported from the subcontinent are the Indian Mynas or the Common Mynas (Acridotheres tristis). Their range includes the entire Indian subcontinent China, Central Asia & SE Asia and has been introduced to different locations in Australia New Zealand, parts of west Asia and different island chains in the Atlantic, Pacific and Indian Oceans ranging from Asia to Africa. The species has been regarded as acutely invasive in some countries and has been placed under pest status in other localities. The species has actively adapted to different urban environment very successfully.

Common Myna (Acridotheres tristis L.) foraging. Photo credit-Manorma Sharma

Common Myna (Acridotheres tristis L.) is a highly urbanized bird species that has well adapted to city life by foraging on garbage dumps and other human trash. Photo credit: Srimoyi Mazumder.
Most of the species are distributed across the subcontinent and SE Asia with the Southern Hill Myna  (Gracula indica) reported from peninsular India and Sri Lanka; and the Sri Lankan Hill Myna (Gracula ptilogenys) being endemic to Sri Lanka. The Collared Myna (Acridotheres albocinctus) is more common in the eastern and north eastern states of India, southern China and in western Myanmar. According to IUCN all the species reported from the subcontinent are currently placed under the Least Concerned (LC) status. The Southern Hill Myna (Gracula indica) very closely resembles the Common Hill Myna (Gracula religiosa) and is quite difficult to differentiate between them morphologically; although they are two different species under the same genus Gracula. The Sri Lankan hill myna (Gracula ptilogenys) was previously described as a sub species of the Southern Hill Myna but has later been designated as a separate and endemic species found only in Sri Lanka. The Sri Lankan Hill Myna is easily distinguishable from both the Common and Southern Hill Myna species. The color is comparatively duller in comparison to the Common and Southern Hill Myna species; both of which have shiny black plumage, bright orange beaks and bright yellow skin patch (wattle) around the head and the nape.

Common Hill Myna Photo credit- Rahul Ray
The orange-crested myna (Ampeliceps coronatus) is easily identifiable with the black body and bright yellow colored head. The great myna (Acridotheres grandis) and the jungle myna (Acridotheres fuscus) have close resemblance; however, the former is bigger in size and is dark black while the latter is shiny brownish in color and can be separated based on that.  Furthermore, great myna has yellow beak and legs; while the jungle myna has orange beak and legs. The collared myna (Acridotheres albocinctus) is also similar to the Great Myna and the Jungle Myna in external appearance but could be easily separated due to the presence of bright distinct yellow colored ring or patch around the neck.

Southern Hill Myna.  Photo credit- Rahul Ray
The mynas are vocal species and are dedicated parents caring for their young ones. They usually love nesting around cracks and corners of abundant houses and buildings, woods, forests and on high trees. They are capable of surviving in disturbed habitats and forage on plant parts, fruits and seeds, grains, worms, insects, human food and also by forging on garbage or trash materials. The species is territorial with males engaged in frequent fights with opponents and rivals in defending their territories. The fights are seldom threatening and are usually terminated with the weaker individual flying away to avoid further combat engagements. Some species like the Indian Hill Myna are targeted exclusively by the poachers for their value in the illegal pet trade due to their unique ability to mimic human communication and words. Due to their high demand in both regional and international illegal pet markets, a large number of them are trapped and captured and illegally transferred over long distances for sale. The Indian Hill Myna is the 'State Bird' for the Indian states of Chhattisgarh and Meghalaya.

Pied Myna (Gracupica contra L) is also now considered a starling rather than a true myna. Photo credi: Rahul Ray.

Brahminy Myna or Brahminy Starling (Sturnia pagodarum Gmelin) is not actually a true myna or a jungle myna; but actually a starling belonging to the same family as the mynas. Reported across the Indian subcontinent, the species is considered as Least Concerned by IUCN. Photo credits: Rahul Ray 
Article submitted by Saikat Kumar Basu and Rahul Ray
Canada geese (Branta canadensis L.) represent a majestic symbol of nature and natural world and are a well known migratory species of geese widely recognized across the continent of North America, Northern Europe and in the Asian Far East. The species is native to the continent of North America. The famous "v-shaped" flying pattern of trumpeting and migrating Canada geese flocks are seen as one of the most well known and symbolic signs of the change of season across the range of this beautiful species (Fig 1-2). Several North American and eastern Siberian aboriginal and indigenous groups and communities consider this as a sign of good luck and fortune, and numerous stories about the species are thus included in many of their ethnic folklores and indigenous stories. The majestic species is consider to be an important symbol of the wild west of the continent of North America as well as a dynamic symbol of the natural heritage of the world's second largest country Canada. The species is widely distributed in US and Canada, parts of northern Europe, eastern Siberia, parts of northeastern China and Japan (see map). A population in New Zealand is also known where it was introduced few decades back as wild game species.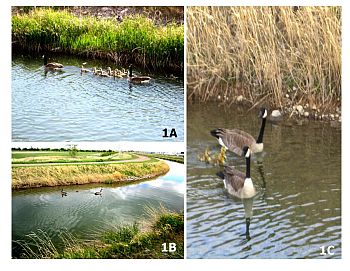 Due to conservation efforts their number and population have increased significantly across their range. Huge standing flocks reside on agricultural farms and devour substantial portions of young crop seedlings as well as seed grains, damaging them extensively. Occasionally they are also known to devour insects and fishes, as well as other aquatic vertebrates and invertebrates. The families start migrating southward for their summer retreats to southern US and northern Mexico when their northern homes start showing signs of freezing.
The species is predominantly aquatic found resting, foraging, nesting and settling around fresh water, inland water bodies and narrow irrigational canals. However, some are even found to be resident on the farms across the Prairies of North America and are also abundant around the Great Lakes. Both males and females look similar, but the female are found to be slightly smaller in size and weight. The males of this species are known to be quite aggressive in protecting their nesting sites and ducklings (Fig 4). Some sub-species are also known to build nests on trees or resting on trees during the night for safety. Egg clutches varies between 2-20 eggs in a single breeding season depending upon their reproductive success, availability of quality food and safe nesting sites. Common predators of eggs and ducklings include foxes, coyotes, badgers and some raptor species. Currently this is a protected species and is considered a valuable wildlife species; and hence hunting, capture and exploitation of the species is illegal under the fish and wildlife acts.
Prime nesting and foraging sites of Canada geese adjoining irrigation canals and at the edges of nearby farmlands are presented in Figs 7-10.
Photo courtesy: Mr Doug Messenger is gratefully acknowledged for kindly providing Fig 2D.
Article contributed by Saikat Kumar Basu
We often assume that we know all there is to know about our world. Even though there are behavioral patterns and various other mysteries surrounding some of the animal and bird species on our planet, we tend to assume that mankind has discovered just about every creature and insect that shares our world. When the news broke that a new bird species had been discovered, it made headlines, as it is not every day that a species appears that no-one was aware of.
The Minerals and Metals Group that operates in the Loas region of Asia, funds a project that employs conservationists and scientist such as Iain Woxvold (University of Melbourne), Rob Timmins and Will Duckworth, who are part of the Wildlife Conservation Society. While working in this region, these three men discovered the new bird species, which has now been named the Bare-faced Bulbul (Pycnonotus hualon).
This unusual little bird is not only unique in its features, but is also a songbird, and due to its ability to adapt to unihabitable areas, it is no surprise that it has been able to remain undiscovered for so long. It is also the first time in approximately a hundred years that a new bird species has been identified in Asia, making this a memorable moment for the scientists, the conservation organisations of Asia and for the region as a whole. The new species was found in the desolate karst limestone landscapes, which are located in the lowlands of the area and consist of sparse trees and not much else. The bare-faced bulbul is the size of a thrush, which is approximately twenty centimeters, and has beautiful olive green plumage that covers its back. It has off-white feathers over its chest and has large dark eyes set in its bald head that is pinkish in color.
Iain Woxvold explained the reasoning behind the new species remaining undiscovered for so long by saying: "Its apparent restriction to rather inhospitable habitat helps to explain why such an extraordinary bird with conspicuous habits and a distinctive call has remained unnoticed for so long." Asia Programs, part of the New York Wildlife Conservation Society, assistant director Peter Clyne expressed his excitement in regard to the discovery, acknowledging that finding new bird species is an extremely rare event, and due to new species not being found every year, the unveiling of the bald-faced bulbul is most certainly a newsworthy discovery.
There is a good chance that the Philippines might have to change their conservation efforts when it comes to bird species. If the studies performed by Dr. David Lohman are correct, the Philippines could have more unique bird species than previously thought, and this would most certainly force the Philippine authorities to become stricter in regard to conserving these extraordinary birds. According to Dr. Lohman, it is one of the areas in the world that is overflowing with biodiversity and is astonishing in every way.
Over seven thousand islands make up the Philippines, and its wildlife is considered to be truly unique. Almost seventy-seven percent of the amphibians on the islands and sixty-four percent of the land mammals cannot be seen or found anywhere else in the world. When it comes to the bird life on the islands, it was believed that only thirty-one percent of the birds in the Philippines were endemic. Professor David Lohman then took it upon himself to begin a study to find out if some of the bird fauna could deliver distinct bird species that have not been recognized before. He decided to concentrate mainly on seven perching bird species, and by following the genetic lineages of these species, Professor Lohman has been able to determine a distinct history in regard to these bird species. In previous years, taxonomists would identify bird species through the color of their plumage and various markings found on birds, but Professor Lohman has pointed out that this form of identification is not accurate enough, saying: "Those features are not ideal, since closely related but distinct species can look similar."
Due to the distance between the Philippines and the Asian mainland, it is believed that contact between mainland birds and those on the islands would be minimal, if none at all. By following the evolution of the bird species, Professor Lohman has found that a great number of Philippine populations were unique and not found in various Southeast Asia regions. "These unique genetic lineages were unknown before, however, our research hasn't gone far enough to say these are new species", explained Lohman, continuing by adding that "more rigorous analysis of the morphology may be needed to make that determination."