The word taxidermy is derived from the ancient Greek roots τάξις (táksis, arrangement) and δέρμα (dérma, "skin"), referring to the "art of stuffing, and mounting the skins of dead animals for exhibition in a lifelike state" (http://en.wiktionary.org/wiki/taxidermy). According to dictionary.com, it is "the art of preparing and preserving the skins of animals and of stuffing and mounting them in lifelike form". The word is a noun and the plural form is referred to as taxidermies. This is an advanced form of art in preserving and restoring dead specimens back to life for long term storage and display. Taxidermy is usually conducted on almost all the vertebrate members like fishes, amphibians, reptiles, birds and mammals. The last two groups being the most commonly exploited. An individual performing the task of taxidermy or specializing in the art of taxidermy is called taxidermist (plural; taxidermists). A taxidermist could be a professional working for museums or in a personal business designing trophies for personal collectors, hunters, fishermen, anglers, foresters and for education and research purposes.
A taxidermist needs to be both an artist as well as have good knowledge on the morphology and anatomy of species they specialize on. The profession demands great dedication, sincerity, hard work, experience and knowledge to be successful. Quality taxidermy products are as close as possible to the original live specimen and the attention to detail. A taxidermist can replicate, preserve and capture the natural grace and beauty of the specimen on the dynamic mount to reflect a realistic exposure to life and natural wilderness at its best. To replicate the original specimen it is necessary that the mount specimen must be correct to the original in every possible way and meeting the specifications to capture the majestic beauty of nature. The ability to accurately replicate anatomical and morphological details defines the success of a highly trained, experienced and professional taxidermist from amateur ventures. It is important that each specimen should be custom designed to reflect its natural beauty and elegance. If utilized properly avian taxidermy mounts could be effectively used for popularizing and educating general public on birds, bird life and bird conservation.
Quality avian taxidermy specimens with the highest craftsmanship and accuracy attract people to the specimens and inspires them to learn more about them at leisure. Specimens viewed in the fields and surveys by bird amateurs and enthusiasts could be better inspected and appreciated by reviewing nicely preserved avian taxidermy specimens in the museums and laboratories. It could be an integral part in helping and training new bird enthusiast, ecologists, field guides, field inspectors, foresters, biologists, ornithologists, students, researchers and general public alike in knowing about bird morphology and anatomy, bird shapes and forms, color and plumage, distinguishable identification marks and characteristics for closely related species. He well preserved specimens could add value to exhaustive bird research and field identifications for rare, vulnerable, endangered species or species with disputed identification parameters.
The bird models could greatly help in identification of closely related genera and species, sub species, tribes and sub tribes comprehensively with opportunity for detailed inspection for clues and characters, appreciate bird biodiversity, habits (breeding, nesting and foraging behaviors, life cycles, migration and residential preferences) and habitats, distribution, ecology, evolution, adaptive radiation, general ornithology and train people for better identification of challenging species under natural field conditions. Watching a nice collection of preserved natural bird eggs across different genera and species could be a rewarding educative process in itself and should be included in all bird education and awareness programs.
Bird taxidermy models and bird videos could add up comprehensively to bird awareness campaigns more than bird posters and pamphlets, as they give a vivid life like image to the specimens in the field and are particularly successful in grabbing the attention of the young kids and children, our future citizens. Live display of birds in aviaries and avian parks and zoos are a regular feature for popularizing bird conservation and bird awareness. It is not always possible to get the bird enthusiasts and students to always attend live bird displays and bird centers, particularly if they are located out of towns or cities. The natural bird models produced through taxidermy can fill up this vacuum in better reaching and educating people. The models could be looked upon as an attractive package for both kids and general public alike for presentations on specific avian species, making such scientific communications more engaging, rewarding and revealing for the target audience, viewers and visitors. Such taxidermy models will enable public to know the migratory species in closer details as they are seen only during a particular season and in difficult terrain and habitats for all to reach them or appreciate watching them closely under field conditions. It can certainly help in building deeper insight, association, connectedness and interests about birds, bird life and avian conservation with the public in a comprehensive manner.
Life size bird specimens help people to better appreciate the diverse and dynamic world of birds. Several birds meeting natural deaths and their undecomposed bodies discovered in the field or forests or retrieved from licensed and registered zoological gardens, aviaries, nursery and hatcheries, bird breeding and reintroduction centers could be procured following stringent protocols and exploited for their long term preservation for education and awareness purposes through professional and registered taxidermists. Care must be taken that such dead birds do not reach taxidermy black markets for commercial exploitation; and utilized extensively for the purpose of educating and in generating awareness among professionals, young students and public at large regarding birds and for the conservation of endangered species. It could certainly help in developing a positive partnership and co-operation in global avian conservation.
Article submitted by Saikat Kumar Basu and Peiman Zandi
In Greenland we find 235 different species of birds. Some of the most common species are the sea eagles, Arctic fulmars, black guillemots, eiders, ptarmigans and of course the Arctic terns.
Meet the Arctic Tern in Its Natural Habitat: Kitsissunnguit
The Arctic tern lives near the ocean or at the brim of lakes, and is found in great numbers in the archipelago Kitsissunnguit. Kitsissunnguit is located in Disko Bay, only a 1-2 hour boat ride away from the city Aasiaat. The islands of Kitsissunnguit have been preserved since 1988 due to the extensive birdlife and the many breeding Arctic terns. Birdwatchers still have access to the islands, giving bird lovers a unique view of the Arctic terns' life in their natural environment.
Be Able to Identify the Arctic Tern
The Arctic tern is a relatively little bird, and it looks quite elegant with its white feathers and black forehead. It is approximately 33-39 cm in length and has a wingspan of 66-77 cm. The Arctic tern can become as old as 30 years and they live together in colonies when breeding. They mostly feed on small fish, such as capelins, fry and small crustaceans that live in the surface of the nearby ocean and lakes.
There isn't much difference between the sexes, except for the males' slightly longer tail feathers. When the terns are born they have a greyish or brownish down which is replaced with the white feathers with brown markings later on.
The Arctic terns start breeding at the age of two, arriving at Kitsissunnguit and places like it, in May and June before they go south for the winter. The Arctic tern is the longest flying bird, covering the immense distance from the Atlantic Sea to western Europe and along Africa's west coast to the Antarctic waters. When reaching the coasts of Greenland, the Arctic terns start building their nests directly on the sandy beaches or in close vegetation near the lakes. They'll then lay and nurture their eggs, and 21 days later the eggs will hatch and the youngs are born. The youngs stay in the nest for the next couple of days before they start exploring their nearby surroundings. After another 21 days the youngs start flying and they're now all grown up.
An Incredibly Social Bird
The Arctic tern is a rather social bird that prefers to live together with a lot of other terns in big colonies. The colonies usually consist of 10,000-20,000 tern couples, and it is estimated that Greenland is visited by 65,000 mating couples in every heavy mating year.
With so many birds crammed together at a relatively small space gives the tern a great advantage relative to protecting themselves against predators. Most birds are threatened by dangers such as humans, foxes, gulls and falcons, but the terns are known for their ability to scare these off. It is so safe near the Arctic tern colonies, that other types of birds live right next to them for protection.
Article contributed by Mia Petersen
A recent study by evolutionary biologist Tom Flower of the University of Cape Town in South Africa has revealed that the African fork-tailed drongo mimics alarm calls of other species as part of its food gathering strategy. Wildlife observers in Africa have noted that the drongo is an accomplished thief, but it was thought that it was using its own alarm call to falsely alert other birds and meerkats that a predator was nearby, thereby causing them to drop their meal, which the drongo would swoop in and claim. It is estimated that the drongo steals more than twenty percent of its daily food. But the lengthy study carried out by Flower in the Kuruman River Reserve, located in the Kalahari Desert, yielded some astounding insight into the drongo's ability to perfectly mimic a variety of bird and mammal species for its own advantage.
In the wild, birds and mammals often pay attention to other species in their environment when it comes to sounding the alarm. An extra pair of eyes and ears can be handy when it comes to safety. But as researchers have discovered, the drongo can't be trusted. Perched high up in a tree a drongo watches with keen interest as meerkats forage, and when one of them catches something, an insect or lizard, the drongo sounds its own alarm call, anticipating that the meerkat will drop its prey and head for cover. However, the foraging meerkats are likely to ignore the drongo after it has used its own alarm call a few times. Undaunted, the drongo will switch to the alarm call of another bird species, often with successful results.
During the study, Flower and his colleagues tracked and recorded the calls of 42 drongos as they attempted to steal food from the same target. It was noted that of the 151 recorded incidents, the drongos switched to a different alarm call a total of 74 times. After giving its own alarm call without success, a drongo may give the alarm call of its target, which general proved successful.
Flower notes that he doubts the birds have 'theory of mind' – the ability to understand that another being has different beliefs and intentions – which is currently only attributable to humans. It's more likely that they are responding to feedback, or have an ability to grasp cause and effect, and use this to their advantage. Nonetheless, this is another example of the keen intelligence of the feathered creatures that share our planet.
Currency bills, coins and postage stamps all significantly contribute towards the national heritage of any nation. They bear the mark of important aspects of national history, archaeology, reflects images of different heads of states, significant contributors, historic characters, politicians, monarchs, emperors, lawmakers, mythological characters, statesmen, politicians, national architecture and monuments, national historic and heritage sites, different national symbols, people, social and cultural life of a nation, national sports, national and international sports events and sports personalities, celebrities, aboriginal communities, arts and crafts, wildlife, and natural resources to name only a few. In short, currency bills, coins and postage stamps carry the glimpses of a nation in their own right and often serve as an important window to peep through the steps of history to study, appreciate and understand the socio-cultural context of any nation or a country, both young and old. The practice of systematic study of currency is known as numismatics and the collection of coins is now considered to be a part of that although may not necessarily include both; while the collection of stamps is broadly called philately. The collectors of different currencies are therefore regarded as numismatists; while the stamp collectors are popularly known as philatelists.
Severe anthropogenic impacts across the globe have severely and negatively impacted the natural ecosystems, biomes, habitats and environments. As a consequence, global wildlife including avifauna have been significantly impacted due to environmental pollution, climate change, spread and dissemination of different diseases, uncontrolled and unattended forest fires, habitat destruction and habitat fragmentation, illegal infringements and grazing in protected areas, capture, hunting and poaching of several vulnerable species, introduction of exotic species, infrastructural developments in fragile ecosystems and expansion of agriculture  and industries among several other important factors. The currency bills, coins and postage stamps of different countries have been increasingly reflecting the local wildlife, including avifauna, as an important national heritage and resource. This silent approach has an important nationalistic as well as international appeal in prioritizing wildlife and avifauna conservation.
Several currency bills, coins and postage stamps have now been specifically designed and released to address the avifauna hallmark of different modern nations. Such iconic and socio-cultural bonding to national avifauna resources could be well connected and utilized for conservation of several threatened, vulnerable, endangered, critically endangered avifauna members around the globe. These not only help in communicating the message of conservation of birds of national, regional and local importance among local community members; but also carry the universal message of bird conservation through dedicated numismatists and philatelists to the international community. Global avian members are being challenged with several natural as well as anthropogenic factors that are threatening several vulnerable species with the risks of extinction. Hence it is important to utilize every possible opportunity for portraying the need for avian conservation. The iconographic presentation of different species of birds through currency bills, coins and postage stamps is an important, innovative and interesting avenue in popularizing conservation of different avifauna members.  This could be considered as a new and important approach in capturing avian conservation through national heritage and iconography. Several responsible nations across the continents of Asia, Africa, Australia, the Americas and Europe have already come forward in using bird icons in their currency bills, coins and postage stamps. However, more countries need to be involved, particularly the developing and under developed nations of Asia, Africa and Latin America that represent the bulk of the grandeurs of global avian biodiversity. By working together, we could utilize this innovative avenue to be an important ambassador for popularizing conservation of birds among global communities.
Article contributed by Saikat Kumar Basu
This essay is primarily about a collection of photos of certain birds found in the sprawling and lush campus of the University of Hyderabad, Hyderabad, India. It includes birds like, Red-ringed Parrot, Asian Paradise Flycatcher, Golden Indian Oriole, Green Bee-Eater, Indian Pond Heron, King Fisher, Little Black Cormorant, Oriental White eye, Red-wattled Lapwing and Spotted owlet.  The photographs capture the everyday behaviour of the birds within the natural spaces of the campus.
Although birds are delicate and small in appearance yet they have inspired some of the most challenging human quests for freedom, flight, beauty and nurture. But what have we given them in return? I ask myself this question, as I see the city gradually replacing its rocks and trees with glass and steel corporate structures.
Birds in and around Gachibowli, a place which is fast becoming a symbol of India's hyper-modern corporate sheen, seem to have found refuge in the campus. The calm and green expanse of this institution has become a 'Birdopia': a place where these birds can live, love and laugh, freely. The purpose of this collection is not only to highlight the beauty and diversity of the birds but also their discovery of an almost utopic space within the swamps, trees and gardens of the university.
Indian Red-ringed Parrots
Asian Paradise Flycatcher
Indian Golden Oriole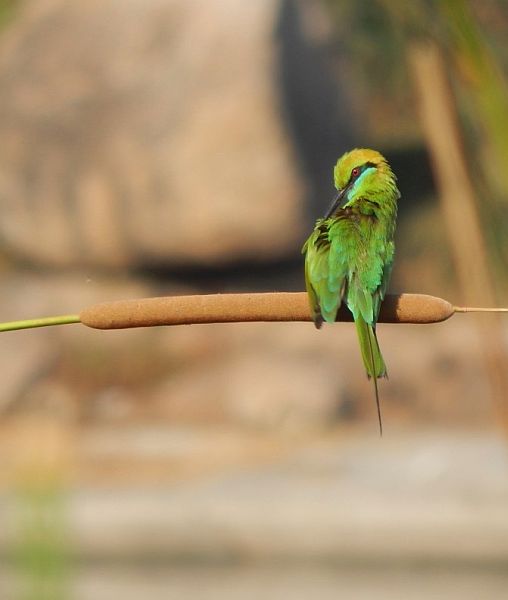 Green Bee-Eater
Indian Pond Heron
Indian Kingfisher
Little Black Cormorant
Oriental White Eye
Red-watteld Lapwing
Spotted Owlet
Article contributed by Jhilam Chattaraj