Canada goose: Advocacy for the National Bird Project, Canada
Canada, with 450 species of bird species, does not have a National Bird as one of its national symbols till date. Recently, the Royal Canadian Geographical Society (RCGS) and the Canadian Geographic magazine have jointly initiated a National Bird Project asking Canadians to vote for a tentative National Bird for the nation. The goal of this project is to help designate an official bird for Canada by 2017, the country's sesquicentennial. The project has been received by Canadians with great enthusiasm and the online voting process has registered over 27,000 votes. The top 5 Canadian bird species in the race have been the Common Loon, Snowy Owl, Gray Jay (Whiskey jay), Canada Goose & Black-capped Chickadee.
Fig 1. Common loon inscribed on the Canadian 1dollar coin. The coin is commonly referred to as the loonie after the popular loon icon immortalized on the 1 dollar coin.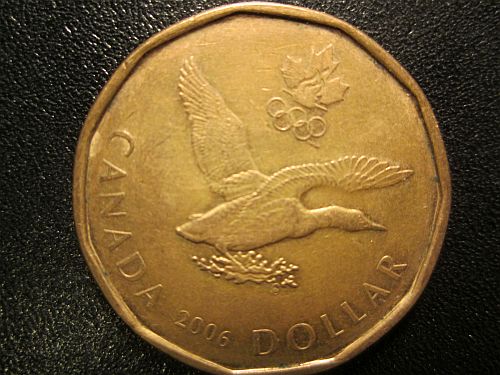 Fig 2. Canada goose inscribed on the Canadian 1 dollar coin. 
All other nations from the North American continent have their respective National Bird emblems. The National Bird of the United States is the famous Bald Eagle (Haliaeetus leucocephalus L.). Though the Golden Eagle (Aquila chrysaetos L.) is the National Bird of Mexico; some believe the Crested Caracara (Caracara cheriway Jacquin), depicted on the ancient Aztec pictograms that appears on the Mexican national flag, to be the true National Bird of Mexico. But the truth is that Mexico has both species designated as their National Birds. A Commonwealth nation from the Oceania, New Zealand has the flightless, terrestrial and nocturnal bird kiwi (Apteryx australis Shaw & Nodder) designated as their National Bird. The only other Commonwealth Nation that does not have any official animal or bird emblem designated till date is Australia. The flightless bird Emu (Dromaius novaehollandiae Latham) and the Red Kangaroo (Macropus rufus Desmarest) are unofficially recognized as the National Bird and National Animal respectively of Australia based on their endemic status to the Australian continent, and their wide abundance in the continent and extreme popularity. All the G7 member nations have National Birds except Canada, namely USA: Bald Eagle (Haliaeetus leucocephalus), Russia: Tundra Swan (Cygnus columbianus Ord); UK: European Robin (Erithacus rubecula L.); France: Gallic Rooster (Gallus gallus L.); Japan: Japanese Green Pheasant (Phasianus versicolor Veillot); Germany & Italy: Golden Eagle (Aquila chrysaetos L.). However, UK and Russia do not have an official designation for the National Bird similar to Australia.
Fig 3. The kiwi inscribed on the New Zealand 20 cent coin.
Another major global economic group BRICS (an association of five major national economies including Brazil, Russia, India, China and South Africa) also have National Bird emblem for most members such as Brazil: Rufous-bellied Thrush (Turdus rufiventris Veillot); Russia: Tundra Swan (Cygnus columbianus); India: Blue Peafowl (Pavo cristatus L.); China: Red-crowned Crane (Grus japonensis Statius Müller) & Eurasian Tree Sparrow (Passer montanus L.); and South Africa: Blue Crane (Anthropoides paradisea Lichtenstein, AAH). Again, China and Russia do not have official designate for their National Birds. The vast majority of several member nations of important economic organizations across the globe such as G-20, SARRC (South Asian Association for Regional Cooperation), Arab League, Shanghai Corporation, ASEAN (Association of South East Asian nations), European Union, The African Union, USAN (the Union of Latin American Nations), SAREC (South American Regional Economic Organization), OPEC (Organization of the Petroleum Exporting Countries), OECD (Organization for Economic Co-operation and Development), many of the NAFTA (North American Free Trade Agreement) and SAFTA (South American Free Trade Agreement) members also have different official National Bird emblems.
The Canada goose (Branta canadensis L.) is one of the best available candidates to take the prestigious designate as the National Bird of Canada. Their large size, handsome plumage, gorgeous look, elegant personality, graceful flight in a V-shaped pattern, characteristic honking calls and their pan-Canada distribution are significant parameters and credentials for the species to be recognized as the Canadian National Bird. The majestic Canada goose is an important waterfowl of Canada and is found foraging, roosting and nesting around fresh water bodies such as irrigation canals, inland lakes and reservoirs, rivers, swamps, ditches, ponds, pools and around farming and agricultural areas. Males and females have almost identical morphologies, with the males being slightly bigger in size and are hence quite difficult to identify separately. The species are reported to be extremely dedicated partners and parents. There are several sub-species reported across Canada such as: Atlantic Canada Goose (Branta canadensis Canadensis), Dusky Canada Goose (Branta canadensis occidentalis), Giant Canada Goose (Branta canadensis maxima), Interior Canada Goose (Branta canadensis interior), Lesser Canada Goose (Branta canadensis parvipes), Moffitt's Canada Goose (Branta canadensis moffitti) and Vancouver Canada Goose (Branta canadensis fulva). This is a protected species and a valuable symbol of the Canadian wilderness, rural as well as urban life.  Canada goose has never been designated as the State Bird or National Bird of any other states or province or districts across the Americas and to the best of my knowledge across the globe; making it an even more attractive candidate for the National Bird Project of Canada. Canada needs to have an official National Bird; since it has survived without one, unbelievably for the past 150 years.
Fig 4. Canada geese foraging in an irrigation canal.
Fig 5. Canada goose in different aquatic habitats.
Fig 6. Migrating Canada geese with their characteristic V-shaped flying pattern
Fig 7. A Canada geese couple with their chicks.