Avian Parks and Gardens are Important Conservation and Education Tools: A Case Study from Iran
The global anthropogenic pressure has been quite detrimental to avian populations and with global warming, climate change and environmental pollution several endangered species of birds are on the verge of extinction. In this context, the role of several conservation approaches, like establishment of avian parks or gardens, have significant roles in both entertaining and educating the public about avian life, conservation and avian biodiversity could not be overlooked. Furthermore, several such private gardens have also made important contributions towards conservation of endangered and threatened avian species too. Nowadays, bird's gardens are recognized as important habitats beneficial for those of endangered species and play a major role in the preservation of wildlife. It is worthwhile to mention that the awareness on varied aspects of bird life and their ecological behaviors, orientation with scientific designing and proper gardening approaches and perusing the principle of ecological landscape criteria are important in designing such exquisite gardens. Until recently, there have been more efforts towards designing and establishing avian gardens in different parts of Iran. Till date, nine such facilities are distributed across 8 provinces, including Tehran (Lavizan, Baghershahr‒Atr-e-sib), Isfahan, Guilan (Rasht‒Mahan Bird's garden and Astara), Shiraz, Alborz (Karaj), and Hormozgan (Kish Island) Bird Garden. They have all been established with the hope for promoting tourism, for beautification of the tourist centers in Iran and to promote education and environmental conservation.

Fig1
There are several important factors that should be taken into account during the design and development of avian garden or parks, such as: appropriate designing of different sections to facilitate developing the best bird watching landscape, establishment of appropriate bird habitats by growing trees, shrubs and bushes or artificial aquatic habitats, cages and enclosures for catering to the need of different species, drawing a facility plan for the park or garden, analyzing and controlling soil status within the site, ensuring water security, establishing an avian veterinary unit for treating sick and injured birds and special attention to conservation and propagation of different species, regular monitoring and surveillance and maintaining strict sanitary regulations to prevent the outbreak of diseases and infections among the avian members.

(Source: Google Images)
Mahan Bird's Garden
Mahan Bird Center (as called Mahan Bird's Garden) is situated in the Rasht city of Guilan Province of Northern Iran (37°20'48.8″N, 49°38'27.1″ E). The construction of the site began 1993and it started welcoming visitors since 2009. The center name 'Mahan' has been adopted from the given name of the son of the owner. The center is located in the northeast corner of the city midway between the Rasht and Khomam. The approximate cost of establishment has been estimated ~US $ 100,000 (Khomam News June 25, 2013).  There was no external funding available for the establishment of the center and the major cost of construction and establishment was covered by the management. The owner, Mr. Behzad Mahroo started to think about creating such center mainly due to his personal interest on avian life since he was only 7 years old.  His main objectives behind the establishment of this center links to his intense passion and love for birds for their unique diversity, interesting behavioral patterns and for his emotional attachments towards the conservation of several defenseless species from relentless anthropogenic pressures. With a humble beginning of mere 10 birds, the center soon reached an avian population ~2000 representing an impressive 100 species assigned to over 52 cages and enclosures. The range of species maintained in this center represents ~30% for the local Iranian and ~70% for the exotic bird species. Majority of the avian species included in the center are exotic species collected across the planet. According to the manager, they do not have any immediate plan to have a specialized section of the aviary dedicated to local Iranian or central Asian species. This is mostly due to lack of adequate space and available funding for establishing this specialized section. However, the management prefers to devote the related genera of birds to identical locations due to ecological similarities and/or similarity in their food habits and foraging patterns.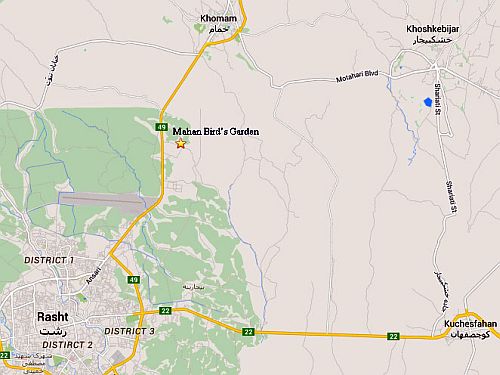 (Source: Google Images)
Among the existing bird species, the following can be mentioned: Peacock or peafowl (Pavo cristatus), Pheasant (Phasianus colchicus), Alexandrine parakeet (Psittacula eupatria), Fischer's lovebird (Agapornis fischeri), Silver pheasant (Lophura nycthemera), Sun conure (Aratinga solstitialis), Silky fowl (Gallus gallus var. domesticus), Golden eagle (Aquila chrysaetos), Mandarin duck (Aix galericulata), Black swan (Cygnus atratus) and Tawny owl (Strix aluco). There are also some woodland mammal species that are kept at the center in a very limited numbers (e.g. Iranian Brown bears found in southern hillside of Alborz Mountains). These mammals are sent to the center by the Iranian Environmental Organization-Rasht for treatment and recovery to good health after being unfortunately threatened, chased or poisoned or being injured in hunting attempts by the local poachers.  At first the center was supposed to occupy an area of 5000 sq m;but during recent years it has reached up to 30,000 sq mspace to accommodate the large avian populations maintained here. The monthly cost of running this center is around US $ 6,000 along with 11 staff members that includes one veterinarian, some experts working in different specialized sections and regular maintenance staff.
The veterinary facilities here are to avail them in time of need for the treatment of sick and injured birds. Despite all the efforts done by the manager, there have been some unfortunate bird deaths in the past due to local disease. However, there has been no report of any bird flu outbreak in the center till date. Majority of the operation fund (~95%) for the center is provided by the management via the owner's direct investment; however, the remaining is procured through entry fees (25,000 Rial ~73 US cents/visitor). The center operates throughout the week (including formal holidays) between 9 AM-6 PM daily. The center is accompanied with some limited amenities like visitor sitting accommodations and refreshment areas. There is a small cafeteria just next to the water habitat for the swans. The center is not only designed to provide entertainment and education for the public; but also to propagate and rear several endangered bird species and to treat and return injured local species back to nature. In that the centre serves as an important conservation cum rehabilitation center for some designated avian species. There are some proposals for establishing organized breeding centers within the garden in the future.
The average annual number of visitors coming to the center depends largely on the climatic and seasonal factors; but, commonly the center welcomes more visitors during the first half of the year. The center is deeply concerned about the terrible and disastrous conditions of several endangered, threatened and migratory bird species within the local lagoons and wetlands of the Guilan province due to recent incidences of unrestricted poaching, indiscriminate pollution and lack of proper monitoring and surveillance. Unfortunately, despite all the efforts made and/or constraints undertaken to date by the Iranian Environmental Organization the incidences of poaching could not be curbed successfully, significantly impacting the local avian population. The management humbly requests the international communities, non-governmental organizations and bird enthusiasts to kindly support their initiatives against all the odds to contribute in the developmental programs of Mahan Birds' garden. The center could be reached via Viber (+989112378535) or direct call (+989111313370). The center also has an active Face Book page at: https://www.facebook.com/Rasht.Mahan.Birds.Garden
Photo credits: Peiman Zandi
Article contributed by: Peiman Zandi and Saikat Kumar Basu
References
Khomam News (2013) The effective role of Bird's garden in attracting Available at: http://khomam-news.ir/
Further readings
Iranian Biodiversity & Wildlife Bureau (2014) An Updated Checklist of the Birds of Iran. Biodiversity & Wildlife Bureau‒Natural Environment Division- Department of Environment
Yazdandad H (2011) A study on species diversity and population fluctuation of birds in Aquatic ecosystem of Khorasan Razavi province, iran. J Animal Environ 3(1):45-58.
Mansoori, J., 2008. [In Persian: A guide to the birds of Iran]. 2 ed., Ketab Farzane Pub. Tehran. 513 pp.
Benson  John  (2003) Environment  ethics.  Translated  by Abdolhossein  Vahabzadeh,  Jahad  Daneshgahi publications, Mashhad, 1st edition.
Alizadeh  Shabani,  A,  McArthur,  L  and Abdollahian,  M.  (2009) Comparing different environmental  variables  in  predictive  models  of bird distribution. Russian J of Ecol. 40(7): 537-542.