Parakeets are an integral part of the Indian subcontinent as well known and highly celebrated avifauna members down the ages. Although commonly misidentified as 'parrots' all the members of the parrot family reported from the Indian subcontinent are actually 'parakeets' and not true parrots, with the exception of the Vernal Hanging Parrot (Indian Lorikeet). The distinctive calls of the parakeets are reminiscent of both the Indian wild as well characteristic of the resident feral populations in several cities and towns of the continent. The parakeets have been closely associated with the art, culture, literature, language, ethnicity and history of the land in a colorful and interwoven mosaic. The close association of the different parakeet species to the subcontinent life and culture represent a kaleidoscope of people, culture and a vast array of noisy, colorful and majestic species of birds closely integrated together. Several parakeet species from the subcontinent have also been introduced in other countries on different continents; and like their native habitats have been successful in establishing feral populations in their new homes overseas.
The parakeets belong to the Order Psittaciformes, Superfamily-Psittacoidea, Family-Psittaculidae; Sub family-Psittaculinae and the genus Psittacula. True parrots (such as Macaws, Parrots and African Grey Parrot) belong to the Superfamily-Psittacoidea, Family-Psittacidae; while Cockatoos belong to the Super Family-Cacatuoidea and Family-Cacatuidae and are then placed under different sub-families and sub genera. There is a third group of parrots called the New Zealand Parrots belonging to the Super Family-Strigopoidea. Leaving aside all the taxonomic jargon, we can simply mention that both parakeets and parrots belong to the same family but are then separated morphologically, genetically and geographically.
Parrots are represented by over 350 species and over 80 genera across the planet but they are most well know in the regions of Central and South America, Africa and Australasia. The parakeets (often called the lesser parrots) are smaller in size compared to the true parrots; and are more common in Australia and the Indian subcontinent. The most popular and well known parakeet in the world is the Australian budgerigar or the famous budgie or the keet (Melopsittacus undulates Shaw) and is reported to be one of the most common pets, following dogs and cats.
There are 11 parakeets reported from the Indian subcontinent (please see the table below) and the 12th one is suspected to be a hybrid (Intermediate Parakeet or Rothschild's Parakeet). Only one hanging parrot species is reported from the region (Vernal Hanging Parrot or Indian Lorikeet). All the 11 parakeets belong to different species under the same genus ; with the Vernal Hanging Parrot or Indian Lorikeet that belongs to the genus Loriculus. Many of the parakeets have different sub species occupying different geographical regions. They vary in size between 14 cm (Vernal Hanging Parrot or Indian Lorikeet), the smallest of the Indian parakeets, to as big as the Alexandrine parakeet (53 cm) and the Nicobar parakeet (61 cm). The Nicobar parakeet is the largest reported parakeet. Other members are intermediate in lengths between these two extremes but are all above 35 cm on average.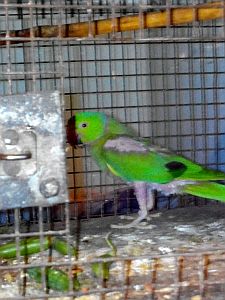 Juvenile Alexandrine Parakeet (Psittacula eupatria Linnaeus). Photo credit: Manorma Sharma
The Long-tailed Parakeet, the Malabar Parakeet and the Nicobar parakeet are reported to be endemic to their localities in the subcontinent. Majority of the parakeet species are sexually dimorphic and often the juvenile and sub-adults differ in coloration and plumage from the adult members. Most of these species are known by various vernacular names in the ethnically and linguistically diverse subcontinent and often similar name (s) from different regions may or may not represent same species. The parakeets are extremely popular as pets in most parts of the subcontinent; and hence an important point of concern for their successful conservation. The Rose-Ringed Parakeet is one of the most common species seen as pets in home across the region. But according to TRAFFIC (India) eight out of 12 parakeet species has been commonly seen in the Indian pet markets during their survey, indicating that ~67% of the species reported form the region has been seriously impacted by poaching, illegal capture and pet trade.
Rose-ringed parakeet or Ring-necked parakeet (Psittacula krameri Scopoli). Photo credit-Manorma Sharma.
Commonly known Indian subcontinent species are mentioned below:
| | | | | | |
| --- | --- | --- | --- | --- | --- |
| English name | Scientific name | Length (cm) | IUCN Status | Sexual dimorphism | Distribution |
| Alexandrine Parakeet or Parrot or Large Indian Parakeet | Psittacula eupatria Linnaeus | 53 | LC, SC-IV | Yes | Indian subcontinent & SE Asia |
| Blossom-headed Parakeet | Psittacula roseate Biswas | 36 | LC, SC-IV | Yes | NE India & SE Asia |
| Lord Derby's Parakeet or Derbyan Parakeet | Psittacula derbiana Fraser | | NT, SC-I, PART-III | Yes | NE India (Arunachal Pradesh) & limited distribution southern China |
| Grey-headed Parakeet or Humes Parakeet or Finsch's Parakeet | Psittacula finschii Humes | 36 | LC, SC-IV | No | NE India & SE Asia |
| Intermediate Parakeet or Rothschild's Parakeet (?) | Psittacula intermedia Rothschild | 36 (?) | ? | Yes | Never seen or officially reported in the wild and is believed to be most plausibly a hybrid between Slaty- & Plum headed Parakeets with considerable variations among different specimens. Could be generated under some captive breeding. Some unconfirmed reports highlights on Sub-Himalayan distribution (?) |
| Long-tailed Parakeet or Rosy or Red Cheeked Parakeet | Psittacula longicauda Boddaert | 47 | NT, SC-IV | Yes | Andaman & Nicobar islands (India), restricted localities of SE Asia (parts of Indonesia, Malaysia and Singapore)* |
| Malabar Parakeet or Blue Winged Parakeet | Psittacula columboides Vigors | 38 | LC, SC-IV | Yes | Western Ghats (India)* |
| Nicobar Parakeet or Blyth's Parakeet | Psittacula caniceps Blyth | 61 | NT, SC-IV | Yes | Nicobar islands (India)* ; largest among the parakeets |
| Plum-headed Parakeet | Psittacula cyanocephala Linnaeus | 36 | LC, SC-IV | Yes | Indian subcontinent* |
| Red-breasted Parakeet or Mustached Parakeet | Psittacula alexandri Linnaeus | 38 | LC, SC-IV | Yes | Indian subcontinent |
| Rose-ringed Parakeet or Ring-necked Parakeet | Psittacula krameri Scopoli | 42 | LC, SC-IV | Yes | Indian subcontinent & Africa |
| Slaty-headed Parakeet or Himalayan Parakeet | Psittacula himalayana Lesson | 41 | LC, SC-IV | Yes | The Himalayas; across the subcontinent; demonstrate altitudinal migration pattern |
| Vernal Hanging Parrot or Indian Lorikeet (Sub Family-Agapornithinae) | Loriculus vernalis Spartman | 14 | LC, SC-IV | No | Indian subcontinent & SE Asia |
NT: Near Threatened; LC: Least Concerned; ?: Doubtful status;  *: Endemic species; SC: Schedule III & IV under Indian Wildlife Act (1972), Protected Species

Map on the Indian Sub-Continent
The diet of the parakeets usually include seeds, nuts and wild fruits, cereal grains, pigeon peas, buds and flowers, orchard fruits and other plant parts; rarely insects and worms. They are also found to flock in huge numbers along edges of river beds eating mud to supplement their diet with mineral elements. They usually like nesting in the cavities of old trees or in natural or artificial holes or cavities of old and abandoned towers, chimneys and buildings, abandoned farm houses and factories etc. They live in the wild as dedicated pairs and are fiercely territorial in nature. Both parents take part in rearing their chicks and are known to be devoted parents. Most commonly observed courtship behaviors noticed in different parakeet species varies between courtship feeding, rubbing of bills, sitting closely with the partner and head bobbing and other related behaviors. The young hatch after an incubation period of about 20-40 days and fledge between 4-10 weeks depending on the species concerned. Each clutch again varies between 2-8 eggs depending on the species of the parakeet.
The eggs laid by all the parakeets are white in color. Fledglings are usually old enough to leave the protection of their nest before the onset of monsoon. Chicks are usually monomorphic and show their dimorphic plumage on adulthood depending upon their species. The males usually have brighter spots, patches, marks and rings compared to the female of the species exhibiting dimorphism. Most parakeets make affectionate and adorable pets. However, many species are aggressive and could bite when disturbed, threatened, irritated and provoked in self defense. In addition to humans; other predators of the parakeet eggs and chicks include snakes, monitor lizards, mongoose, civets, monkeys and birds of prey. Feral populations of different parakeet species have been well established in different cities, municipalities and towns of the subcontinent and the species have successfully adapted to the urban environment.
In the rural areas of the subcontinents often giant flocks of different parakeets are considered as pests and attack fruit gardens and orchards causing huge financial damages by foraging on both ripe and immature fruits and flowers. However, under Indian Wildlife Act (1972) all the parrots are protected species and could not be killed and hunted under Indian laws. The life expectancy in the wild varies between 6-12 years depending upon species; while in captivity and in the zoological gardens and aviaries they have been reported to live for almost 30-40 years or even more. Breeding the Indian parakeets in captivity is not greatly successful and hence the pet trade has been a detrimental factor causing illegal capture and sale of different species; the most popular being the Indian Rose-ringed Parakeet. But other species are also observed in the illegal pet markets in great numbers. Few species being capable of mimicking human speech and have been highly endured as popular pets causing further damages to their natural population dynamics. Chicks are often trapped for the purpose of illegal trade on pets and are responsible for their high mortality.
Often housed in small cages with poor diet and poor access to fresh water and sunlight have cased the deaths of several parakeets in confinement. Transportation after capture over long distances also results in high mortality rates. Furthermore, poor sanitation of the cages, insufficient diet, over crowding, diseases and exhaustion kills a large number of the captured parakeets even before they are sold; and many die off soon after reaching their end consumer due to too much care (over care) or total negligence and lack of training and necessary knowledge in managing, rearing and handling caged parakeets.
In addition to the anthropogenic pressures in the form of poaching, hunting and capture; the parakeets are also impacted by rapid degradation of their natural habitats, devegetation, habitat fragmentation, forest fires and pollution. Stringent monitoring and surveillance of the illegal pet markets by both government and non-government organizations will be absolutely important along with raising awareness and education among the general public  for successful and long term conservation of the beautiful parrot species of the subcontinent.

©TRAFFIC (India). Published with kind permission of TRAFFIC (India) for the purpose of education and awareness. The poster is available at: http://www.wwfindia.org/?6900/TRAFFIC-helps-to-claw-back-illegal-parrot-trade-in-India
Article submitted by: Saikat Kumar Basu
Birds constitute an important aspect of our natural world. They are an important part of the global ecosystem and biodiversity, food source and inspiration for several aspects of human art, sculpture, culture, ethnicity, literature and society. Different bird species inhabit all the continents of the globe representing both the 'Old World' as well as the 'New World' including the northern polar region, Siberia and Greenland to the Antarctica. They are present in all the cities and towns and rural areas dotted across the planets from the remote islands to the barren deserts; and from the high mountains to the fertile plain lands and dry, arid plateau regions. They have successfully invaded every ecosystem on earth and adapted to them accordingly for their survival and multiplication from the geologic past.
They have invaded the boreal forests and the cactus infested deserts; they have migrated huge distances unimaginable to reach remote islands and distant continents to make their new homes and have established strong feral populations in the urban areas in different corners of the planet. From the lush green tropical forests to the bare vegetation deserts and from the lofty mountains to the open sea; they have occupied every possible and available space with success and great efficiency. Many species have settled close to human habitations and prospered by sharing resources and trash of their human neighbors to carve out a successful niche for them. In exchange, birds have provided humans with sources of food and nutrition from the very early days of hominid evolution to the modern high tech industrial, poultry production systems.
However, this nice balance of sharing and co-inhabiting the same space has been greatly shifted to a negative ends from the dynamics of the human perspective. Several species of birds have been placed increasingly under Near Threatened, Threatened, Endangered and Critically Endangered status by the IUCN from every continent due to significant changes to their population structure. Severe anthropogenic pressures across the world due to indiscriminate poaching (illegal hunting, capture, trade and transportation of endemic, exotic and vulnerable species), loss of habitats (loss of key foraging, hunting, breeding and nesting sites; habitat degradation and habitat fragmentation; destruction of virgin forests) forest fires, environmental pollution (global warming and climate change, nuclear radiation, discharge of untreated industrial effluents into the natural environment, emission of toxic gases from automobiles and industries, indiscriminate and over application of agro-chemicals polluting underground and surface water resources), spread of several deadly pathogenic diseases, over exploitation of natural resources both aquatic (marine and fresh water sources) and terrestrial (rapid infrastructural, industrial and agricultural expansions and developments, aggressive mining activities and rapid and unplanned urbanization drives) without any long term planning and non-judicious management of natural resources for short term financial gains; and deep and unrestricted encroachments inside fragile and susceptible ecosystems and environments for purely commercial ventures are some of the factors that are negatively impacting global avian population.
It is important to think about why is this happening across the world and what we could do to help the conservation of our precious avian members? One of the most important factors that can play an important role in the successful conservation of the avian species across the planet is the education and awareness of the people, particularly the young children who are our future citizens. It is absolute necessary to bring the causes of decline in the global avian populations to our dinner table and make it a household discussion so that people can realize, understand and appreciate the values of avian conservation. The first step in achieving that end as mentioned above is raising the education and awareness level of the global human community by catching them young.
The school systems constitute one of the basic frameworks of early education and that should be the primary focus of the bird conservation education and awareness programs. It should be important to reach the young kids through interactive programs organized and integrated within their school curriculum to expose them slowly to the importance of the diversity of bird life, their life cycles, and how they survive in different ecosystems and in stressing why they should be conserved for the future generations. Movies and videos, small hand on workshops, art works and interactive lecture session geared towards young children needs to be designed. It will be also important to keep in mind the socio-cultural perspective of the target kids when the programs are being designed. What works for the urban students may not be suitable for the students coming from the rural communities and what appears more appropriate from the perspective of a developed nation, may not be practical for students from developing and under developed nations. Hence such programs need to be custom designed based on the specific student populations to reach them more efficiently.
The secondary and tertiary levels of education could include even more engaging and involving projects such as participation in field projects like bird survey, nature photography, and preparation of reports (such as field data report, eco report or environment report), high school or university level research projects on bird life, bird ecosystem and conservation, data generation on several endangered, critically endangered or threatened local species, study on different exotic and endemic species, study on different anthropogenic pressure and activities and how they are shaping and changing local bird life and behaviors, studying and photographing interesting bird behavior and making presentations back to the class. Involving the peers for spreading education and awareness on bird conservation could be an effective strategy in reaching more young people efficiently. Older students could be trained to communicate about their experiences in bird conservation to the younger students for better appreciation of their peer achievements and to learn significantly from their experiences rather than external source of education and awareness.
Class based sharing of stories and presentations made using the black board or smart board options or use of colorful posters or hand made story boards prepared by students could not only engage students but also other members of the society. The interactive student sessions could be extended to the parents, teachers, instructors and lecturers and also to the senior citizen groups for highlighting the causal factors behind the declining aspect of global avian population and their possible recovery through consistent, long term, sustainable and coordinated efforts of the government and non-government organizations; different local, regional and international conservation organizations and local community members. Slowly such education and awareness drives could not only reach the younger generation but broadly to all members of the society. The supportive role of the media could not be ignored at all and they should be made important stakeholders in the process of education and awareness of the public through their investigative reports, periodicals and serials on bird conservation efforts around the globe, talk shows, documentaries and mocumentaries on bird related topics, newspaper reports, columns, editorials, features, letter to editors, magazine articles and different interactive question-answer session could greatly help in engaging public towards avian conservation.
It is important to realize that we have to understand and cater to the anthropogenic issues first to solve the problem of crisis in the avian life. Several biodiversity hotspots are located in the poor developing and under developed nations of the world. The poor economy, unstable political situations and ethnic tensions have pushed several local communities towards the forest and making them dependent on these ecologically fragile resource bases heavily. Unless the social and economic situations of such remote rural settlers, village communities and forest fringe residents are improved, and they are relocated where possible, the ground situation in both avian and other wildlife conservation has little chances for success. The bird conservation education and awareness programs must highlight the plight of such people to all to understand the dynamics of human-animal conflicts better to resolve the problem. Unless the anthropogenic issue is critically addressed the fruits of the conservation efforts will not be able to take its roots successfully.
Article submitted by Saikat Kumar Basu
Photo credits: Saikat Kumar Basu, Ratnabali Sengupta, Srimoyi Mazumder, Jayati Naskar, Manorma Sharma, Monikankana Dasgupta, Olga Osdachuk, Peiman Zandi, Xiuhua Wu & Cenny Yau.
Conservation is a long term investment for any locality, region or nation for a better and prosperous tomorrow by building on from the experiences of the past and the premium strengths of the present. Through conservation of different endangered avifauna and wildlife species and our environment, we are able to rediscover ourselves and the hidden strengths that we carry inside while trying to make this planet a better place for all of us to share and live behind for our future generations. A recent report (November, 2014) on indiscriminate killing of houbara bustard (Chlamydotis undulate Jacquin, 1784) birds in Balochistan province of Pakistan by royal tourists from Saudi Arabia has sent global shockwaves around the world. The species, one of the largest among the bustard members have been designated as vulnerable by the International Union Conservation of Nature (IUCN) and is in immediate need of conservation across its entire distribution range from North Africa to west Asia. Although the provincial High Court has passed the ruling henceforth banning the practice of bird hunting; but in a country that has so poor record of human rights and economic development and plagued with innumerable problems, it is quite doubtful whether the conservation practices could be implemented effectively. Pakistan's poor economy and lack of growth is heavily dependent on foreign aids for survival and the economic conditions in remote and rural areas of the Balocistan province is worst in the county in spite of the region being richest in natural resources due to a number of factors such as lack of planning and proper wealth distribution, poor administration, infrastructure, connectivity, industrialization and job opportunities. The economic deprivation of the region makes it even more vulnerable for any successful conservation efforts for the houbara bustards, since the economic situation of the people in the province as well as those settled around protected areas are deplorable. The national government needs to look for sustainable approaches in developing the region and only then can successful conservation of vulnerable species takes shape in the future. For now, the situations look extremely grim both for the people as well as the local, helpless, endangered wildlife species. It seems that in spite of reaching the 21st century we have not been able to establish the stringent avian and wildlife conservation policies across the globe for several reasons.
Recently stringent initiatives adopted by the local governments have been successful in reducing the poaching incidents, which was on sharp rise for the past two years. Deployment of highly trained forest guards with advanced monitoring and surveillance and use of sophisticated arms; along with highly coordinated support extended by army intelligence and ground troops have resulted in the deaths of a number of members of organized international poaching units operating here. However, the death of poachers will only temporarily reduce poaching or disperse them to other less secured forest belts for their sustenance; but will never be able to eradicate them completely, resulting in gain at one region with severe loss introduced in another. The death of a poacher means that a poor and helpless family depending on that poaching income will be further pushed backwards; and will possibly force another member from the same family to opt for poaching as an illegal profession, since they do not have any viable economic alternative. This is the hidden factor that tells us why the increasing number of death of poachers has only increased poaching in recent years.
The dangers of illegal trade on different avifauna species and other wildlife species have been on rise across the globe, particularly impacting biodiversity rich developing and under developed nations. However, it is important to identify the root causes of the phenomenon rather than simply voicing against it. Unless we understand that why illegal wildlife trade are existing in the first place, no concrete steps could be adopted for successful eradication of this evil trade and successful conservation efforts could be implemented for protecting the wildlife. In most developing and under developed countries of Asia, Africa and Latin America rich in biodiversity resources; the national economies have been under deplorable shape and condition over decades post World War II following the end of different colonial rulers. The newly independent nations from these continents under the poor leadership and successively corrupt, incapable and handicapped national governments mismanaged their economies with no long term sustainable planning for the progressive development of their nations. As a consequence, a substantial part of the population who where painfully exploited during the colonial periods have continued to live under abject poverty with very poor and negligible education, training and regular employment opportunities, societal and racial discriminations, serious ethnic conflicts, civil wars, economic exploitations by the other better off members of the society taking advantage of their downtrodden situation of the poorest of the poor and the political instability and anarchy existing in these nations.
A significant part of these deprived communities from developing and under developed world are located in remote rural areas, forest fringes, under developed backyards and badlands and several of them are in real sense of the term forest residents. They have neither any future nor opportunity to grow economically and are heavily dependent on their scanty local forest resources for their daily sustenance. Hence, for their desperate attempts of survival they have been at the base of the theoretical pyramid of stakeholders involved in illegal wildlife trade. These helpless and poor communities are recruited by local war lords or corrupt politicians and/or administrators, local business people and black marketers (as the case may be) involved at the next higher level of this illegal trade. Higher above this are the middlemen who links these corrupted business communities to further bigger national and international trading syndicates that constitute a formidable stakeholder elite group in the process that provides the huge economic, political and administrative, communication and intelligence support necessary for maintaining the trade. At the peak of the pyramid of stakeholders are the consumers who are paying for this illegal wildlife trade for their fascination for wildlife as pet and trophy items, for their use in traditional medicine and illegal pharmaceutical markets based in the strong and immerging economies of the middle east, central, south, south east and far eastern reaches of Asia, EU, North America, Australia and other economically prosperous regions of the world. This is happening in spite of strict legislative and administrative safe guards discouraging illegal wildlife trade through loop holes in the system and black markets of wildlife trade existing in these progressive nations. Furthermore, insurgencies have developed in the rural and under developed areas of several such poor nations; and the cash flow from this trade are being efficiently used by some opportunistic quarters for fuelling such activities further promoting anarchy and destabilization complicating the process. The whole situation has much broader eco-sociological implications and what we have been observing through the global illegal wildlife trade is only the tip of the iceberg of a much serious and deeper inter- and intra- societal economic and political crisis in the developing and under developed nations. Hence, unless the deplorable and helpless conditions of the remote rural settlers, forest fringe community members and local poor residents are made economically sustainable there is no way any nation in this planet, whatsoever economically and politically strong could ever put an end to this evil trade.
Reasons for the urgent need of conservation of the global avifauna and wildlife species are presented below:
Conservation is very important for the protection of our environment preventing us from several natural disasters and calamities such as floods, drought, famines, fire and cyclonic storms. Case in point is the mangrove forests of the Sunderbans. Rapid deforestation and degradation of this key habitat, home to several endangered avian and wildlife species, due to severe anthropogenic pressures have been making the inland more vulnerable to frequent cyclonic disturbances and large scale damages of property and life.
The loss of several key animal and plant species from any such fragile ecosystem as mentioned above is reducing sustenance opportunities for the local resident human populations due to over exploitation, non-judicious use and heavy consumption of local forest resources with whatsoever no long term planning. All these approaches in turn are making the life of the local people extremely difficult with lesser economic opportunities by each passing year.
Conservation of avian and wildlife species is also important in effectively preventing rapidly advancing and impending desertification at several places. With the loss of several important plant species and vegetation, the productivity of the land is invariably reduced. In absence of the vegetation, the top soil is soon eroded due to several geological factors, exposing the barren under skeleton of the soil profile. The approaching deserts then slowly consume adjoining agriculturally suitable lands curbing livelihood opportunities for local people. Rapid loss of vegetation is also an important factor contributing towards devastating landslides.




Rapid fragmentation of habitats. Loss of animal migration corridors (due to several factors like unplanned expansion of rural housing, agricultural and industrial complexes in previously forested areas, severe environmental pressures due to anthropogenic influences beyond the carrying capacity of a ecological zone) pushes resident wildlife populations out of their conventional range areas into direct confrontation with local resident human populations, rural inhabitants and forest fringe dwellers.
The severe competition for food, water and space between wildlife and local residents are resulting in severe human-animal conflicts in majority of the developing and under developed nations resulting in the loss of local wildlife as well as human life and properties.

Loss of species is related to severe degradation of vulnerable ecosystems. Many of such ecological and biodiversity hotspots are important tourism centers for both local and foreign visitors enthusiastic about wildlife, bringing in economic prosperities for such areas and valuable foreign exchange for any nation.
Death of such key tourism centers will certainly block the much needed cash flow into a region and suspend the economic growth of the local people for better life and opportunities.

Conservation not only helps in preserving plants and animals, but it also builds the nation by strengthening the bases of natural resources and caters to the life of the people by supporting the growth of the local and regional economies. It not only helps in protecting the endangered species but it also makes the region secure against environmental pollution, natural calamities and ecological disasters.




Over-exploitation of the fishing stocks and non-judicious and indiscriminate harvesting for the purpose of commercial fisheries​ and increasing consumer demands are seriously jeopardizing ​global fish populations. Hence it is important to have strong legislative protection and safeguards for the long term sustainability of both the marine and freshwater fishing industries for conserving several important species that have been endangered due to commercial overexploitation. Another factor that is important to mention here is that the depletion of global fish stocks as well as several terrestrial and aquatic (freshwater, estuarine and marine) vertebrate and invertebrate species are not only impacting us, but also birds and other wildlife species due to loss of their prey base and important food sources.

It is nice to know about different local, regional and international conferences on avian and wildlife conservation efforts and about human-animal conflicts. There are no doubt important discussions made in these platforms and certainly some resolutions are arrived at the end of the deliberations by several noted participants who are well known in their respective fields and are also highly respected for their roles. However, whether such conferences will be able to provide a guide map for future conservation of the wildlife and help in significant contribution towards protecting the species is doubtful. One of the missed angles in all such conferences is the lack of participation of the most important stakeholders, the local residents who spend their lives along with wildlife species both in India and abroad. Without really getting the feedback from their perspective, how far the conservation efforts are going to be successful in the long term is questionable. It will be important to include stakeholders from the lowest level of engagement with the species in future deliberations to identify the true genre of human-elephant conflict to carve out a passage way for the successful conservation of the species. One of the significant lessons learnt in successful conservation of other major species in different corners of the world, particularly from the developing and under-developed world is the strong correlation between the economic development, year long employment opportunities and sustainability of the local residents with protection of target bird and wildlife species.

The loss and thefts of protected species, including highly endangered avifauna from several zoological gardens, biodiversity and eco-parks around the world, has been increasing at an alarming proportion. It is absolutely shocking to note that protected species are being targeted from the sacred haven where they are placed for highest protection. This must be an insider mediated activity and through investigations need to be conducted to reach to the bottom of the incident. The level of security in the zoological gardens across the nation and their poor maintenance is a certain cause of national shame and the failure to provide security is indeed a grave crime. It is sad to note that so many species including avifauna in the zoos across the nation are suffering due to such negligence on the part of the zoo management committees.

Mangrove belts across the planet are facing serious challenges of environmental pollution, climate change regimes due to global warming and rising sea water level are further compounded by the local anthropogenic pressures. One important example is the Sunderbans that constitute the world's largest mangrove delta in the Indian subcontinent across the Bay of Bengal spread across the two sister nations of India and Bangladesh. The tremendous anthropogenic pressures generated on the Sunderban ecosystem due to poor people living across the border of the two countries in combination of other factors are seriously endangering the mangrove vegetation threatening several local bird species and other wildlife with the eminent threats of extinction and is in need of immediate attention.



Although the economic empowerment of any region is absolutely important; however, the challenges of the conservation of the local ecosystem and environment constituting the fragile local biodiversity; and wildlife and avian members will be monumental. Unless a healthy balance is maintained between economic developments and the environment conservation simultaneously in following the principles of Eco-sociology; there could be substantial challenges the conservation of biodiversity. This vicious cycle is a never ending wave of jeopardy and will continue to haunt all the stakeholders in the process-the society, rural resident and fringe dwellers, forest guards and managers, endangered species, government and the public. Wildlife conservation is not that easy and exciting as it appears on the surface but way more daunting and critically challenging since it has a broad eco-sociological base to it. Without solving the anthropogenic crisis, the wildlife conservation is only but a distant dream in developing and under developed nations. The loss of endangered avian species is extremely painful and more such losses are anticipated in the future, since we do not want to take up the task of dealing with the real socio-economic factor resulting in poaching and illegal capture of birds and wildlife in vulnerable ecosystems. Furthermore, if the local flagship species are so severely impacted, one can well understand the impact it could have on other avian members of disturbed habitats.

We can therefore conclude that global biodiversity and avian and wildlife species conservation and climate change mitigation are all important aspects of protecting the natural environment and ecosystem and every nation has its own dynamics and policies to deal with these challenges. We need to remember what applies and are successful in developed nations may not be suitable and adaptable in developing and under developed countries; although on surface they may appear to be excellent ideas. Furthermore, almost all protected areas (such as sanctuaries, national parks, biodiversity parks, eco reserves and eco-parks, reserve forests and nature biospheres) have to deal with challenges of human encroachments and illegal rural settlements in remote areas, permanent forest residents and fringe forest dwellers that are heavily dependent on the local forest resources for their daily sustenance threatening the biodiversity. They are deprived of health centers, year round job opportunities, education and awareness and almost zero economic developments in the region. Unless these important eco-sociological parameters are taken care of for dealing with the anthropogenic pressures on the local biodiversity, no conservation efforts are ever going to be completely successful. Global avian and wildlife conservation is integrated with socio-economic development of the local human population and without the active support and participation of the local residents; biodiversity conservation in the real sense of the term is only but a distant dream.

Article contributed by: Saikat Kumar Basu
Photo credits: Saikat Kumar Basu (Canada), Nancy Butler (USA), William Cetzal-Ix (Mexico), Tony Elders (Australia), Ratnabali Sengupta, Jayoti Naskar, Sheuli Dasgupta, Srimoyi Mazumder, Monikankana Dasgupta & Pallav Mukhopadhyay (India), Sonam Tashi (Bhutan), Harun Rashid (Bangladesh), Peiman Zandi (Iran), Xiuhua Wu (China), Sukrishna Ishii (Japan) & Olga Osdachuk (Russia)
The recent (November, 2014) climate change goals announced by two major global economies (US and China) for reducing 28% emissions by 2025 and 2030 by US and China respectively appear on the surface to be exciting news. However, the real consequences down the decades are doubtful. How far this will really make any significant difference to global climate justice is absolutely doubtful. None of the top industrialized nations are ready to cut down the rate of their industrial growth or switch to alternative available technologies from the fear of losing the quality of their life and slowing down their economies. The power house of global politics across the planet has been dominated by the vested interests of different industrial lobbies. An eyewash treaty may look excellent on the media platform but if there is no political will to implement them in any form other than making political and strategic gains, they will turn out into another joke like the "Kyoto Protocol" and fail to achieve anything significant with respect to abetment of global warming and climate change. Since "seeing is believing"; the world will watch with interest if any such real change is actually observed following the flamboyant announcements or whether it is yet another political joke that we are all used to.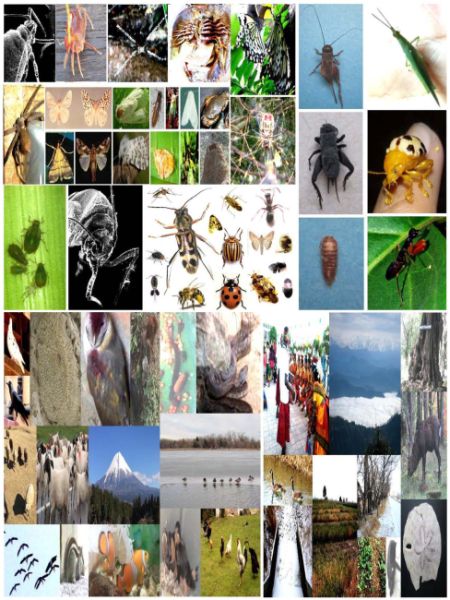 The impending dangers of global warming are indeed a matter of great concern for all, from the tropics to the temperate in both the eastern and western hemispheres; from the unpredictable weather patterns in the tropics to the harsh Eurasian winters or melting of ice in the polar region are threatening our globe with serious consequences. If one reviews an example from the context of the Indian subcontinent, the impending danger of climate change is alarmingly exposed. The increasing sea water level in the Indian Ocean basin has been threatening several small island nations and island groups like Maldives and parts of coastal Sri Lanka, Andaman and Nicobar islands, Lakshadweep group of islands are extremely vulnerable. We have to initiate the process of engineering an advanced, detailed plan to prepare for any possible disaster mitigation in the future. Several small low lying island nations across the planet await similar prospect. Furthermore, if this be the situation for human aspect of the story, one could clearly imagine what fate waits for the helpless wildlife of these unfortunate countries that are severely impacted by climate change.
It is important to note from a historical perspective that the Western nations have been industrialized far back compared to the numerous under-developed and developing countries of Africa, Asia and Latin America, that earned their independence and transformed into modern democracies only in the post World War II period. These countries are unfortunately still struggling to find a stronger economic foundation plagued by several problems after centuries of ruthless exploitation by the colonizers from the West. Under such appalling conditions and disproportionate global economic growth, can we ever think about anything close to climate justice? Several of these countries are in need of rapid industrialization utilizing their regional and local natural resources for stabilizing their highly jeopardized economy and have no available technology to reduce green house gas emissions. Hence, an immediate effective and efficient resolution with respect to climate change mitigation from the perspective of developing and under developed nations is a distant and unsettled dream.
One of the criticism as projected by the developing and under-developed countries against the developed and industrialized world is that lack of consideration for real life situations in the developing countries. According to this, the rosy ideas regarding climate change regulations that hovers in the mind of Western philosophers, environmentalists, activists, diplomats and politicians who had never seen anything whatsoever close to true economic hardships, abject poverty, civil wars, deaths and destruction are making important decisions for the whole planet and taking credit for this. As long as there will be this economic disparity between the developed and developing nations of the world; all fascinating ideas regarding climate change mitigation and climate justice will be a failure. The developing countries insist that they are in need of rapid industrialization utilizing their natural resources for establishing a better regional economy for their long term sustenance. The climate mitigation regulations will therefore jeopardize their economic progress and that thy lack the alternative green technologies and funds necessary for switching towards climate friendly technology and policy currently.
The developed nations who have been industrialized heavily and responsible for the major and historic share of the climate change issues do not agree to this and indicated that no such compensation funding could be provided by them based on the current global economic situations. Hence due to lack of coordination and cooperation between the developing and developed nations no concrete roadmap for climate mitigation could be actually drawn. The recent 12-day meeting at Peru (Peru Summit, 2014) by 190 nations to agree on a draft proposal for constituting a historic agreement on climate change to be signed at Paris in December 2015 and for enactment by 2020 did not reach its' targeted objective. The developed nations informed that there will be no funds available to support the programs for climate mitigation in developing and under developed nations currently; and the developing nations blocked the motion for climate mitigation as their economies are not ready or prepared yet to handle the burden of climate change mitigation immediately. As a consequence, a dead block has been reached with no viable alternative tabled to resolve the situation with a long term sustainable and comprehensive solution, agreeable to both stakeholders.
How does it impact the global wildlife, particularly the global avifauna? The impact is unfortunately quite drastic and detrimental to the global avian life and population. Change of temperature has been found to be negatively correlated to the foraging, nesting and breeding behaviors of several species distributed across the planet both in the tropical, temperate regions. What is more disturbing is the fact that a vast majority of avian species have their habitats in the biodiversity hotspots located in the developing and under-developed countries. Unless serious, comprehensive, global effort is initiated with respect to climate mitigation a substantial number of species across the planet are in the danger of losing their habitats and hence are seriously endangered due to global climate change. Another important factor is the shortage of availability of traditional prey species for several avian members in various parts of the globe.
Climate change has seriously impacted both aquatic (freshwater, estuarine and marine) and terrestrial biomes across the planet thereby negatively impacting the food bases of several avifauna members. The life cycles of fishes and numerous smaller aquatic and terrestrial invertebrate species and their reproduction has been showing signs of transformations with respect to their population dynamics over the decades; reducing the number of several prey species, while increasing the preponderance of different pest species. The steady availability of prey species and food sources are directly related to the population dynamics of the avian species; and hence any shift in that will be reflected in the avifauna population across the planet. Furthermore, the loss of habitats are also negatively impacting the traditional foraging and breeding sites further impacting the avifauna population. In addition, some trends in the shifting of migration patters have also been noticed in some species impacting the distribution as well as the structure of the population of vulnerable species.
Climate change has been impacting regional economies; in particular developing and under developed nations are worst hit in the process. As a consequence, the anthropogenic pressures on the prime wildlife habitats and biodiversity hotspots are ever increasing with need for industrialization, agricultural expansions, extension of rural and urban areas promoting encroachment, poaching, illegal capture and underground pet trade for endangered avifauna. The roadblock in the negotiation for climate mitigation between developing and developed countries is thus having a serious effect on the life of different global avian species. Unless we get together on a common platform and agree to establish a framework for global climate mitigation pretty soon, it may be too late in terms of saving the critically endangered avian members of the planet.
Article submitted by: Saikat Kumar Basu
The Sunderbans, represents a sensitive ecological region that is split across the international boundary of India and Bangladesh in South Asia and represents an unique ecosystem unparallel to anywhere else in the world due to its spectacular mangrove forest and amazing biodiversity. Home to a wide variety of highly endangered flora and fauna the region deserves special conservation status. However, the mangrove vegetation has been negatively impacted as a result of unrestricted growth of local human population well beyond the carrying capacity of this fragile ecosystem. The majority of the population being impacted due to lack of economic opportunities is heavily dependent on the easily accessible forest resources for their daily sustenance. As a consequence, the highly endangered mangrove vegetation and the local wildlife have been seriously impacted due to anthropogenic activities such as encroachments in the restricted forest belts, non-judicious harvest of forest and riverine products, poaching and capturing wildlife, deforestation, pollution and diseases. Due to severe anthropogenic pressures, the mangrove vegetation is rapidly disappearing making this region extremely vulnerable to cyclonic disturbances from the Bay of Bengal.
Figure 1. The map of the Sunderbans.
The mangrove vegetation serves as an important natural barrier to the regular micro-climatic turbulence and fluctuations in weather pattern of the adjoining Bay of Bengal with enhanced frequency of powerful cyclones (Fig 1). The local mangrove vegetation (Fig 2) is a nature's safeguard in the form of a protective shelter belt to the devastating cyclones impacting this region from geological past. The rapid and unrestricted destruction of this natural shelter belt is soon or later going to have serious environmental impacts in South Bengal and adjoining region including the city of Kolkata, India (Fig 3).
Figure 2. The spectacular mangrove vegetation of the Sunderbans.
Similar situation is also prevalent in adjoining Bangladesh with similar impacts. It is therefore important for all of us to realize the ecological significance of the mangrove forest and take every necessary measure to protect it from further degradation. Unless suitable monitoring and stringent laws are not applied very soon the ecosystem that has been stretched beyond its carrying capacity may be irreparably damaged. Since anthropogenic impacts are the significant factors impacting the stability of this ecosystem; as long as the economic condition of the local human populations of the region remains impoverished, very little is expected in terms of successful conservation of the fragile mangrove ecosystem.
Figure 3. Progressive deterioration of coastal mangrove vegetation due to severe anthropogenic pressure, environmental pollution and natural disasters is severely impacting the local ecosystem and its unique wildlife.
This unique global ecosystem is home to a wide diversity of avifauna such as fishing eagles or ospreys, Pallas's sea-eagle, white-bellied sea eagles, peregrine falcons, brahminy kite, pariah kites, northern eagle owl, brown fish owl, common crow, jungle crow, white-breasted kingfisher, pied kingfishers, white collared kingfisher, black-capped kingfisher, pied kingfisher, brown-winged kingfisher, woodpeckers, drongo, common snipes, crow pheasant, magpie robin, wood sandpipers, marsh harriers, paradise flycatchers, jungle babbler, green pigeon, spotted dove, cotton teal, munia, common mynah, black-tailed godwit, sparrow, red jungle fowl, swamp partridge, Indian cuckoo, rose ringed parakeet, Rufous treepie, water hen, coot, pheasant tailed jacana, cormorant, grey heron, purple heron, green-backed heron, night heron, golden plover, pintail, egret, white ibis, white-eyed pochard, greater adjutant, Asian open billed stork, black-necked stork, herring gull, spotted-billed pelicans to name only a handful. However, the rapid and illegal encroachments and severe anthropogenic pressure has been negatively impacting the habitat of the helpless avifauna as they are proving detrimental to all forms of wildlife inhabiting this unique ecosystem.
Figure 4. Avifauna of the Sunderbans. Photo credit: Rahul Ray
Heavy rates of poaching, illegal capture of birds for both local and international, underground pet markets, pollution of the local stream and tidal creeks through toxic wastes directly released into the river without treatment and detoxification from industrial workhouses and agricultural run offs rich in toxic agro-chemicals (synthetic fertilizers, pesticides, insecticides fungicides, weedicides etc) are deteriorating the local environment and negatively impacting the fish and other estuarine and aquatic food sources which in turn is having their subsequent secondary impact on the avian population. Several of the bird species inhabiting this ecosystem are top predators and as such are severely impacted through the process of biomagnifications as a consequence of consistent and unrestricted environmental pollution. Recently ecological disasters in this region in the form of oil spillage from oil tankers travelling across the sensitive ecozone and from accidents are further deteriorating this ecosystem making the life of the local wildlife including the avifauna at the turn of a dangerous peril; Unless strict measures of conservation are adopted and the anthropogenic pressure on this ecosystem is not considerably curbed the future of this unique ecosystem and environment and its majestic wildlife and avifauna stands the chance of being slowly wiped out in the not so distant future.
Figure 5. Avifauna diversity of the Sunderbans. Photo credits: Saikat Kumar Basu, Rahul Ray, Peiman Zandi, Srimoyi Mazumder and Pallav Mukhopadhyay
Figure 6. Avifauna of the Sunderbans. Photo credits: Saikat Kumar Basu, Manorma Sharma, Rahul Ray and Srimoyi Mazumder.
Fig 7. Anthropogenic pressure on Sunderbands include growing human population, extensive and unrestricted developments in horticulture, agriculture, fisheries, small industries, tourism and increased transportation severely impacting this fragile ecosystem. Photo credits: Saikat Kumar Basu, Ratnabali Sengupta, Srimoyi Mazumder, and Pallav Mukhopadhyay.
Article contributed by Saikat Kumar Basu