The North Eastern (NE) region of the India is a biodiversity hotspot and represents one of the highest avian biodiversity of the Indian subcontinent. The region is ecologically represented by the Eastern Himalayan biome and is rich in a number of endemic flora and fauna. Several avian species inhabiting this unique ecosystem are not found or reported anywhere else in the world. The region is represented by seven Indian states, namely: Assam, Arunachal Pradesh, Manipur, Meghalaya, Mizoram, Nagaland and Tripura. Often these seven NE states are referred to as the Seven Sisters. The region has international boundaries with Bhutan, China, Myanmar and Bangladesh. The Himalayan state of Sikkim and the Darjeeling district and northern reaches of the Cooch Behar and Jalpaiguri districts of the eastern Indian state of West Bengal are ecologically contiguous with this region and together they represent an unique region with unparallel natural beauty, amazing ethnic diversity and a spectacular biodiversity of birds.
The NE India constitutes vast evergreen forests of the Brahmaputra river valley, the broad leaf forests at the foothills and the high altitude sub-alpine coniferous vegetation and the Indo-Myanmar dense bamboo and pine forests. This is a vast ecosystem include the elements of riparian as well as low and high altitude mountainous ecosystems suitable as premier bird habitats. This region hosts one of the most famous and celebrated sanctuaries and reserved forests of the subcontinent as well as the world, known for their spectacular avian biodiversity: Dibang, Namdhapa, Eaglenest, Kamlang & Mehao (Arunachal Pradesh); Manas, Kaziranga, Garampani, Nameri, Dipor Bil, Pobitora, Pabha, Laokhowa, Bornadi & Oran (Assam); Bhagmara, Siju & Nongkhyllem (Meghalaya); Fakim, Intanki & Pulebatze (Nagaland); Keibul Lam Jao (Manipur); Ngengpui & Khawnglung (Mizoram), Gumti, Charilam & Sepaijhola (Tripura), Kyongnosla, Pangolakha, Meanam & Shingba  (Sikkim) and Jaldapara, Gorumara, Singalila & Senchal (West Bengal).
The avifauna diversity of this region is spectacular and home to the Great Indian Hornbill (Buceros bicornis L) that has been placed under Near Threatened (NT) status by the IUCN.  Several rare species of both resident and migratory birds are reported from this pristine habitat. Being located within the biome of the majestic Eastern Himalayas, the eco-region provides a unique habitat for a wide diversity of local species. This is not only an important ecosystem for the local and resident avian species; but also a diverse habitat for numerous short and long distance migrant species that crisscross the region during their annual and semi-annual migration. The unique ecosystem provides multiple species with adequate opportunity to feed and forage as well as nest, breed and raise their chicks successfully with relatively little anthropogenic pressures and carbon foot prints.
Fig 1. Diversity of avian species from NE India
Several avian species come and visit the NE from other parts of the subcontinent such as Central and Western Himalayas and southern India; and there are also species visiting the regions from the distant Siberia (Russia), Mongolia, central, southern and SE China, Myanmar Thailand, Indo-Chine, Pakistan, Afghanistan, Iran and Central Asian countries like the Tajikistan, Uzbekistan, Azerbaijan, Kyrgyzstan, Turkmenistan and Kazakhstan and west Asia.  The avian diversity of the region include different species of ducks, swans, geese, teals, grebes, pochards, pintails, ibis, shanks, terns, pelicans, storks, Asian open bills, bitterns, spoonbills, sandpipers, plovers, cranes, egrets, herons, cormorants, kingfishers, lesser adjutants, greater adjutants, crakes, water hens, coots, moorhens, snipes, swamp hens, jacanas, rails, falconets, kestrels, hobbys, hawks, kites, vultures, harriers, goshawks, falcons, owls, owlets, eagles, ospreys, woodpeckers, pheasants, weaver birds, tailor birds, rollers, honey guides, hornbills, sunbirds, bee eaters, orioles, sand grouses, frogmouths, lapwings, muniyas, parakeets, quails, hoopoe, crow pheasants, yuhina, parrot bill, martins, warblers, tree creepers, babbler, pipits, wagtails, leafbirds, flowpeckers, sunbirds, grosbeaks, bantings, larks, thrushes, flycatchers, blackbirds, drongos, treepies, sparrows, common crow, jungle crow, mynas, starlings, barbets, bulbuls, nightjars, swifts, swiftlets, swallows, magpies, fintails, shrikes, wood shrikes, pigeons and doves, blue peafowls, piculets, robins, wild pheasants, swamp francolins, Bengal floricans, coucals, cuckoos, minivets, pitas, dollar bird, malkohas, curlews, ruffs, stints, cuckooshrikes, godwits and different finches to name only a handful.
Fig 2. NE India, a biodiversity rich eco-zone with numerous bird species
However, due to the remote nature of this region, economic development in this zone has been much slower compared to the rest of India. This eco-zone has been traditionally under developed; relying mostly on the vast forest resources, traditional agriculture and tourism as major industry. This actually left the local ecosystem and the environment undisturbed for several decades post independence with a unique habitat completely preserved and globally recognized as an important biodiversity hotspot center. However, the changing population dynamics of the region together with need for economic opportunities for the resident population the call for economic development of the region together with infrastructural initiatives has been sharply rising over the past two decades in areas of hydroelectricity, oil and gas exploration and an aggressive tourism industry. There has been significant proposal of inter-connecting the region with railway and roadway networks. The Indian Railways has notorious reputation in colliding with different wildlife crossing the railway tracks during the night in eastern India; and hence it will be necessary to be extra cautious to avoid such unwanted incidences in this vulnerable eco-region. The new surge for agricultural and industrial developments in the region may have some significant impacts on the local ecosystem and highly vulnerable avian populations.

Fig 3. Unique habitats from NE India and subsequent impacts of anthropogenic pressure on the local ecosystems.
Hence it will be important to follow a long term, sustainable and judicious use of the abundant natural resources of this unique ecosystem. The economic priorities should not completely erode the importance of conserving big parts of this pristine habitat and centre of global biodiversity hotspot representing numerous avian species inhabiting this region.  It will be important to apply the principle of eco-sociology in regulating economic opportunities along with environmental conservation simultaneously. There will be certainly some major irreversible and negative impacts on the local ecosystem; however, care must be taken to minimize the losses to the best of the ability to reduce impact on the local wildlife and avian populations. If the wheel of economic development goes out of gear and the conservation priorities get derailed the economic as well as ecological future of this region could be significantly impacted. All the stakeholders in this process need to make cautious move while following a strict principle of stringent monitoring and surveillance at every step of the proposed economic development in an extremely fragile eco-region.
Fig 4. The diversity of avian species and ecosystems from NE India
Fig 5. Rapid urbanization and anthropogenic developmental and economic activities has the potential to impact the sensitive local ecosystem and the local avifauna.
Photo credits: Saikat Kumar Basu, Rahul Ray, Manorma Sharma & Manikankana Dasgupta
Canada, with 450 species of bird species, does not have a National Bird as one of its national symbols till date. Recently, the Royal Canadian Geographical Society (RCGS) and the Canadian Geographic magazine have jointly initiated a National Bird Project asking Canadians to vote for a tentative National Bird for the nation. The goal of this project is to help designate an official bird for Canada by 2017, the country's sesquicentennial. The project has been received by Canadians with great enthusiasm and the online voting process has registered over 27,000 votes. The top 5 Canadian bird species in the race have been the Common Loon, Snowy Owl, Gray Jay (Whiskey jay), Canada Goose & Black-capped Chickadee.
Fig 1. Common loon inscribed on the Canadian 1dollar coin. The coin is commonly referred to as the loonie after the popular loon icon immortalized on the 1 dollar coin.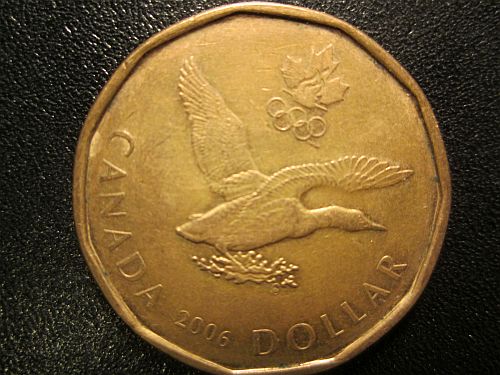 Fig 2. Canada goose inscribed on the Canadian 1 dollar coin. 
All other nations from the North American continent have their respective National Bird emblems. The National Bird of the United States is the famous Bald Eagle (Haliaeetus leucocephalus L.). Though the Golden Eagle (Aquila chrysaetos L.) is the National Bird of Mexico; some believe the Crested Caracara (Caracara cheriway Jacquin), depicted on the ancient Aztec pictograms that appears on the Mexican national flag, to be the true National Bird of Mexico. But the truth is that Mexico has both species designated as their National Birds. A Commonwealth nation from the Oceania, New Zealand has the flightless, terrestrial and nocturnal bird kiwi (Apteryx australis Shaw & Nodder) designated as their National Bird. The only other Commonwealth Nation that does not have any official animal or bird emblem designated till date is Australia. The flightless bird Emu (Dromaius novaehollandiae Latham) and the Red Kangaroo (Macropus rufus Desmarest) are unofficially recognized as the National Bird and National Animal respectively of Australia based on their endemic status to the Australian continent, and their wide abundance in the continent and extreme popularity. All the G7 member nations have National Birds except Canada, namely USA: Bald Eagle (Haliaeetus leucocephalus), Russia: Tundra Swan (Cygnus columbianus Ord); UK: European Robin (Erithacus rubecula L.); France: Gallic Rooster (Gallus gallus L.); Japan: Japanese Green Pheasant (Phasianus versicolor Veillot); Germany & Italy: Golden Eagle (Aquila chrysaetos L.). However, UK and Russia do not have an official designation for the National Bird similar to Australia.
Fig 3. The kiwi inscribed on the New Zealand 20 cent coin.
Another major global economic group BRICS (an association of five major national economies including Brazil, Russia, India, China and South Africa) also have National Bird emblem for most members such as Brazil: Rufous-bellied Thrush (Turdus rufiventris Veillot); Russia: Tundra Swan (Cygnus columbianus); India: Blue Peafowl (Pavo cristatus L.); China: Red-crowned Crane (Grus japonensis Statius Müller) & Eurasian Tree Sparrow (Passer montanus L.); and South Africa: Blue Crane (Anthropoides paradisea Lichtenstein, AAH). Again, China and Russia do not have official designate for their National Birds. The vast majority of several member nations of important economic organizations across the globe such as G-20, SARRC (South Asian Association for Regional Cooperation), Arab League, Shanghai Corporation, ASEAN (Association of South East Asian nations), European Union, The African Union, USAN (the Union of Latin American Nations), SAREC (South American Regional Economic Organization), OPEC (Organization of the Petroleum Exporting Countries), OECD (Organization for Economic Co-operation and Development), many of the NAFTA (North American Free Trade Agreement) and SAFTA (South American Free Trade Agreement) members also have different official National Bird emblems.
The Canada goose (Branta canadensis L.) is one of the best available candidates to take the prestigious designate as the National Bird of Canada. Their large size, handsome plumage, gorgeous look, elegant personality, graceful flight in a V-shaped pattern, characteristic honking calls and their pan-Canada distribution are significant parameters and credentials for the species to be recognized as the Canadian National Bird. The majestic Canada goose is an important waterfowl of Canada and is found foraging, roosting and nesting around fresh water bodies such as irrigation canals, inland lakes and reservoirs, rivers, swamps, ditches, ponds, pools and around farming and agricultural areas. Males and females have almost identical morphologies, with the males being slightly bigger in size and are hence quite difficult to identify separately. The species are reported to be extremely dedicated partners and parents. There are several sub-species reported across Canada such as: Atlantic Canada Goose (Branta canadensis Canadensis), Dusky Canada Goose (Branta canadensis occidentalis), Giant Canada Goose (Branta canadensis maxima), Interior Canada Goose (Branta canadensis interior), Lesser Canada Goose (Branta canadensis parvipes), Moffitt's Canada Goose (Branta canadensis moffitti) and Vancouver Canada Goose (Branta canadensis fulva). This is a protected species and a valuable symbol of the Canadian wilderness, rural as well as urban life.  Canada goose has never been designated as the State Bird or National Bird of any other states or province or districts across the Americas and to the best of my knowledge across the globe; making it an even more attractive candidate for the National Bird Project of Canada. Canada needs to have an official National Bird; since it has survived without one, unbelievably for the past 150 years.
Fig 4. Canada geese foraging in an irrigation canal.
Fig 5. Canada goose in different aquatic habitats.
Fig 6. Migrating Canada geese with their characteristic V-shaped flying pattern
Fig 7. A Canada geese couple with their chicks.