Peafowl constitutes three species, the Indian peacock or the Indian peafowl or the Blue peafowl (Pavo cristatus L.) distributed widespread across the entire Indian subcontinent; the Green peafowl or the Java peafowl (Pavo muticus L.) restricted predominantly to South-East Asia; and the Congo peafowl or Congo peacock (Afropavo congensis Chapin) endemic to the Congo basin of central Africa. Although the Blue Peafowl is in the Least Concern category of IUCN, the green peafowl has been placed under Endangered and the Congo Peacock under Vulnerable status. The Indian and African species are sexually dimorphic, suggesting that male and female members show distinctly different appearance and plumage; while the Green peafowls are almost similar in appearance. The most common and widely distributed among these three is the majestic Indian peafowl or the Blue Peafowl found across the entire Indian subcontinent including India, Pakistan, Nepal and Bhutan, as far as Sri Lanka (Pavo cristatus singhalensis) and as an introduced species in the continents of North America, Europe and Australia. The species is unfortunately reported to be extinct in the wild in Bangladesh.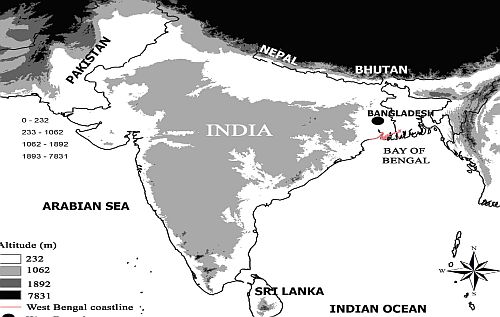 Map of the Indian subcontinent showing native range/distribution of Blue peafowl.

The Blue peafowl (peacock) is the national bird of the Republic of India and has been an inseparable part of the local culture, religion, tradition and history, art and sculpture, myths and legends of the great Indian subcontinent from time immemorial. It is believed that the bird was introduced in Europe by Alexander's retreating army after their grand campaigns in Persia and India; as an exotic bird species for the elites of the society with spectacular beauty. The spectacular courtship behavior of the Blue peafowl has been a part of several local myths and legends related to eternal love and romanticism for centuries and mentioned in several ancient texts and scriptures suggesting their long association with their human neighbors. The bird has been a symbol of the royalty and elites and has been a regular pet reared in the royal gardens and parks in both ancient and medieval India along with spotted (axis) deer and black bucks.



Photo credit: Peiman Zandi

The blue peafowl has a characteristic blue and green image with iridescent properties. Occasional white peafowls (mostly leucistic) are also reported that are commonly breed by zoological gardens and by private bird parks or gardens across the globe for their high ornamental values and popularity with the visitors. True albinos are also reported but comparatively rare in nature. The most spectacular aspect of the Blue peafowl is the majestic tail feathers of the males (peacocks) with distinct "eyes" that are best observed when the males display their tail feathers well stretched to attract the females for breeding purposes. Although the males of the species (peacocks) are characterized by their spectacular colorful feathers; the females (peahens) are less spectacularly ornamented with a mix of dull green, grey, white and brown feathers and are slightly smaller in size than the males. They also lack the long extensive tail feathers of the peacocks. Both have crest or crown on their heads, but the peacocks have brighter colors compared to the peahens. The young and immature peafowls (peachicks) are dull in coloration, varying between tawny to yellow and with inconspicuous patches or streaks of dull brown or white.



Photo credit: Peiman Zandi

The species exhibit elaborate courtship displays, with several competing males (peacocks) displaying their majestic tail feathers with distinctive eyes to a target female (peahen). The peahens sleet the individuals with most elaborate displays which is believed to be sign for their genetic fitness and good health and features. There are several theories put forward since the time of Charles Darwin in explaining such elaborate courtship displays and their role in evolution. They constitute one of the best examples for sexual selection.



Photo credit: Rahul Ray

The males are extremely territorial and they defend their territory fiercely by engaging in close combats with their challengers and intruders; and are often quite aggressive during the breeding season and in defending their nesting sites from different predators. These are terrestrial birds that nest and forage on the ground and roost on the branches of high trees. Their diets include a mixture of various plants and plant parts, different arthropods including insects, reptiles (snakes) and amphibians (frogs). They are a noisy species with frequent territorial and alarm calls of the males are a well know feature of wild India. Several pairs may nest close to one another and raise their chicks; but are extremely territorial and intolerant, if another (particularly males) dare to venture into the territory claimed by a resident breeding couple.
Photo credit: Rahul Ray

Article contributed by: Rahul Ray and Saikat Kumar Basu
The 14th Annual Big "O" Birding Festival showcases the resident and migratory bird species in rural inland Florida March 11-15, 2015. Birders, photographers, and families will travel by bus, boat, swamp buggy, or carpool to area birding hotspots.
For more information visit www.bigobirdingfestival.com
Date: March 11-15, 2015
Location: Lake Okeechobee, La Belle, Florida, United States of America
Merritt Island National Wildlife Refuge is hosting the sixth annual Florida Scrub-Jay Festival on Feb. 28, 2015 from 10:00 am to 3:30 pm. The event celebrates the endangered scrub habitat and Florida Scrub-jay, a threatened species found only in Florida. The festival will offer live music, nature tours, live animals displays, presentations, environmental exhibits, and children's' activities and games. The event and all activities are free. The main event will take place at the refuge visitor center located on SR 402, 5 miles east of the Intersection of U.S. 1 and Garden Street (SR406) in Titusville. From the intersection of U.S. 1 and Garden Street, head east over the Max Brewer Bridge and continue to the fork in the road. Bear right at the fork and continue 2 miles to the entrance to the visitor center.
Biodiversity constitutes an important aspect of global wildlife resources. It is important to note that major global biodiversity hotspots are located in developing and under developed nations scattered across different continents. Unfortunately, the socio-economic conditions in these poor but natural resource-rich nations along with their nascent human population, lack of employment opportunities, political unrest and related anthropogenic pressures have serious impacts on local biodiversity. Rapid habitat loss and habitat fragmentation of various species, poaching, illegal wildlife and pet trade on exotic species, illegal harvesting of wildlife and rare plants for non-judicious pharmaceutical and allied industries, extensive grazing in restricted forest areas by local livestock and ranch animals, forest fires, illegal human encroachments into forested areas, extension of industrial and agricultural hubs into virgin forests are gradually destroying the extremely fragile local ecosystem and highly endangered biodiversity. It is, therefore, extremely essential to call for the attention of the academics, researchers, wildlife and nature enthusiasts as well as the commonalty towards global challenges of biodiversity conservation. India being a country rich in biodiversity has a major stake in the global biodiversity conservation. We all need to work passionately in raising awareness and establishing a common platform to work for global biodiversity conservation to the best of our ability.

Since 1974, every year United Nations Environment Program (UNEP) declares a message about specific environmental issues to the people on 5th June observed as 'World Environment Day`. The prime concern behind such messages is to make aware people about various environmental crises of earth and to act accordingly to save this only living planet. UNEP, in 2010, gives us the message –'Many Species, One Planet, One Future' to save the endangered and threatened species of wildlife and plants. Extinction of species is a natural process. Now, scientific evidences reveal that the current rate of extinction is not only alarming but much higher than natural and even any past rate throughout geological time scale. In every twenty minutes one species is now lost forever from this planet. Ecologists strongly indicate higher rate of habitat loss is the predominant force driving this alarming rate of species extinction.

In such bleak and dismal arrays of information there is an incandescent spurt of hopeful effort to conserve biodiversity, especially avifauna, by some local people in Chupi wetland; located in the Burdwan district of the eastern India state of West Bengal. The district is located around south central part of the state. The area of the Chupi wetland is approximately 3.15 square kilometres. This wetland is a stagnant U-shaped ox-bow lake formed by the changing course of River Ganga (Ganges) extending east to west. The length of the ox-bow lake is about 10 kilometres.


The Chupi wetland is rich in biodiversity. One can easily discern underneath a huge variety of zooplanktons and phytoplanktons through the crystal clear water of this wetland. Besides this, multiple species of fishes, toads, crabs, molluscs and insects are also found here. Every winter many species of migratory birds arrive here for these palatable foods. These birds come here crossing some thousands miles mainly from distant Siberia (Russia), Middle-Asia, Europe, Mongolia, China, Bhutan, Nepal, Ladakh (northern India) and from other areas of the Himalayas. They normally remain in the Chupi wetland for the entire winter season from December to February and go back to their abode at the end of the winter. Interestingly, a few migratory species are seen to stay here permanently, like the Lesser Whistling Teal.


The species mainly found here include Gadwall, Mallard, Ruddy Shelduck, Northern Pintail, Ferruginous Pochard, Red Crested Pochard, Lesser Whistling Teal, Open-bill Stork, Common Coot, Osprey, Small Pratincole, Terek Sandpiper, River Tern, Black-winged Stilt, River Lapwing, Spoonbill, Hoopoe, Cotton Pigmy Goose, Red vented Bulbul, Drongo, Pheasant Tailed Jacana, Greater Painted Snipe, Pond Heron or Paddy Bird, Egret, White Wagtail, Purple Moor Hen, Bronzed Winged Jacana, Field Sparrow, Grey Headed Lapwing, Cormorant, Darter, Crow Pheasant, Red Wattled Lapwing, Purple Heron, Jacana, Kingfisher, Pied Kingfisher, Green Bee Eater, Oriole, Woodpecker and so on.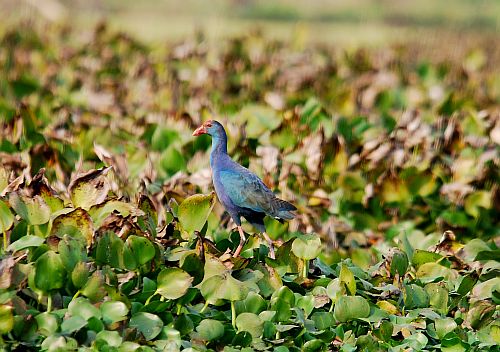 As thousands of migratory birds make this wetland their favourite winter destination; this part of West Bengal quickly became one of the most talked about regions for poaching and illegal capture of several migratory bird species. Poaching became a major menace here. Poachers used nets and poisoned paddy to mercilessly kill the birds. Some poachers put sharp iron hooks hiding in favourite foraging spots of these birds with food baits. The unsuspecting birds very often became nailed in throats to death while swallowing the foods. Some poachers with illegal guns floated upon tubes completely covering themselves with water hyacinth (Eichhornia crassipes (Mart.) Solms; Pontederiace) to indiscriminately shoot the helpless birds or capture them after being severely injured.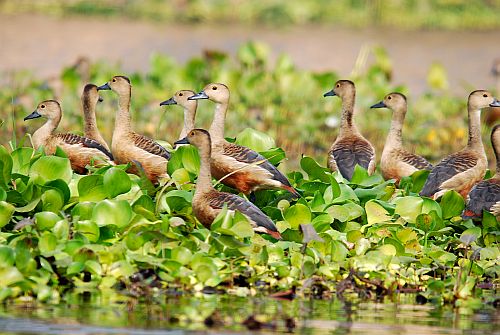 Nowadays illegal markets of these rare migratory birds involve hefty amount of money. While some birds are enmeshed for illegal trade, others are killed to quench the thirst for exotic bird meat. There is also a demand for eggs of these birds for making specialized food items. But, uncommonly, some native local people vehemently protested this illegal trade and capture of the rare species. They even did not step back from the gunpoint of the poachers. These people formed an organization named 'Banobeethi' (A Forest Thoroughfare) to protect the migratory birds and to educate other people about the value of these rare species. By their passionate effort Chupi wetland has slowly transformed into a safe haven for these birds. This, certainly, is a dazzling and infrequent example of environmental movement to save biodiversity even at the risk of their own lives.


Eminent Indian environmental lawyer, Mr. Biswajit Mukherjee, a path breaking green crusader and recipient of the prestigious 'Indira Gandhi National Environment Award' has joined these local inhabitants and has been engaged with the West Bengal State Forest Department to ensure protection of these birds to save local biodiversity. The Directorate of Forest Department has assured that they are seriously thinking over the matter for a broader and meaningful cooperation. We, the commonalty, also want more tightened security to protect these rare migratory birds because conservation of species is doubtlessly a key issue in the pretext of ecological democracy.


It is important that local residents and villagers should be made important stakeholders in the process of biodiversity conservation and this can effectively help in generating some alternative employment. Hiring permanent/temporary/contractual local labours, guards and wildlife staff trained for monitoring and surveillance, afforestation and participatory forest management programs, reconstruction of damaged vegetated areas and habitats and in conserving biodiversity and wildlife will be cheaper and much safer than bringing external labour force to an ecologically vulnerable region. Further, the involvement of local residents through employment and voluntary activities in biodiversity conservation will considerably make it easy to combat with poachers and illegal capture and trade of the helpless bird species. If local people are to be made actively involved in the conservation projects, the long term success of such vulnerable ecological habitats will definitely increase several folds.


Often it is necessary to extend the areas under conservation and it will be necessary to withdraw human residences for bringing a bigger section of vulnerable ecosystem under the umbrella of effective conservation management. The rehabilitation of the displaced people needs to be considered sympathetically so that they do not lose their natural livelihood and socio-cultural practices completely as a result of the conservation initiatives. If both processes are tied together empathetically and judiciously, smooth functioning of environmental protection together with modern industrial and agricultural developments in the line of socio-ecological progress will never be an impossible task. With the forces of development encroaching protected habitats, the existing habitats will never be as same as it was in its pristine state, but we can make it close to what it may be through sincere and dedicated efforts. Although extremely challenging, however, the task is not quite impossible.
Photo credits: Rahul Ray
Article contributed by: Rahul Ray and Saikat Kumar Basu
Located in the picturesque village of Desford, near Leicester in England, Tropical Birdland is home to more than 250 birds, including a collection of free-flying parrots from all over the world. Visitors will have the opportunity to stroll at leisure through the main walk-through aviary, view newly hatched or hatching chicks, interact with birds on Parrot Path, and take a walk on the wild side along the Woodland Walk, with the possibility of seeing kingfishers, jays, woodpeckers and squirrels among the trees and shrubs.
Tropical Birdland opened to the public in 1984, when Richard Hopper decided to turn his hobby into a business. With breeding of endangered species as one of the park's main goals, aviaries were built and rare species were added to the growing collection of birds housed at the facilities. In 1992, Hopper started training birds for free flight, with his very first bird, a blue and gold macaw named Jackie, being the first to take flight. Today, several parrots and macaws spend their days out in the open with the option of free flight, returning to their sleeping quarters each night.
Among the rare and unusual birds at Tropical Birdland is a pair of highly endangered hyacinth macaws (Anodorhynchus hyacinthinus). Found only in the wetlands of the Pantanal – the world's largest tropical wetland area found in Brazil, Bolivia and Paraquay – and some areas of the Amazon jungle in Brazil, this spectacularly beautiful species is the largest, and quite likely the strongest, parrot species in the world. As with many bird species around the world, their continued existence in the wild is threatened by deforestation as humans turn their habitat into farmland.
Other exotic birds housed at Tropical Birdland include the blue and gold macaw (Ara ararauna), the green-winged macaw (Ara chloroptera), the bare-eyed cockatoo (Cacatua sanguinea), the Galah cockatoo (Eolophus roseicapillus), and the black-headed caique (Pionites melanocephala), as well as the kea parrot (Nestor notabilis) and the snowy owl (Bubo scandiacus).
Tropical Birdland also features a restaurant, picnic area and play park, making it the perfect venue for a family outing in the English countryside.