Visitors to the CraneFest will have the opportunity to see the Greater Sandhill Cranes fly in, as well as to experience a host of intriguing wildlife in Big Marsh Lake. The event include guided nature hikes, a Wildlife Art Show, and a host of activities for children. For more information visit www.cranefest.org
Date: 11-12 October 2014
Venue: Kiwanis Youth Conservation Area
City: Bellevue
State: Michigan
Irrigation canals constitute an important nesting site for several aquatic bird species and have slowly transformed into an excellent natural habitat over the passing decades. Several wild aquatic bird species such as Canada geese (Branta canadensis L.; Fig 1) and mallard ducks (Anas platyrhynchos L.; Fig 2) have in particular found such canals as important nesting, resting, breeding and foraging sites across the Canadian Prairies. The lush vegetation that accompanies irrigation canals traversing across the municipalities and rural districts provides excellent nesting and hiding sites for the breeding aquatic species; while the water in the irrigation canal serves as important foraging ground. The dense vegetation protects the nests, eggs and nestlings from a host of predators making their breeding a success story across the Prairies.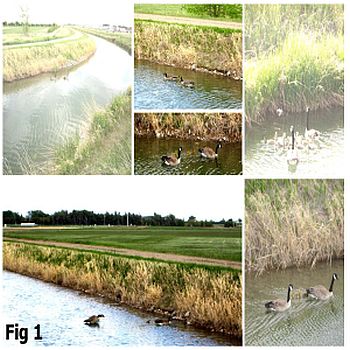 The security of the bushes and the abundant supply of food, water, foraging and nesting resources have made certain stretches of the intricate network of irrigation canal a bold success story for several such aquatic bird species. During the breeding season large flocks are seen to be approaching the canal nesting sites in good numbers both by the mallards (Fig 3) and the Canada geese (Fig 4). Although a number of predatory birds and mammals do also nest in nearby trees (Fig 4) and bushes and woods to take advantage of the yearly bounty; particularly the highly vulnerable nestlings and fledglings such as the young and defenseless ducklings and goslings.
However, the greater number and close guards by the caring parents do not actually impact the species population and is in particular nature's own monitoring in keeping the population under check (Figs 5-6). Hence, in a broader term a healthy and thriving population of the ducks and the geese actually positively contributes towards the stable population of the predatory birds and mammals too; further extending the success of the irrigation canals to other wildlife species. In addition to the mallards and Canada geese or black geese, other species of ducks and geese (such as the grey and white geese) are also known to take advantage of the refuge of the irrigation canal habitats along their annual migration routes. Several other non-aquatic bird species like the different black birds (Fig 5) that inhabit the ecotones between land and water also take advantage of the natural habitats produced by the irrigation canals.
Hence, the construction and development of the large network of irrigation canals across the Prairies have been an excellent natural resource that has been helping in building the population of local birds and in directly contributing towards establishing a sustainable environment. However, it will be important in future to do extensive bird surveys in and adjacent to such artificial habitats for monitoring the bird population and in better understanding the nature and behaviors of different species that have been intelligently using such available resources to their advantage. It is often interesting to note that anthropogenic activities that impact wildlife species so negatively could also have positive impacts in some other ways. It will be therefore important for us to learn from the experience and develop our future technologies in a pro-nature or environment friendly fashion so that we could effectively curb our foot prints on the nature and also successfully reduce our impacts on the population of different wild species of birds.
Prime nesting and foraging habitats of Canada geese adjoining irrigation canals are pictured below (Fig 7-8).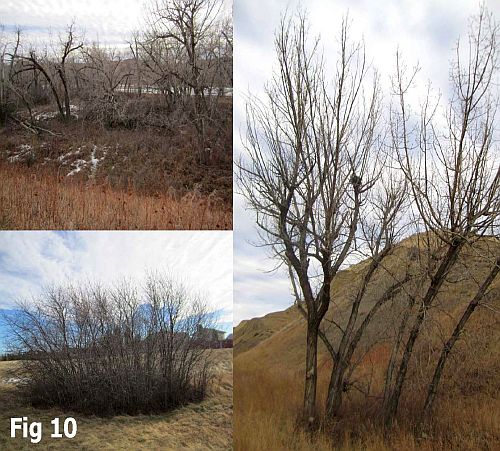 Article contributed by Saikat Kumar Basu
Canada geese (Branta canadensis L.) represent a majestic symbol of nature and natural world and are a well known migratory species of geese widely recognized across the continent of North America, Northern Europe and in the Asian Far East. The species is native to the continent of North America. The famous "v-shaped" flying pattern of trumpeting and migrating Canada geese flocks are seen as one of the most well known and symbolic signs of the change of season across the range of this beautiful species (Fig 1-2). Several North American and eastern Siberian aboriginal and indigenous groups and communities consider this as a sign of good luck and fortune, and numerous stories about the species are thus included in many of their ethnic folklores and indigenous stories. The majestic species is consider to be an important symbol of the wild west of the continent of North America as well as a dynamic symbol of the natural heritage of the world's second largest country Canada. The species is widely distributed in US and Canada, parts of northern Europe, eastern Siberia, parts of northeastern China and Japan (see map). A population in New Zealand is also known where it was introduced few decades back as wild game species.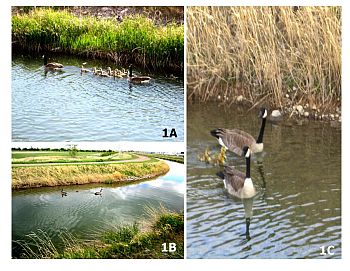 Due to conservation efforts their number and population have increased significantly across their range. Huge standing flocks reside on agricultural farms and devour substantial portions of young crop seedlings as well as seed grains, damaging them extensively. Occasionally they are also known to devour insects and fishes, as well as other aquatic vertebrates and invertebrates. The families start migrating southward for their summer retreats to southern US and northern Mexico when their northern homes start showing signs of freezing.
The species is predominantly aquatic found resting, foraging, nesting and settling around fresh water, inland water bodies and narrow irrigational canals. However, some are even found to be resident on the farms across the Prairies of North America and are also abundant around the Great Lakes. Both males and females look similar, but the female are found to be slightly smaller in size and weight. The males of this species are known to be quite aggressive in protecting their nesting sites and ducklings (Fig 4). Some sub-species are also known to build nests on trees or resting on trees during the night for safety. Egg clutches varies between 2-20 eggs in a single breeding season depending upon their reproductive success, availability of quality food and safe nesting sites. Common predators of eggs and ducklings include foxes, coyotes, badgers and some raptor species. Currently this is a protected species and is considered a valuable wildlife species; and hence hunting, capture and exploitation of the species is illegal under the fish and wildlife acts.
Prime nesting and foraging sites of Canada geese adjoining irrigation canals and at the edges of nearby farmlands are presented in Figs 7-10.
Photo courtesy: Mr Doug Messenger is gratefully acknowledged for kindly providing Fig 2D.
Article contributed by Saikat Kumar Basu
From Segway tours of secluded ecotourism attractions to a 5K run around Leesburg, Lake County's 3rd Annual Wings & Wildflowers Festival is offering new events that will appeal to birders and beyond.
The festival, to be held Oct. 3-5 at Venetian Gardens, located at 201 E. Dixie Ave., Leesburg, will spotlight Lake County's growing reputation as Florida's premier birding destination and features field trips to birding hotspots and wildflower havens.
New to the festival this year are two guided Segway tours through Emeralda Marsh, a 7,000-acre conversation area considered to be the crown jewel of Lake County birding. It is best known for viewing herons and egrets, and is home to a vast array of species including the King Rail, Purple Gallinule, Limpkin and Barn Owl. The tours are $50 per person and will be held at 7 a.m. Friday, Oct. 3 and Saturday, Oct. 4.
Sponsored by Advocare of Eustis, the "Running is for the Birds 5K" is a family-friendly run/walk at 8 a.m. on Saturday, Oct. 4, beginning at Venetian Gardens and winding through the City of Leesburg's Venetian, Fountain Lake and Magnolia trails. Registration is $15 and a portion of the proceeds will be donated to the Florida Ornithological Society.
Also for the first time, nature enthusiasts are invited to join Patricia Burgos of Lake County Water Authority and Shari Blisset-Clark of the Florida Bat Conservancy for the free "Wildflowers and Bats" field trip from 2- 4 p.m. on Friday, Oct. 3. Staff will discuss the efforts taken to convert a pasture into a lively wildflower meadow and visit the Flat Island bat houses to learn the benefits of inviting bats into home gardens.
To sign up for these and many other Wings & Wildflowers events, visit www.wingsandwildflowers.com. For up-to-date festival information, follow www.facebook.com/WingsandWildflowers or www.twitter.com/wingswildflower.
This is an observation in August 2005 in west Lethbridge. I have made similar observations before at other places and times, but the observation was recorded on this date. Magpies to my understanding are absolutely fascinating to observe. They are an extremely intelligent species of bird for behavioral studies and what is more important to note is that they seem to observe human behavior and practices closely for their advantage. I was quite intrigued to observe that a black-billed magpie was working its beak through a plastic garbage bag loaded with garbage accidentally left outside a dumpster. As the bird successfully made its way through the soft plastic cover, I noted it started foraging across the contents of the bag occasionally feasting on the food items that it located within the torn bag. Once the feasting was over, possibly within 2-3 minutes, the bird kept on searching into the bag as if it was still looking for anything that may prove useful to it. After another minute or so, I saw that it flew away with something shiny, although it was difficult to decipher what the object was from the distance where I was standing and observing the bird. Anyways, I waited there for another 4-5 minutes and was about to walk towards the nearby London Drugs to buy some postage stamps from the Canada post outlet there, when I was amazed to hear the characteristic sharp calls of the magpies. To my surprise, I saw five other magpies (possibly varying between adults and sub adults) flocking round the torn garbage bag foraging and nervously jumping and fluttering wings. Since the previous bird foraging did not have any specific marking for identification, I was unable to determine if that bird communicated or invited the others to look into the booty, or whether by observing the success of the earlier bird, others in the vicinity have joined in the search and foraging to find things of interest for themselves. However, they flew away after a couple of minutes possibly being unable to find something of interest for them or any other available food items. After a minute or so, three more flew in investigating the bag and left again followed by a couple more in small flocks of 2-3 in the following ten minutes. The foraging was finally interrupted by the sudden visit of a herring gull when the magpies flew back, never to return in the next 10-15 minutes or so. After that I left for the London Drugs.
When I got back after another 10 minutes finishing my job, the bag was found left unattended and there were no birds seen close by. It appeared to me that black billed magpies may have a social communication system like the bees where they communicate among themselves about possible food and other resources among their family or clan or group members or neighbors. However, this is a hypothesis and needs to be verified under controlled experimental conditions. I do find these species of bird to be social and to have some sort of communal bonding and association for mutual benefits; could possibly be a part of their social life and structure too. It seemed to me that they do cooperate and coordinate in group activities while foraging and defending their territories against other intruders. Yet they are intelligent enough to pull back and assess the strengths of their opponents, thereby developing successful strategies of survival.
My other general observations on black billed magpie have been that they are devoted parents and they maintain distinct territories and respect their boundaries. I have seen more birds in the urban settlements compared to rural areas and farming localities. They also possibly use the same nesting sites over the years, however, that has to be verified by proper experiments. I have always seen the birds in the favored nesting sites along the university campus every year; but whether these are the same birds or different ones occupying favored nesting sites need to be verified. Possibly they are more used to city based food sources rather than the rural food sources in their diet preferences. They appeared to me as omnivorous species that are opportunistic in nature and will devour anything that they find useful for their survival under harsh conditions. They are possibly getting used to foods consumed by humans as I have seen that they eagerly accept chips, popcorns, hash browns, fried potatoes, apple, pear, watermelon, cheese and slices of jam bread, cheese cakes, salami and burger but rejecting carrots, broccoli, onion, cucumber, garlic, cauliflower, lettuce, celery, tomato, pepper and pumpkins that I have tried feeding them for my observation. It seemed to me that they possibly have preferences for food items with softer texture and sweeter taste. I have seen them often venturing into empty portico and balconies searching for food. They seem to have a special liking for shiny objects and they are possibly attracted to them as I have observed they often carry them in their beaks. The nests of black-billed magpie that I had the chance to look into often include plastics, thermocol, pieces of nylon wires, pieces of plastic garbage bags etc in addition to twigs and branches as constructing material. They seem to be opportunistic of their urban habitat and select items they feel that are useful for them from their immediate environment.
The birds are noisy, active, and energetic, but nervous and restless, always moving from one tree to another within their defined range. They are often aggressive with in-fights, in which the dominant bird pins the submitting one under its feet to he ground with its belly up and peck each other aggressively. However, I have noted they try and avoid confrontations as much as possible. Active from dawn to dusk, but usually prefer shade during midday or when the temperature is high, usually roost on branches of tall trees and shrubs during night. They are often seen foraging on the ground during active period and fly away at the slightest possible alerts. I have seen magpie catching insects and devouring small wild fruits and berries. They are often chased off by the small red winged black birds nesting along ditches and swamps if the magpie ventures too close to them. They are mostly tree inhabitants and terrestrial in their habitat preferences, however in hot summer evenings I have seen them flocking together and often taking a quick dip in the water of the canal or at the edge of a water body for cooling off.
Continued from Part One
Article contributed by Saikat Kumar Basu